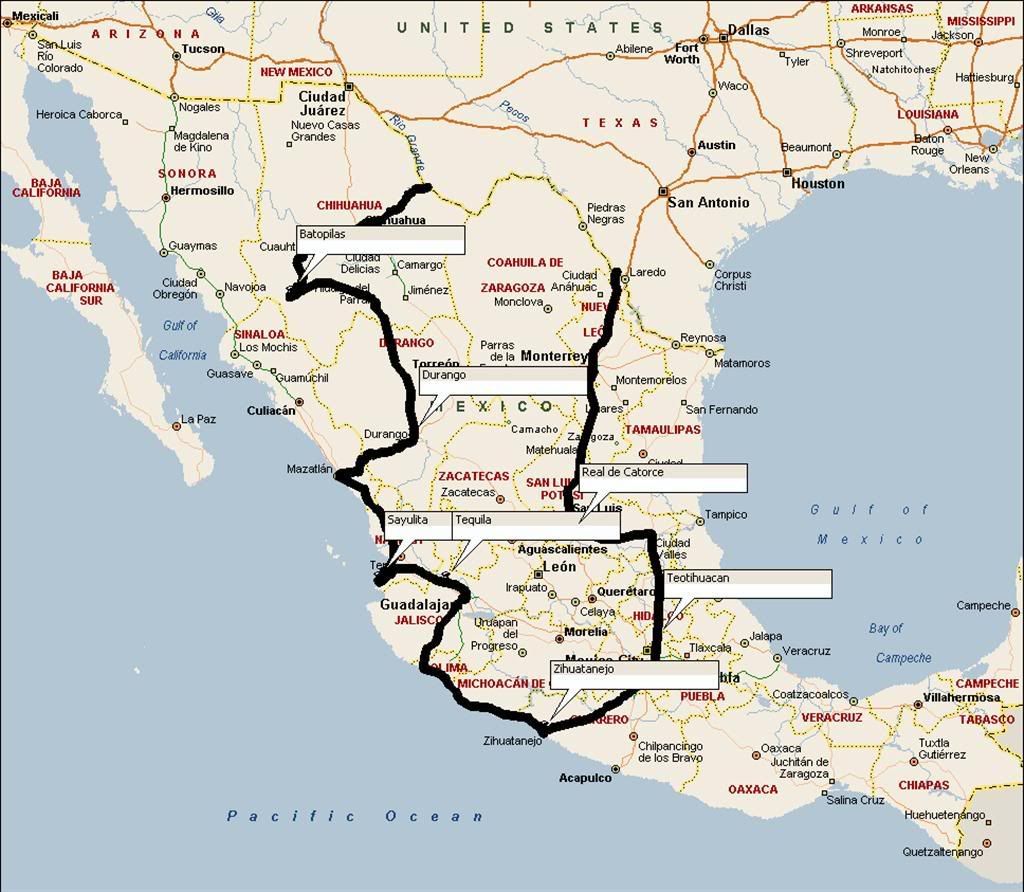 My Rough Route Plan
For all my previous trips in the US and the one in Canada, I've had the benefit of using Microsoft Streets & Trips to plan the trip in great detail. Some people might say planning trips in great detail doesn't allow for that "adventure" factor that comes with trying to find a hotel after arriving in a city, or turning on the wrong road and discovering something interesting, etc. My mind set has been that if the simple details like route and lodging can be taken care of, then more time and energy can be spent on the actual riding and seeing the local sights. I prefer touring this way also because the number of days for my trips are usually very limited and this allows me to maximize the experience of the ride. However, for Mexico, even though I have the auto-routing GPS map for the country, I'm going to try touring without having all the details nailed down and go with the flow. I still think this kind of adventure-touring is more suited when the trip is a month or longer, as opposed to a few weeks.
With 12 days off from work, I hatched a plan for an 18 day ride from Chicago to Mexico and back. I'm taking 2 days to get to the border, with 14 days in Mexico and 2 days to get back. The run to the border and back will definitely be a bit strenuous with 800 miles a day, but I've done quite a few 700 mile plus days before, so not too worried about stamina. The last leg of the journey from the border back to home will most likely be the hardest part, as I might be sore from the previous 16 days on the bike. I'm giving myself 3 days from Monterrey back to Chicago.
Once in Mexico, I plan to ride around 200 to 250 miles a day and see where that gets me. I figure my tires will last about 6000 miles, which are Kenda K270 on the front and back. With 3000 miles taken up with riding to and back from the border, I have about 3000 to wander around Mexico. With that in mind, I planned a rough route taking me through the Copper Canyon region, down towards Guadalajara and Puerto Vallarta, going around Mexico City to the ruins of Teothituacan and then up to Guanajuato and ending in Monterrey, where I'll be meeting my Mexican friend from work, Cesar at his home.
I did all my research about where to go and what to see by reading ride reports of other motorcyclists that have gone to Mexico on ADVrider.com, an adventure touring motorcycle forum. Most of the ride reports focused on an area called Copper Canyon in the north-west part of Mexico. This is a canyon system similar to but much larger than the Grand Canyon. The views are supposed to be amazing along with some nice dirt riding down into the canyon to a town called Batopilas. That will be my first real destination. From there, I plan to stay in the mountain region and head down to Durango to ride the famous Espinoza Diablo (the Devil's Spine) road to Mazatlan. It's supposed to resembled Deals Gap back in the US; a tight and twisty road with corners upon corners.
From Mazatlan, I'd like to spend a night in Sayulita, which is a small town just north of Puerto Vallarta, without all the crowds of the big tourist town. Then, I'll be heading inland through the town of Tequila (where the drink comes from) and then visit Guadalajara, known for it's colonial architecture among other things. Not having sufficient time is going to restrict heading inland more as I really want to ride down the Pacific coastal highway from Manzanillo to Zihuatanejo. Again, I really wanted to ride down and stay at the little beach town of Zipolite before turning back, but I don't think I'll have enough time. So, from Zihuatanejo, I'll be heading straight for the ruins of Teotihuacan, near Mexico City. I'm hoping to avoid going through the capital as it's known to have very bad traffic. From there, I want to swing by the colonial towns of San Miguel de Allende and Guanajuato, before ending the trip in Monterrey. I wanted to visit the mountain town of Real de Catorce, but there's a very big festival taking place during the month of October where the town is engulfed with people making pilgrimages to the holy site, and I was warned that going into the town would be limited.
I think this should be doable in the time I have allowed for this trip. I'm planning to get an early start each morning and spend the late afternoons and evenings at my destination for the day. If the above plan doesn't work out, I'll just go with the flow and turn back when I'm about half way through my trip.
After all, it's the journey that's the destination...
Next:
About The Bike
Ride Report Index