Day 1 / Saturday, September 22, 2007
Start: Grayslake, IL, 4:20 am
End: Texarkana, AR, 9:30 pm
Mileage: 847 miles
Isn't it always hard to relax right before you know you're going to do something exciting and exhilarating? That's the problem with all these motorcycle trips. I know I need to get as much sleep as possible before making my early start, but I'm always too excited the night before. My 'run to the border' plan was to make the 1600 mile highway drone in two days crossing the border into Mexico on Day 3. With two 800 mile days in a row I knew my body was going to take a beating but I figured it was worth it and I could relax once I crossed the border.
I packed everything on the bike two days before departure and left the last day for small things like adjusting the playlists on my iPod, adding more waypoints to the GPS and trying to learn some phrases from my Spanish phrase book.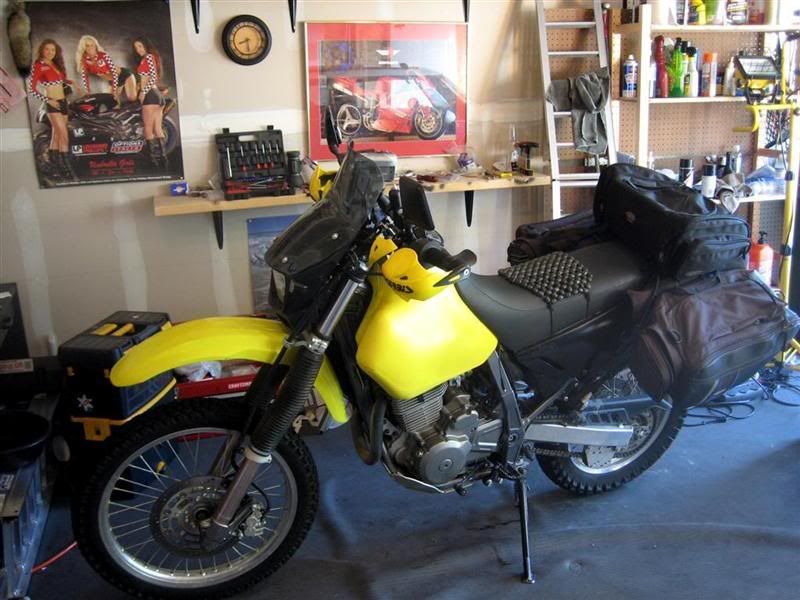 auDRey, my 2004 Suzuki DR650SE getting prepped in the garage before leaving.



My dash view. Left to right: Digi Cam, GPS, Camcorder and Radar Detector.
I ended up getting only 4 hours of sleep, but left on-time at 4:30 am. I planned a slightly longer route to the border in order to avoid riding through as many big cities as possible. My goal for today was to get to the Arkansas/Texas border town, aptly named Texarkana. Traffic was very light on the freeways and my body was not waking up in the morning. Red Bull to the rescue and listening to my Spanish language CDs kept my mind entertained.
In preparing for this trip, I tried to get a rear tire that would last the whole journey, around 6000 miles. My dual-sport bike, which can handle dirt roads and highway, can take a variety of tires. I knew I would be riding two days of dirt in Mexico so in compromise I mounted a 50% dirt, 50% street tire, a Kenda K270. I didn't help the situation by cruising at 80 mph for the majority of the first day, which proved to be too much for the tire and it started to lose some of its knobs. I slowed down to 65 mph and the tire held up fine. I figured if it didn't hold up, I could mount a new tire in any big city in Mexico.
Regarding the ride down to Arkansas, it wasn't that bad. What most people don't realize is that Illinois is one really long state, about 440 miles long to the southern tip. Thankfully, it's not all cornfields and the scenery is pretty decent in southern Illinois with rolling hills and some forests. I especially liked I-30 from Little Rock to Texarkana where the highway is surrounded with thick forests and it seems like a parkway drive. My energy levels were doing pretty good towards the end of the day and I was considering just doing an Iron Butt Saddle Sore run (which is 1000 miles in 24 hours on a motorcycle), but I didn't want to overdo it today as I had another 800 mile day tomorrow. And I didn't want to push my luck since a tire from a semi-trailer exploded in front of me and I managed to avoid it. It's never happened before but that's another reason not to sit behind a semi on the highway. At that time, I was thinking that it was irresponsible of the truckers to not monitor the wear on the tires and just replace them when they explode on the highway. But after talking to a trucker motorcycle friend, I learnt that a majority of semi tires are re-treaded (gluing on a new tread to an old tire) and if this process isn't done properly, the new tread can fail and break away.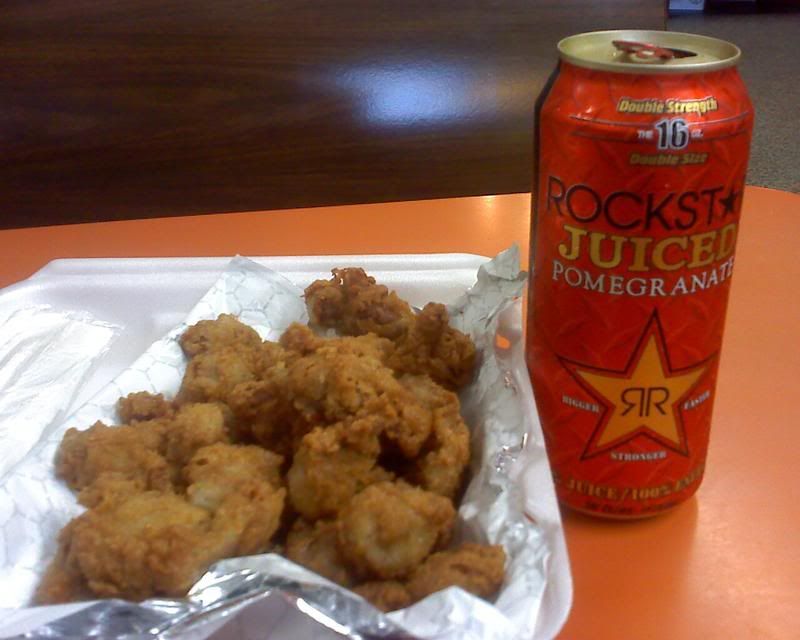 Lunch in Arkansas. I love the South, cause they usually have fried chicken gizzards in cafes attached to gas stations. Mmmmm… and of course Pomegranate Energy Drink; it has juice, must be healthy.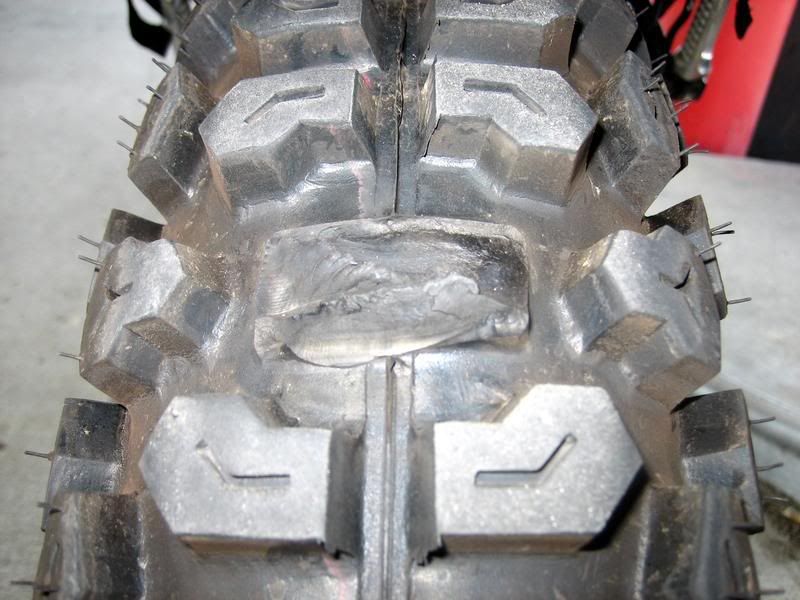 Disaster on the first day - I was going too fast on the highway for my knobby tires (Kenda K270) and some knobs got sheared off while others were starting to shear. I thought this being a 50 street/50 dirt tire it would handle the highway ok. But I guess 80 mph is too much for it. I slowed down to 65 for the rest of the trip and it survived for another 4000 miles.



This knob was starting to shear, but held up after reducing speed.
One funny incident was when I walked into a Hardees for dinner and the old white guy behind the counter said I looked I was wired with a bomb. WTF? He was referring to my iPod remote and earphones dangling from my riding gear (which looks like riot police gear). I didn't want this guy to pull a gun on me so I quickly showed him the iPod and made a joke. Phew. And people say Mexico is going to be dangerous...
I arrived at a motel at 9:30 pm having covered 847 miles.
_______________________________________________________________
Day 2 / Sunday, September 23, 2007
Start: Texarkana, AR, 5:30 am
End: Presidio, TX, 9:30 pm
Mileage: 771
I got an early start today as well since my top speed was going to be limited to 65 mph today (in hopes of extending the life of my tire) and therefore I would need more time to cover the remaining 750 miles to the border town of Presidio, TX. It was a little chilly and drizzly in the morning and my distaste for Texas' terrible highway ramps returned since my days at Texas A&M. The freeways in Texas have a service road that runs next to them and they have yield signs and short ramps to get on the freeway. It just doesn't feel right.
Also, the towns and the road in general were not that well kept with grass growing through the concrete cracks and just a general feeling of untidiness. But that all changed once I got near Dallas. What was most impressive were the sweeping highway interchanges with lanes flying maybe 100 to 200 feet above the ground. At one point, there were four criss-crossing highway ramps. I was very impressed. And the scenery picked up between Dallas and Abilene with rolling hills and wind mills along bluffs for wind power generation, which also meant stiff cross-winds for the bike. The effect of the cross-winds was quite evident when a semi would overtake me, blocking the wind, and sucking me ahead with a 5 mph gain only to slow me down again when he finished passing.
Throughout the day, I was really engaged with my audio book, A Short History of Nearly Everything, which explains where everything we know comes from: physics, chemistry, life, etc. It was so engaging that I hardly felt tired throughout the day and some gas stops were like race pit-stops: pull in, fuel up, and get going again. If I felt tired at any point, I'd pull over, take a break and continue.
About 50 miles from Big Spring, there was a huge accident that happened a few minutes in front of me. There was a car on its side with the roof dented in on the east bound shoulder. There were two people lying in the median with lots of bystanders coming to help. The emergency crews were just arriving on the scene. Traffic stopped on both sides of the highway and I'm guessing that somebody punted this car across the median into on-coming traffic for a head on collision. My mind was quickly jumping to conclusions and at the time I conjured up a scenario for the accident where someone overcorrected after realizing their car was going off the highway and this overcorrection hit the second car, which launched it across the median. I immediately thought of the three people that I know who have wrecked their cars and broken legs because they were reaching for something in their glove box and went off the highway. I got frustrated with the fact that many people think highway driving is easy and mindless, when actually things can go wrong very fast. This kept my mind occupied for over an hour as you can tell that I dislike poor drivers, especially ones that have no situational awareness.
Something else to keep me my alertness up later on was hoping not to get struck by lightning by riding between two huge storm clouds. Storms in the west seem more majestic because I think you can see them from so far away in their entirety. Two huge blobs of grey clouds with persistent lightning were converging on the highway before me and I was hoping to make it through before the clouds were over me. I kept thinking of how it's not very safe to be on a motorcycle in a lightning storm as there's nothing to protect us from a strike, unlike a car. While I slightly feared for my life, I was also admiring the beauty in the clouds. There was one dark rain cloud with lightning that was highlighted by a huge white cloud behind it, which was harboring the setting sun behind it, which caused orange clouds on the fringes of the storm. Lightning and a beautiful sunset all in one view. There's always something to be appreciative of.
Because of these passing storms, there was lots of water spray that I was being washed with whenever a semi passed me. To reduce the time that I was stuck in these sprays, I would slow down as a semi started to pass to make the pass happen quicker. It worked quite well. The speed difference from the other traffic was more noticeable now as well since the speed limit was up to 80 mph! I've never seen such a high speed limit before. Even Montana, Nevada, Wyoming are all only at 75 mph. I was wishing I was on my Suzuki GSX-R, so that I could be cruising at a comfortable 100 mph, but I was cruising at 65 mph listening to my audio book.
Another byproduct of the storm was the reflection of the sunset caused by the water that was trapped in rumble strips on the shoulder. Those rumble strips are pretty huge, about 3" wide and at speed, it looked like a continuous foot-wide mirror running next to the highway. You see, it's not hard to keep myself amused...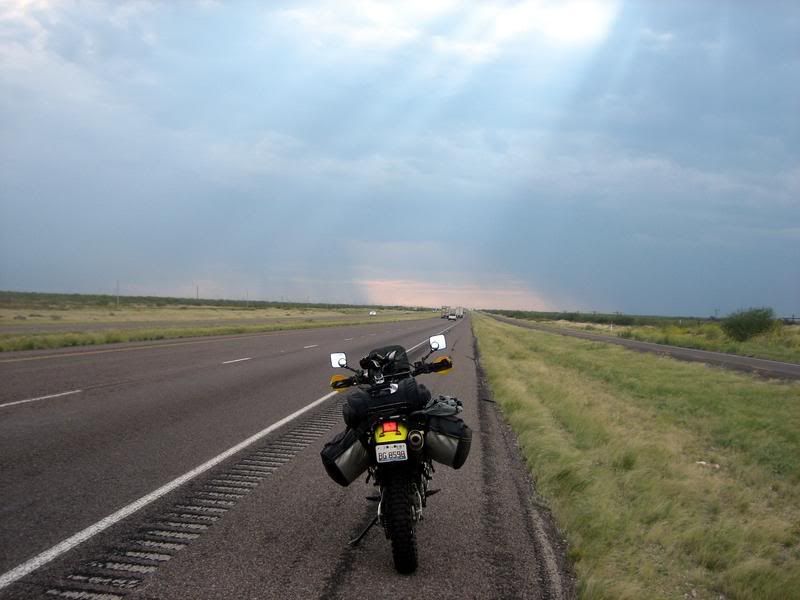 An opening in the storm clouds ahead on I-20 West. I saw lots of lightning to my left and right and was hoping that I wouldn't get struck as I passed under the rain clouds. Don't they say being on a bike in a thunder storm is not a good idea…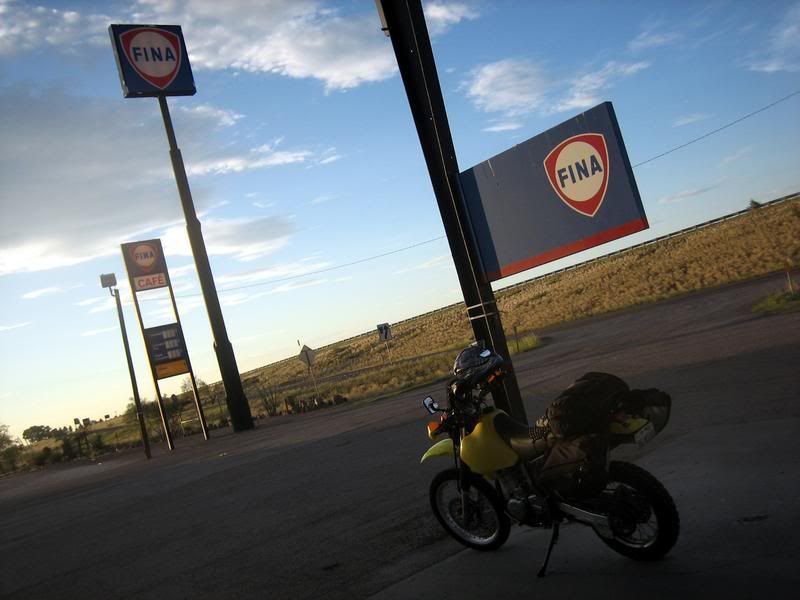 Near the I-20 and I-10 merge: Finally done with the Interstate (about 1500 miles) and heading towards Presidio, TX. I've actually never filled up at a Fina gas station (they're rare cause they've been bought by French oil company Total and being phased out). The importance to me is that Fina sponsored the McLaren F1 road car during its racing days in the 90s.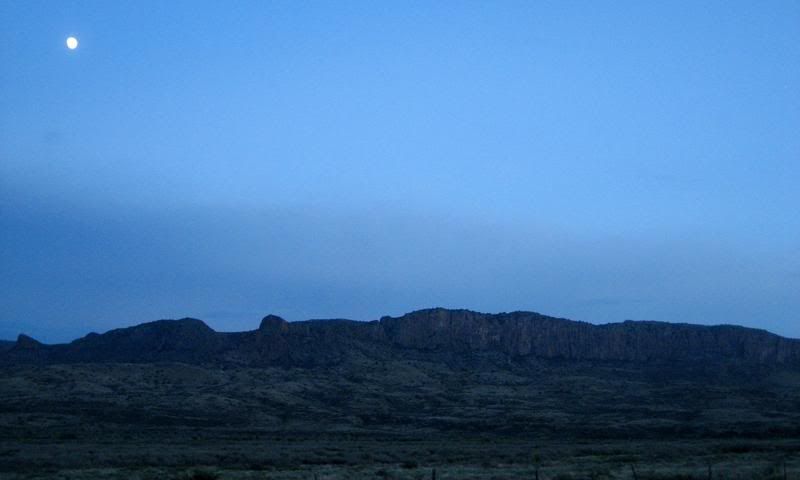 The moon rising near US-67, heading to Presidio. This is Big Bend National Park area and the scenery was a nice change after all the Interstate riding.
I got done with the Interstate just as dusk was moving in and enjoyed the twilight ride on TX-17 and US-67 into Presidio. The road climbed to 5,000 ft and was a continuous blend of sweepers and straights with some steep cliffs offering majestic views, which stood out in the fading light. There's something to enjoy about riding at night, especially a clear night with bright stars. And being on a motorcycle accentuates that feeling of being part of the surroundings and in this case, part of the cosmos.
There was a US Border Control checkpoint about 10 miles from Presidio and thereafter about three cops using radar to monitor traffic.
I was surprised that I wasn't really that tired after two days of around 800 miles each. I was feeling pretty good about crossing into Mexico the next morning and making it to the town of Creel in the highlands of the Copper Canyon. I stayed at the Riatta Inn for $52 and didn't really get a chance to eat dinner this night since the motel was away from town, but that's where the trail mix and granola bars come in.
_______________________________________________________________
Day 3 / Monday, September 24, 2007
Start: Presidio, TX, 7:30 am
End: Creel, Chihuahua, 7:30 pm
Mileage: 325
I got an early start for the border anticipating some delays at the crossing, but didn't plan for being stuck in line behind a disorganized three-family caravan. They had three vehicles and kept running back and forth with paper work for all the vehicles and trying to get all the babies' passports stamped. I figured they were Mexican-Americans making a visit back home with the new kids. When I finally got to the immigration counter, I think I overwhelmed the officer since it seemed like he never had to process a third country national before (someone other than Mexican or American). I had to guide him through the process a bit, showing which form to take, which to give back to me, where to stamp. He appreciated my help and then it was to wait in line again behind the three families waiting to get my temporary vehicle permit. The whole process took two hours.
After getting all the paperwork out of the way, I was quite thrilled to actually be riding by the sign "Beinvenidos a Mehico!" and entering the Mexican border town of Ojinaga. I didn't take any pictures at the border for fear of upsetting the border guards. I stopped by a little road side shack right on the main road and had my first awesome Mexican meal of carnitas in burritos and I knew more savory food lay ahead. Since I didn't have Pesos on me, I knew I overpaid when they asked for $4 for 2 burritos. Oh well. There were no banks in Ojinaga to exchange money; it's a very small town, so off to the main city in the region of Chihuahua.
I read somewhere that the unique thing about the American-Mexican border is that it's the only border in the world between a First-World country and a Third-World country (yes, some can debate whether Mexico is really Third-World or not, but since there's really no Second-World countries besides some Eastern European countries, it's either First-World or not). I didn't think crossing the border would be that dramatic, but just riding through Presidio and then riding through Ojinaga, it was quite evident that something had changed. People were not stopping completely for stop signs, some were stopping right on the road, making u-turns across the median, and things were a little more run-down. Now yes, this is not a prosperous town of Mexico and I knew there were many cosmopolitan cities in the country, but this is just a comparison between two towns across one border.
As I was told before in Mexico there are many toll roads (cuota) connecting big cities, but next to them, there's also free roads (libre), which are usually more fun to ride since they go up and over mountains and are more twisty. I stopped outside town and a Chihuahua shuttle service driver pulled up along side and asked where I was going. He said there was a better road to the city, meaning the cuota. I managed to get across that I wanted to be on the libre. When I said I spoke only a little Spanish, he asked in English, "Why bother coming to Mexico if you can't speak Spanish?" Ha! Isn't that what all Americans say about immigrants, especially Mexicans in their country? I found that rather ironic coming from a Mexican. But I guess all cultures would like visitors to speak their language. I showed him my phrase book and said I was learning on the go.
Hwy 16 was a pretty interesting ride. I was expecting a high dry desert or something similar to nearby Arizona and New Mexico but instead found landscape similar to Montana's plains: green valleys accentuated with rugged mountains. I also got my first taste of Mexican twisties and was happy to see that all the corners were well marked albeit with no suggested speed limits, but that's not a big deal.
The Border Patrol checkpoint, which is 20 miles from the border, was located on the side of a mountain on this road and they were only interested in seeing my vehicle permit, as this is the point from whence a permit is required. 20 miles from the border is considered a sort of free permit area because of all the factories that are located close to the border and the frequent crossings of their trucks.
A further 20 miles down the road was the military check point, the first of many throughout Mexico. These checkpoints are mainly looking for illegal drug trafficking, but I'm sure they're quite bored as well and don't mind searching through interesting vehicles. They asked me to pull over and take off my helmet and wanted to know what was in all my bags. I quickly showed them that I had mainly tools and clothes and they waved me off. They asked for ID and I handed them my passport, which raised some eyebrows, being a non US or Mexican citizen. I figured next time I'll just show them my US drivers license.
First picture in Mexico, just south of the border town, Ojinaga. Was quite thrilled to have made it across the border with no real delays. Being an Indian citizen, I needed a tourist visa to enter Mexico and a bit more paperwork is required at border crossings.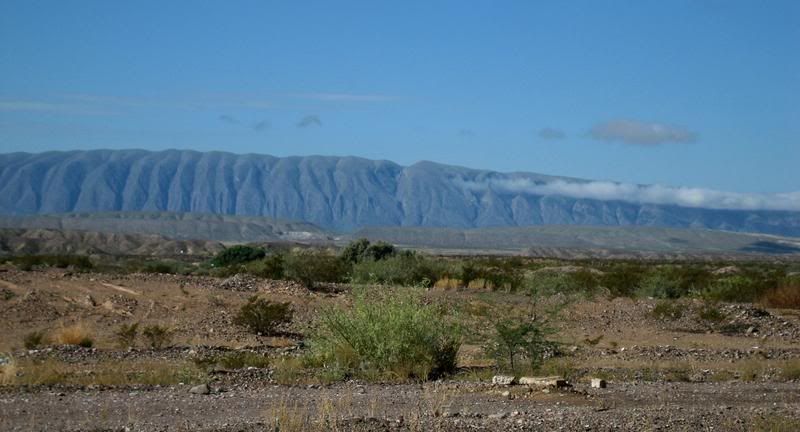 Interesting rock formation near the border. Note the closely separated water erosion marks and the formation of clouds near the top as the hot air cools. Sorry, have been listening to a history of science audio book on the highway (A Short History of Nearly Everything). Throws a different light on everything.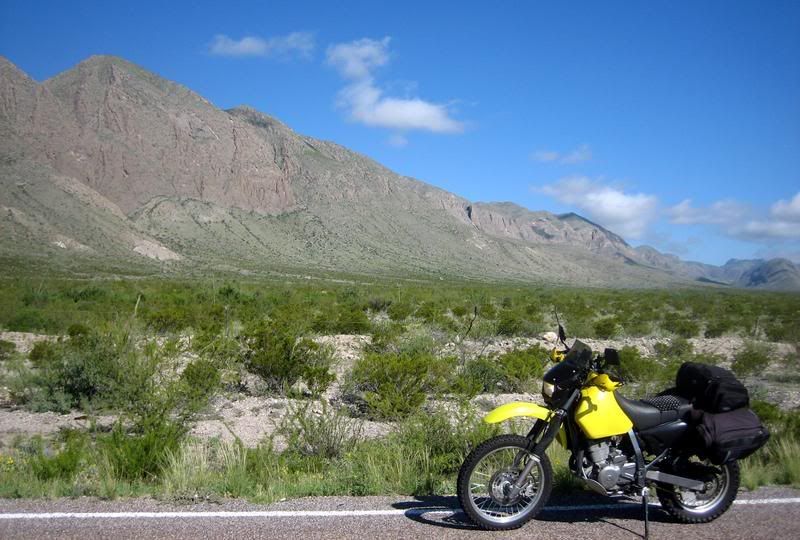 On Hwy 16 from Ojinaga to Chihuahua, the free road (libre), not the toll road (cuota). In Mexico, usually, whenever there's a toll road between two cities, they also provide a free road, which is more fun to ride and more scenic.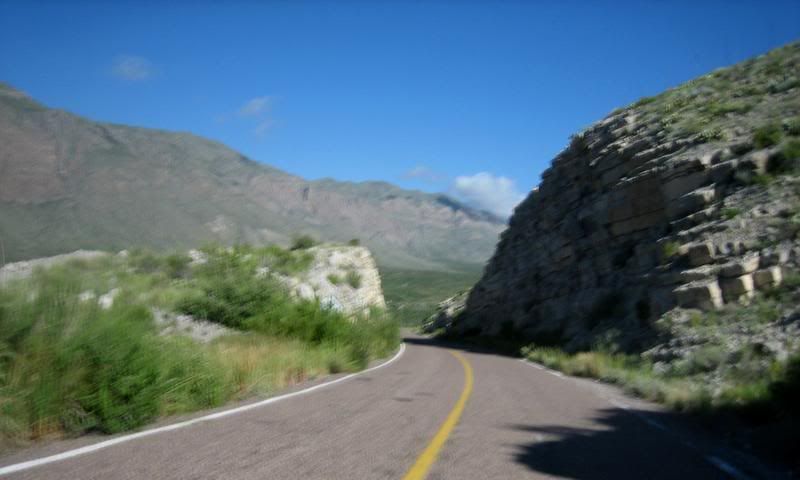 Hwy 16



A big tear in the ground running through the valley on Hwy 16. I love learning about Geology and then seeing it for real.
I had directions from a seasoned rider through Mexico, Gustavo on how to get through the city of Chihuahua without getting lost. However, I needed to go into the Centro (downtown) to find a bank to change money. The central plaza area looked very nice and walkable and I soon found an HSBC branch. While standing in line, being stared at by almost everyone in the bank (because of my motorcycle gear), the man behind me started up a conversation. In my broken Spanish we managed to have a decent conversation and I think I unintentionally silenced him after he found out that I was going to be riding around his country for two weeks on a motorcycle. The concept must be hard to understand for the ordinary non-adventurer, but it seems like a normal thing for me to do. I explained my route plan and got some nods of approval. After 30 minutes of this nice conversation and getting to the front of the line, I was told that the teller computers had crashed and no transactions could take place. Oh well, it wasn't a total waste of 30 minutes.
Outside, a motorcycle cop had pulled up to my bike and was probably questioning my dubious parking job (right next to another car, close to the front of the bank), but I just asked him where another bank was. He started giving directions but after seeing the quizzical look on my face, he just motioned for me to follow him. Sweet, I was getting a private police escort in Mexico, albeit only for two blocks and a u-turn. We parked illegally on the side of the road and he even watched my bike while I went in. Awesome. This second bank was Santander, unknown in the US, but a major bank from Spain. I also knew of it through their sponsorship of the McLaren Mercedes Formula 1 team. See, sponsoring a Formula 1 team does indeed increase global brand awareness (argument for the effectiveness of sponsorship, which I'll be seeking in the coming years for my around-the-world ride).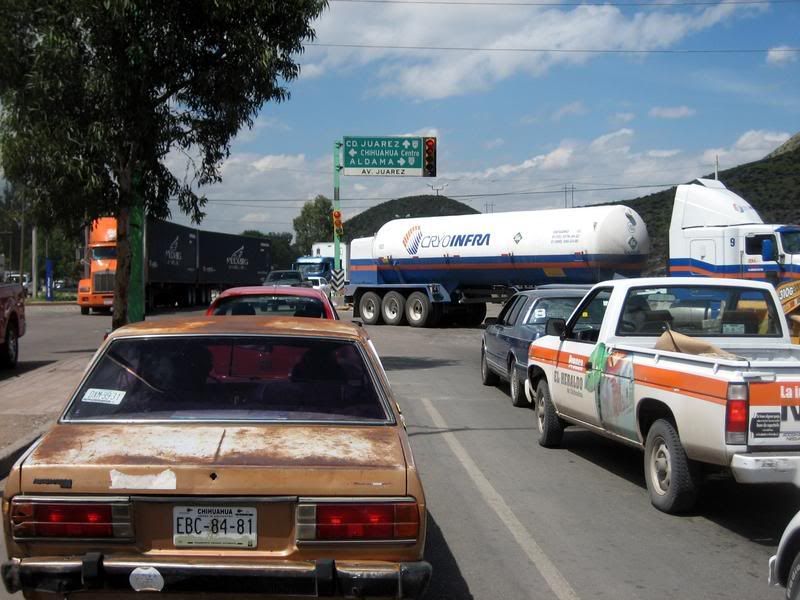 Entering the city of Chihuahua, where I had to go to the center to change US Dollares into Mexican Pesos. There were no banks in Ojinaga.



Classic VW Bugs. They've been made in Mexico for decades and they're all over the place. Pretty cool to see the first few since they're quite rare in the States.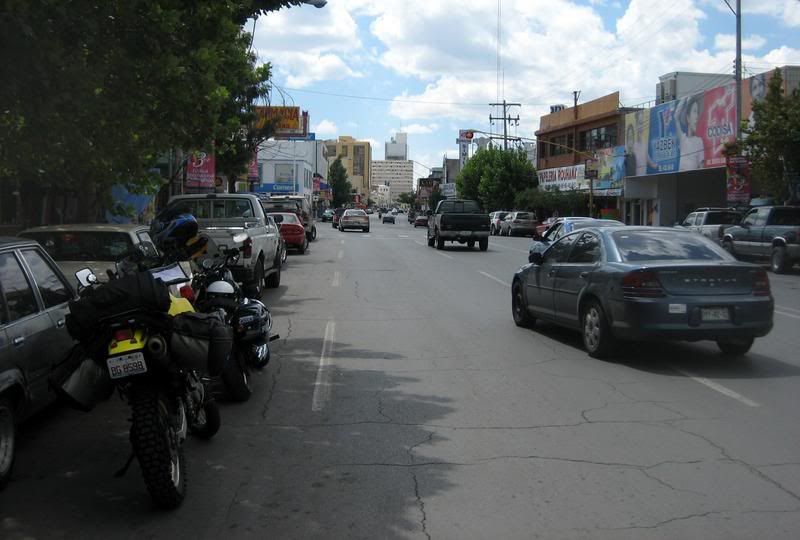 Downtown Chihuahua. Decent sized city, not that crazy to navigate through.



No, I didn't get pulled over, instead I got a personal escort by the friendly biker cop. I asked him where the nearest bank was and he started giving directions, then just told me to follow him. He even watched my bike as I went in to the bank. And note the special motorcycle 'parking'. He was also lane-splitting, demonstrating that it was legal to do in Mexico. Yeah!
Chihuahua wasn't that complicated to navigate through, but I did have to make two loops on the main canal road since the exit to Hwy 16 libre is hidden pretty well. The way to Cuauhtémoc was a nice relaxing big open freeway with many long straight stretches, which are not that mind-numbing since the scenery is pleasant. The exit to Creel was well marked and after some long straights, the road quickly started winding up a mountain as Creel's elevation is around 7,000 ft. The landscape changed to pine forests with rock outcrops and tight twisties. Traffic was pretty constant, but still an enjoyable ride. The road also got twistier close to Creel.
On Hwy 16 from Chihuahua to Cuauhtemoc, heading to Creel. This is a libre 4-lane highway with pleasing scenery.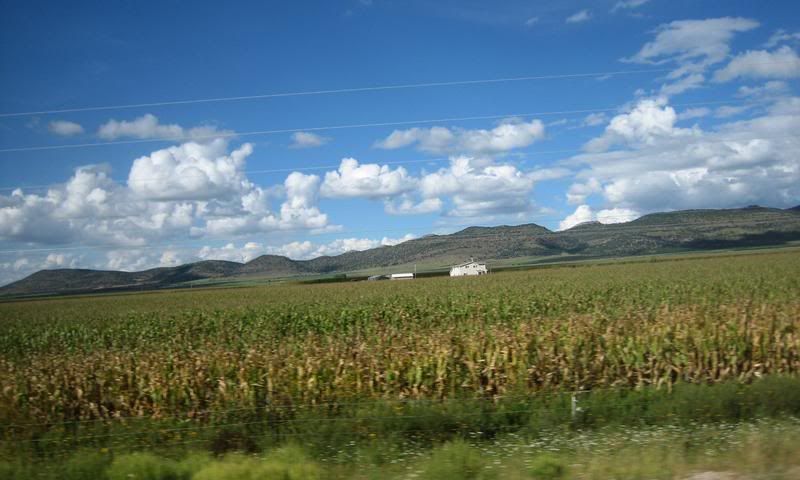 Looks like the Midwest, doesn't it?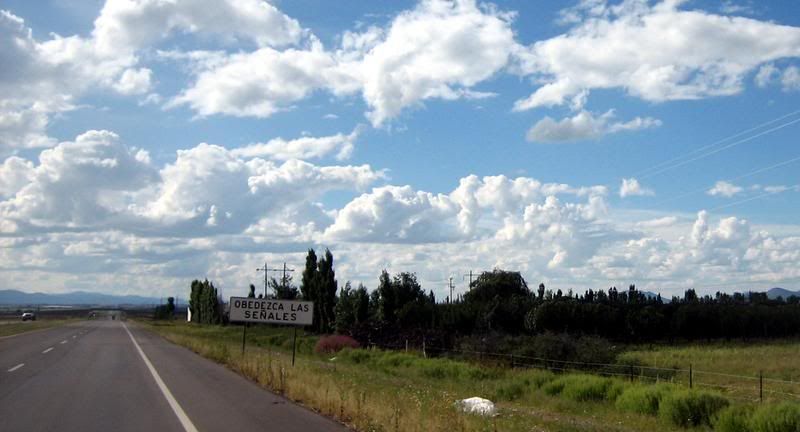 Lots of information signs on all the highways. This one's saying to obey all the signs. I felt the roads were very adequately marked for safe driving.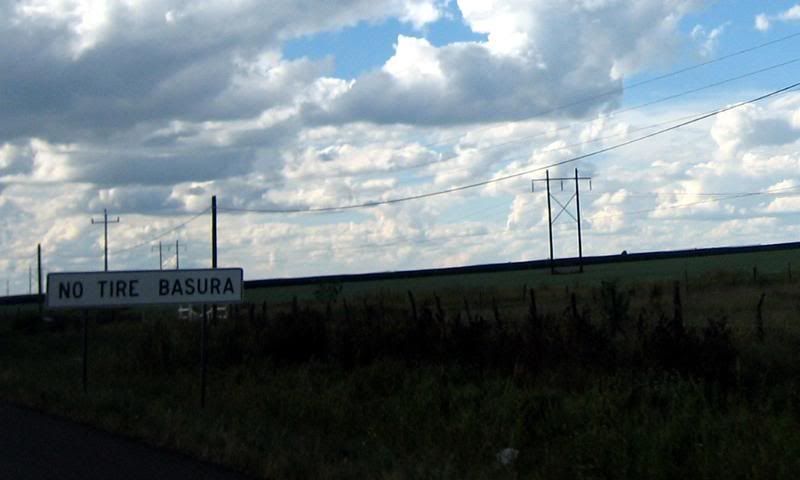 'Don't Litter'



It's not that clear, but there's some black netting on all these plants, probably fruit trees. Maybe it's intended to limit the sunlight. Saw lots of these fruit farms along this highway.



Ahh, finally on the road to Creel. Hwy 25 from Cuauhtemoc. This was a really fun road, great twisties. Traffic was there, but not too much.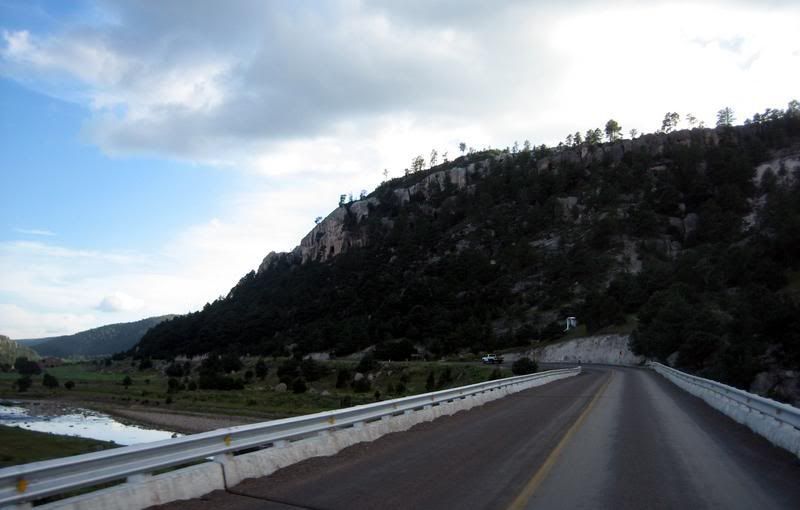 Hwy 25 to Creel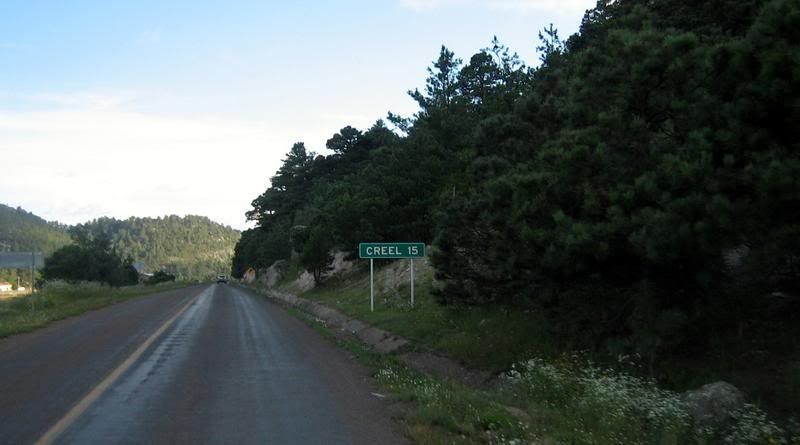 15 Kms to Creel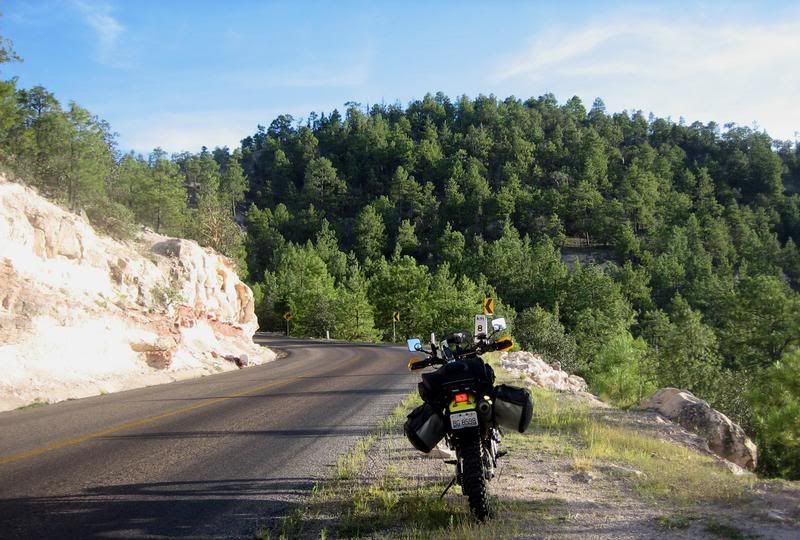 The road started to climb into the mountains the closer I got to creel. I love this kind of terrain. This was probably the start of the Copper Canyon region, a series of connected canyons, which is larger than the Grand Canyon.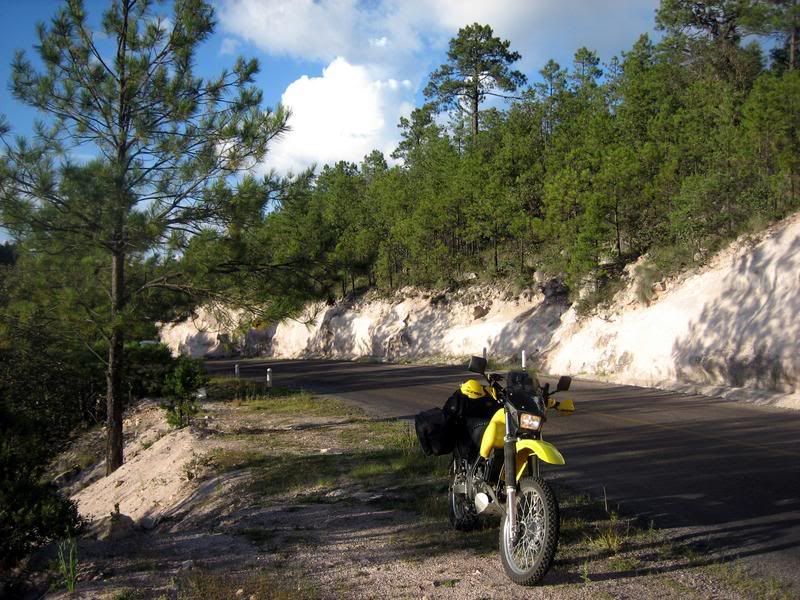 Hwy 25 to Creel
Creel is a small town, which acts as the hub of all Copper Canyon adventures: for motorcyclists, 4-wheelers, hikers and tourists getting off the scenic train ride. The town was bit more run-down than I expected, but charming nonetheless. I stayed at Hotel Margaritas for $45, which included dinner and breakfast. From previous ride reports, I also knew that they allowed motorcycles to be locked behind a secure gate for safety. The room was very nice and the courtyard had a few other tourists gathering in it. I was told the food served wasn't exactly the best, but it was included, so am not complaining. I made it more palatable by asking for salsa picante (hot sauce). There were a few other diners and I chatted up with my neighbor, Reta who was from Berne, Switzerland. He's a psychologist who was traveling around Mexico for 2 months using the buses and trains. He took a 2 day Spanish immersion course in Guanajuato and said it greatly improved his enjoyment of the trip. He also said he was surprised with Mexico City, not being as dangerous as its reputation.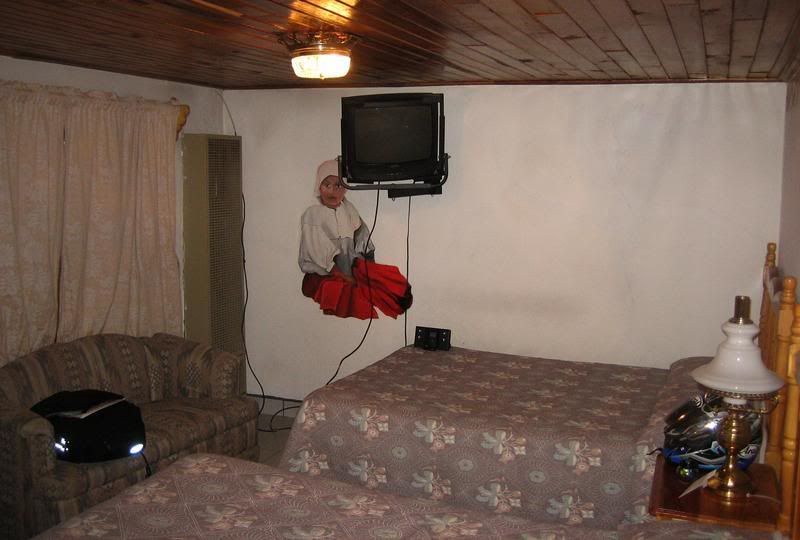 My room at Hotel Margaritas in Creel. Very nicely appointed room and for $40 it comes with dinner and breakfast. Although the food wasn't very good.



The bathroom area. The room came with complimentary bottled water.



The courtyard of Hotel Margaritas.
One thing I noticed on my first day in the country is that Mexicans really like their soap operas. It was running on TVs at the border checkpoint, in the bank, in restaurants and in the bar, as well. These are those overly dramatic soaps (but aren't they all) with good looking Latinas, so I'm not really complaining. In the few minutes that I was forced to watch throughout the day I noticed that the majority of the actors were much fairer in skin color than the regular population, for what it's worth.
One concern I had before entering Mexico was the availability of gas stations and was pleased to see Pemex (the nationalized petroleum company) in almost every small town. Since it's nationalized, the price is the same everywhere and it was about $2.50 a gallon. All the stations are full-service and none that I saw had credit card readers at the pump. But with labor being cheap, I think full-service is going to continue for a while. Just like in India, most people were filling up to a pre-set monetary amount instead of just filling up the tank. "How much petrol?" "200 Pesos worth." But me being on the bike, I wanted to fill up the tank and just communicated that with a hand signal. Only problem is that there's a lot of change to deal with. Towards the end of the trip, I started using pre-set monetary amounts to not get any more change back. I can go about 180 miles on a full tank, but choose to fill up around 100 miles just in case there's no gas station at the 180 mile mark, plus I'd probably need a break by then.
My tire wasn't deteriorating anymore as I kept speeds under 65 mph, which seemed plenty fast for Mexico. I was warned these Kenda K270s act a bit squirrly at full lean and they sure did. Since I hang off the bike in corners, I could keep it upright more and avoid this problem. My plan was to change it in the big city of Guadalajara.
Next:
Day 4, Riding down to Batopilas, Copper Canyon
Ride Report Index