Day 7 / Friday, September 28, 2007
Start: Mazatlan, Sinaloa, 10:15 am
End: Sayulita, Nayarit, 6:30 pm
Mileage: 273
Today would be an easy day of riding the coastal highway towards the small beach town of Sayulita, just north of Puerto Vallarta. After breakfast, I took a stroll along the beach and noted many runners and dog walkers, along with older folks going for a morning dip in the ocean. I also came across some fishermen, who were gutting their fresh catch. As I took a photo of them, one of the guys who spoke English invited me to stay and have some Ceviche that they were going to make. Ceviche is a fish dish, which is just marinated with lime and lemon juice, which cooks the fish without heat. They also asked me for some money to buy tacos for the Ceviche. The smallest note I had was 50 Pesos ($5) and I had to give it over (I was hoping for a 20 Peso note), which caused the other guys to express joy at making a killing with me. I decided to keep moving after being a duped tourist. Oh well, it was a fun encounter.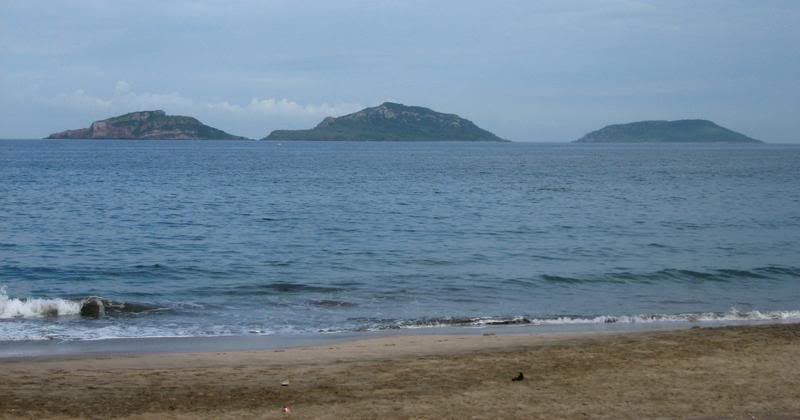 The 3 little uninhabited islands just off the coast of Mazatlan. I think you can take day trips there for snorkeling and what not.



Mermaid statue on the main boulevard by the beach



These fisherman had just caught some fish and were gutting them right there on the beach. They invited me to share the Ceviche that they were going to make. They also asked for money for tortillas. The smallest note I had was 50 pesos, and they rejoiced with duping me out of my money. Oh well...



Lots of older people were going for a nice morning dip. Some were even wearing full wet suits. Must be refreshing in the morning.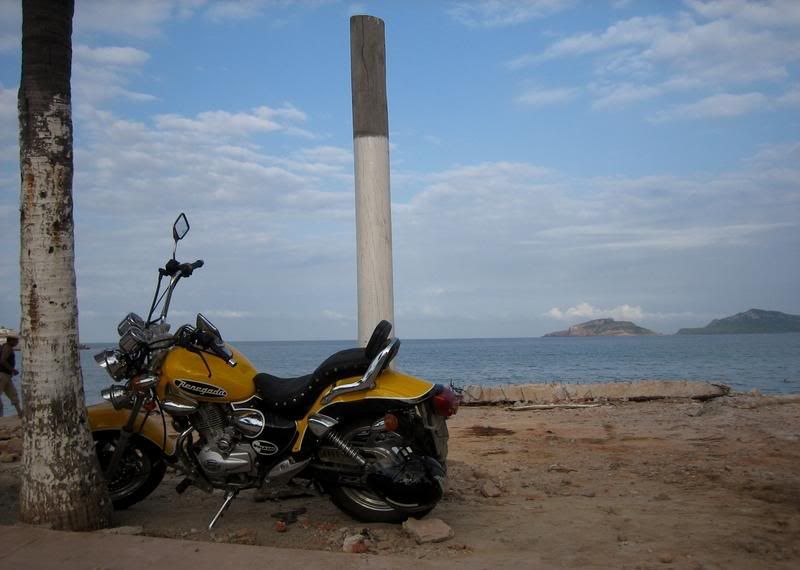 A nice Renegade motorcycle parking on the beach.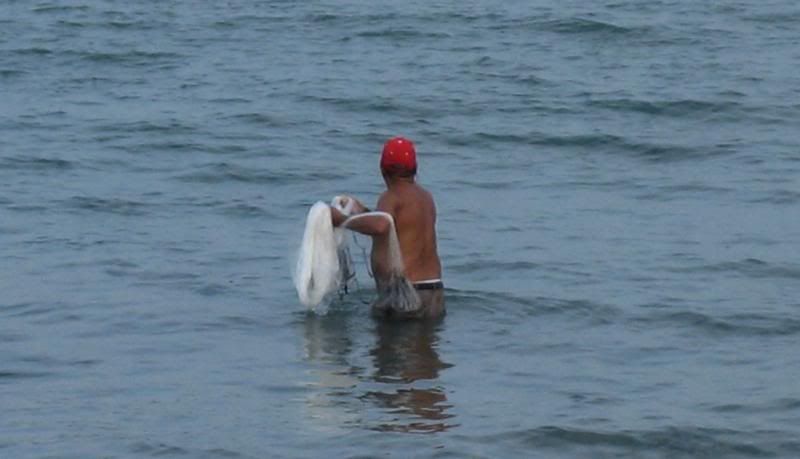 The fishing must be that good if you don't even need a boat.



A shot of the beach at Old Mazatlan. My hotel was a block inside.



Pelicans and other birds waiting for the scrapped fish from the morning catches.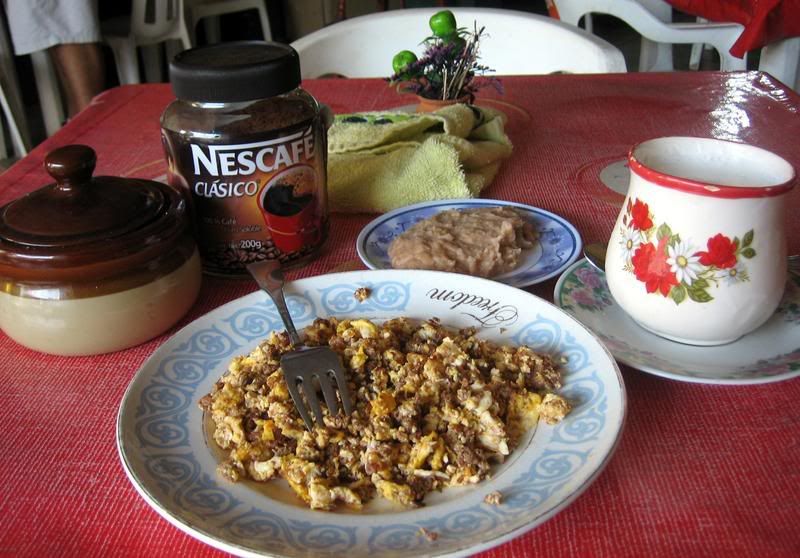 Breakfast in a little café by the beach. I read in the guide book that instant coffee is easier to find than brewed coffee in Mexico, same as in other developing countries.



Random Motorola logo being using for a car audio company… Motorola actually started off with car radios.

Hwy 15 was a pretty decent road - traffic and scenery wise. And at one of the big Pemex stations, I was surprised to find sort of a bikini bike wash going on, minus the bikinis and the bikes. There were a few girls who were promoting some of the motor oil products and in return were performing the full service on the vehicle: cleaning the windows, filling up the gas, checking the air pressure, etc. I was also pleased with the attached convenience store, which was similar to ones in the States, with lots of cold drink choices and snacks. I used the A/C to cool off for a bit.
Even though Hwy 15 runs by the coast, it's not all flat. The western coast of Mexico is dotted with mountain ranges spilling into the ocean and the road repeatedly climbed a couple hundred feet before dropping back to sea level. The only bad thing was waiting over 40 minutes to cross a one-way bridge under construction. I don't understand why they let traffic back up for miles before sending traffic through. How about just making traffic wait for 10 minutes on each side?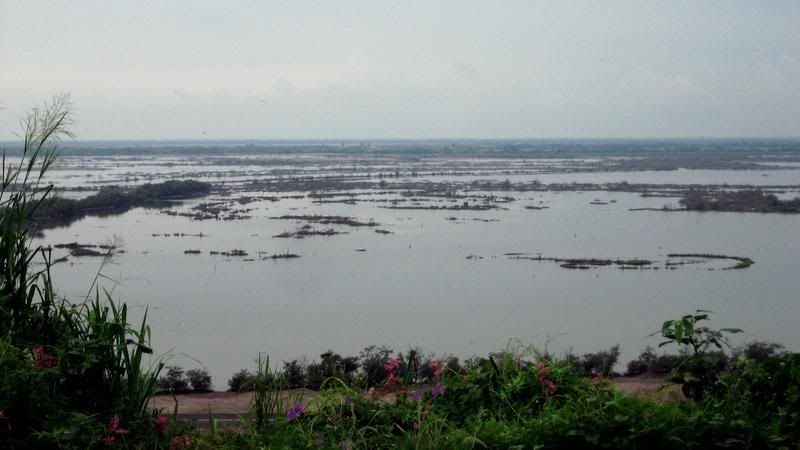 On Hwy 15 heading south towards the small town of Sayulita, north of Puerto Vallarta. The coastline in this part is defined by wetlands.



Getting a construction escort around some paving machines. Nice to see new tarmac on many of the roads that I rode.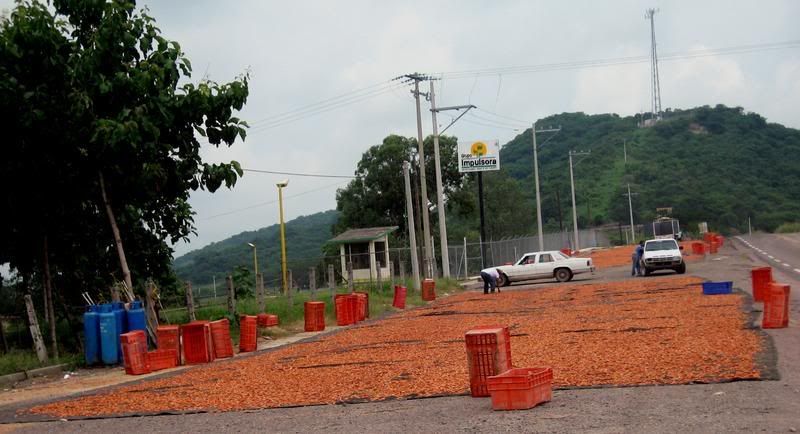 Shrimp drying by the road side.



These girls were promoting certain oil products and performed the full service jobs of filling gas and cleaning the windows. Reminded me of a bikini bike wash minus the bikinis and the bikes.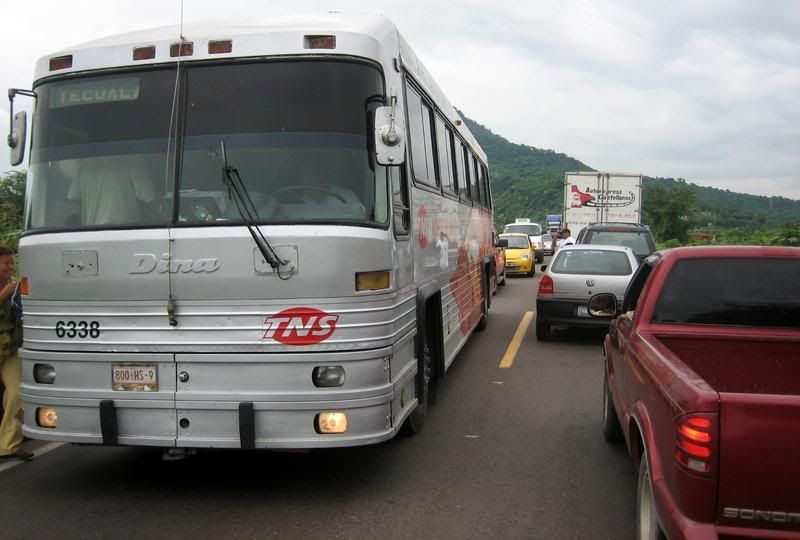 Bus stopping on a crowded highway to load passengers. But what to do, there's no shoulders by the road.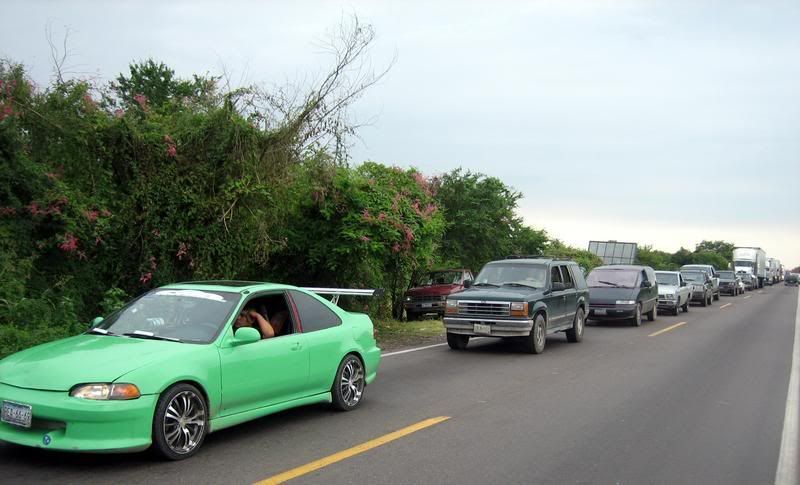 Traffic backing up for a mile or more waiting for one way bridge traffic up ahead. I found his neon green Civic with rims to be out of place. And stereotypically it was driven by an Asian… in Mexico.



There were no real police cars away from the big cities and I mainly came across these public security trucks. Not sure if they were enforcing the speed or not. But I guess with all the crazy over taking that they were doing, it was all good.
As Hwy 15 goes inland, I took Hwy 200 back towards the coast. The road got quite twisty and the sense of speed was heightened as the thick forest comes right up to the edge of the road, with no shoulders. There was a lite rain with fog in the area and green mountains in the distance. That image seems to be very typical of Central America to me for some reason. Politically, Mexico is part of North America, but I think culturally, it's probably more related to Central America.
I had a late lunch in the small ocean-front town of San Blas. I made my way to the beach, to Playa El Barrago, where they have a nice outdoor restaurant. It was definitely low season, but food was still being served. Spicy shrimp was a good meal.
From then on, Hwy 200 was getting quite crowded with traffic, as it's the main road for people from Guadalajara going to Puerto Vallarta for the weekend. And many of them were driving quite erratically and making some hairy passes. The problem was with the trucks whenever we came to an incline. They would slow down to about 5 mph, backing up all other traffic, causing everyone to overtake in blind turns and other dangerous places. Maybe if they improved the trucks and kept them at speed, traffic might flow better and lead to less accidents.
Finally on Hwy 200, the coastal highway heading towards Sayulita. I liked the mix between thick jungles and palm trees. The coast was only a mile or so away, but the jungle and the mountains continue to the coast.



This somehow embodies what Central America would seem like to me: thick jungles with mountains and low cloud cover. It was lightly raining too.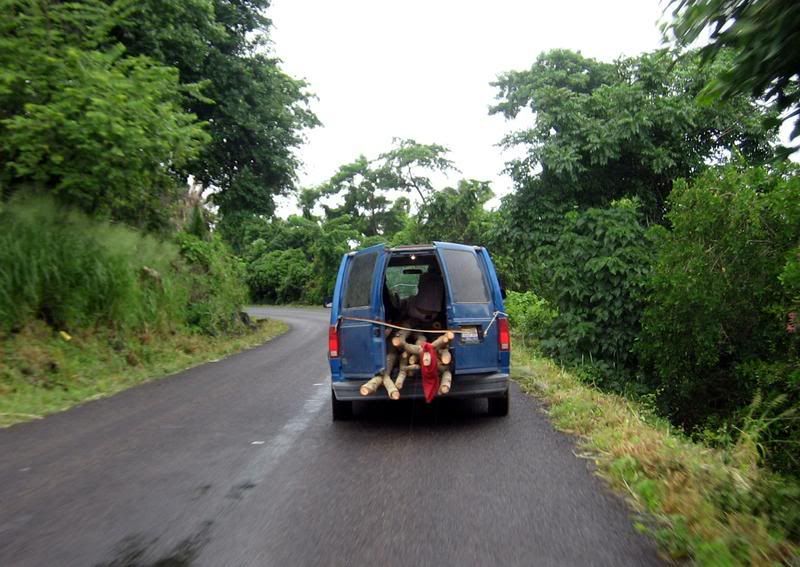 At least they had a red flag on the end of the sticks, but how were they secured? I didn't hang around to find out.



San Blas, a little sleepy town on the coast.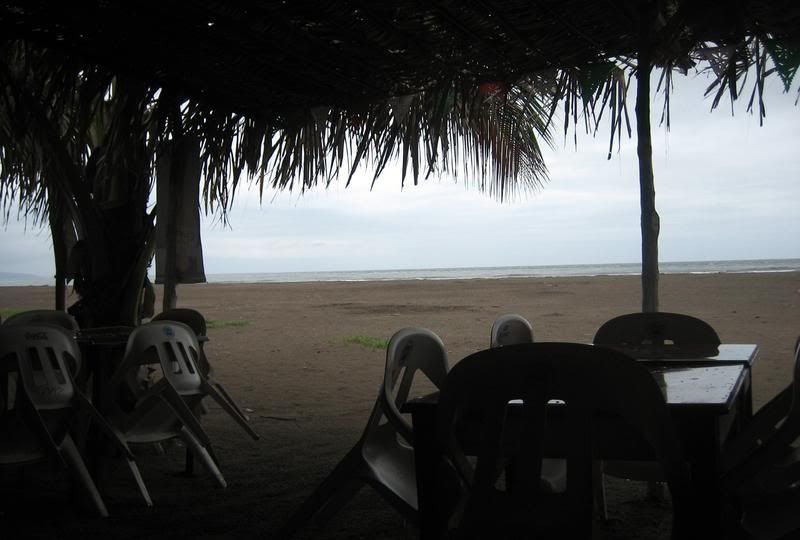 Having lunch at a restaurant by the seaside. This was clearly low-season with a few random patrons.



But they made a cracking spicy shrimp dish with fries. Tasty.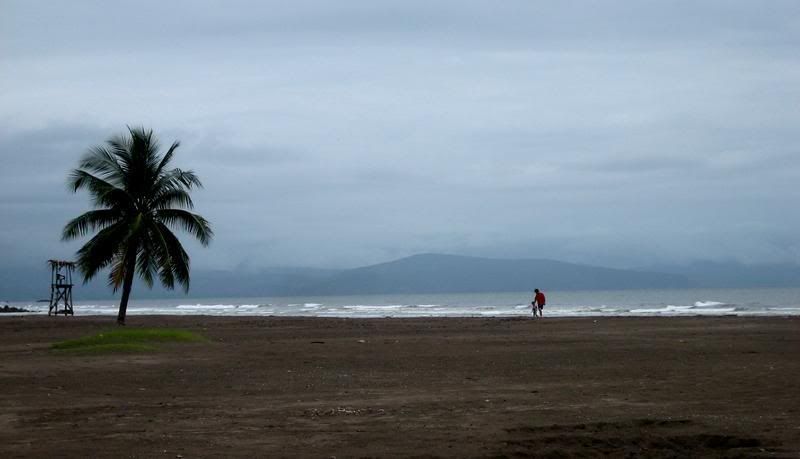 The beach not looking that inviting with storm clouds about, but still nice to be near water.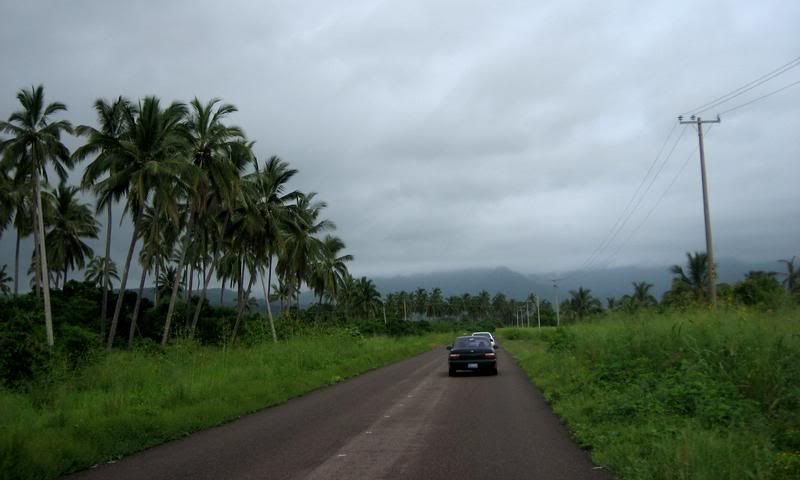 The coconut trees told me I was close to shore but I didn't see much of it as the road was a little inland.



This was how the road basically looked heading towards Sayulita. Closely cropped thick jungles coming right up to the road, which had no shoulders. But the pavement quality was good. There was also heavy traffic heading to Puerto Vallarta, probably people from Guadalajara.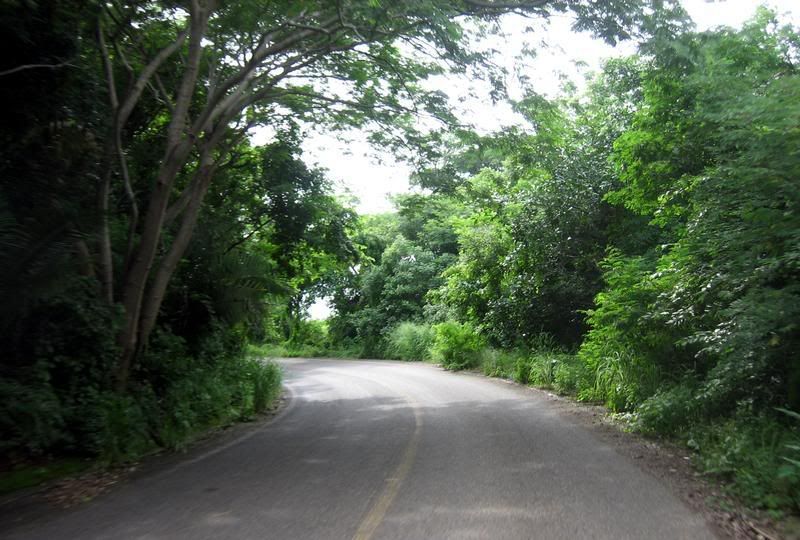 Hwy 200 to Sayulita



Hwy 200 to Sayulita



The little town of San Francisco, just north of Sayulita. I was told that if Sayulita was too crowded, this was a bit more sleepy town. I didn't really find much in terms of hotels or a main strip.
Sayulita is a small beach town, that only recently got discovered by tourists and some say, it has lost its charm as it's becoming more commercialized. I was told beforehand that if Sayulita felt too crowded, I should check out the even smaller town of San Francisco, just a bit north of there. I swung through San Francisco, but wasn't too impressed as I didn't find too many lodging options or restaurants even. I think it's still very much a residential town. Being low season for tourism, I figured Sayulita wouldn't be that bad.
Just to note that throughout Mexico, I saw many signs for small villages and towns named Los Angeles, San Francisco and San Antonio. Maybe it's a reverse logic compared to the Europeans who named cities in the New World (America) that resembled the cities that they came from. The Mexicans are probably naming their current towns for cities they'd like to be in. Who knows.
It had just finished raining, so all the pot holes off the main roads in Sayulita became little ponds. Since you can never tell how deep each puddle is, it's always better to go around them or right at the edge. I asked around for directions and made it to El Camaron Campground as I read in the LP guide book that I could get a hut right on the beach. There were a few people relaxing at a bar that was right on beach made of thatched coconut leaves. The bar also doubled as the main office and I got myself a Palapa (beach hut) for $20 a night for two nights. I would be taking a day off and just relaxing as I've always wanted to stay in a hut on a beach. The Palapa was awesome, just what I always envisioned as a beach hut: thatched roof, ceiling fan, bed with mosquito net and a hammock.
The beach bar was excellent for relaxing and watching the sunset. I had a Mango Margarita while letting the feeling soak in that I rode from Chicago for this very moment. I love beaches and sunsets. The campground is very surfer-centric and I was told that in winter-time when the waves are much higher, the campground is covered with tents with surfers coming down from the States. I had a good chat with the bartender, who was the daughter of the campground owner and also chatted with Jorge, another helper around the campground. He just returned from visiting his girlfriend in Spain, for three months. We shared some common views ranging from our outlook on life, travel, politics, the US, India, etc. I asked how he managed to travel so much and work at a campground, because he sounded very educated and I figured his parents might have wanted him to hold a nice job in a big city. But it made sense when he said his whole family worked at the campground and this was their life. I'm sometimes jealous of the free spirits that haven't been thrust into education and are free to explore the world with no consequences. But then again, education does lead to a nice paying job that also provides for exploring this world. It's a matter of perspective.
I went into town looking for this Argentinean restaurant that I was told about, but couldn't find it and instead came across another gem, Burrito Revolution, which is a little burrito shack on the corner of a building with a very chill atmosphere. I had a Marlin burrito for $6, which was amazing. The owner of the place, Antonio was very friendly and spoke good English. I got chatting with his finance, Patty, a Mexican-American who just recently moved down to Sayulita to open up this burrito shack with Antonio. She was an account in San Francisco (California) and one visit to Sayulita was all she needed to pack her bags and move down here. She managed to keep her job in the states by tele-commuting. All you need is the Internet these days.
They couldn't serve beer as they didn't have their liquor license yet, but the grocery store was just nearby. I also got chatting with the guy next to me, Casey who was surfing his way down to Costa Rica. He works in Construction Management in San Diego (who's also a Purdue grad like me) and since his work is all contract based, he decided to take 6 months off between jobs and get some surf time. He'll also be attending Spanish language schools along the way using money that his company allocates for this purpose, almost $5,000 (since all the construction workers are Spanish speaking). How cool. After mentioning that I was on a bike here, he said he rides a Ducati Monster and rode from San Diego back to Purdue and said it was terribly painful and couldn't imagine how I was riding for so many days. I explained how my bike is more comfortable and taking the day off tomorrow was part of the plan in making this a comfortable ride.
To my surprise, I noticed that my number plate had broken off from the bike. I did notice the rear tire hitting the plate while going down to Batopilas, so I bent it up a bit. Looking back at my pictures, I think it broke off somewhere on the road from Batopilas. Oh well, all I could do was hope that the police wouldn't notice. I thought of making one out of cardboard, but figured that might draw more attention as opposed to having no plate at all. I still had about 10 days to go before getting home. They don't call it Adventure Riding for nothing.
Ah, I had finally made it to Sayulita and more precisely to the El Camaron Campground.



This is the main office and the bar right on the beach. The campground is run by a really nice family and they told me this place was a surfers paradise in the winter time with tents pitched all over the site.



Enjoying a refreshing Mango Margarita…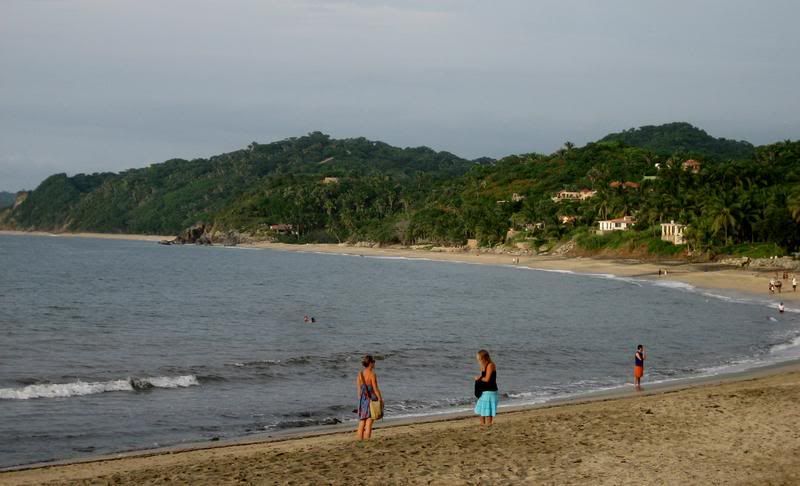 The beach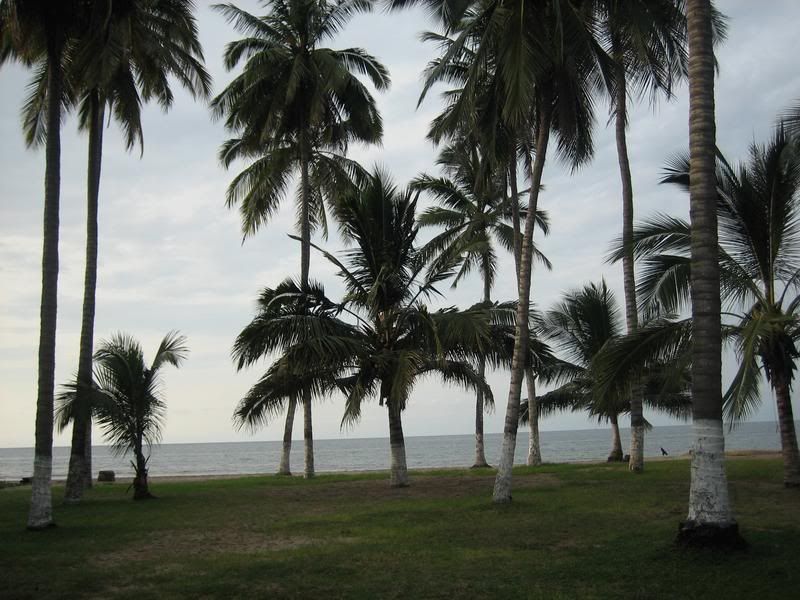 The campsite. How awesome.



I saw lots of these birds who were fishing. They would fly high and then swoop down to the water and try and catch fish.



I've always wanted to see a sunset on a nice beach…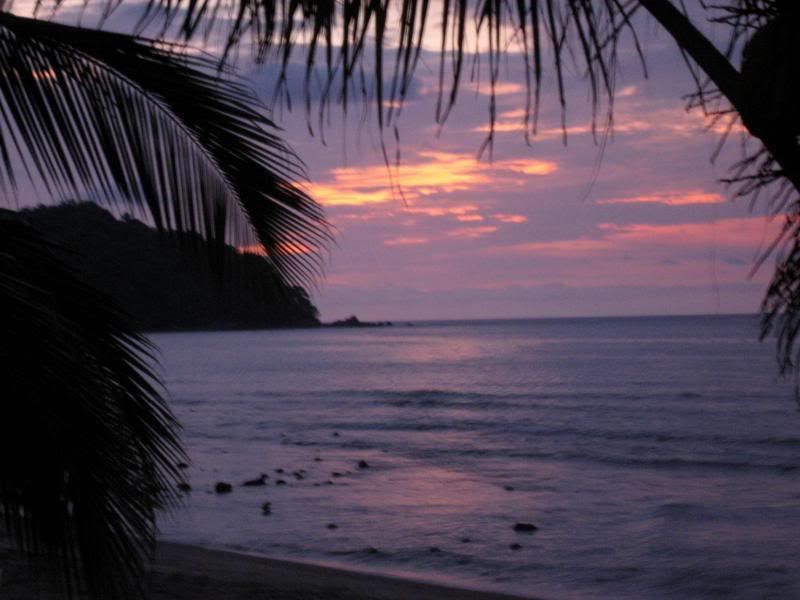 Nature's canvas of colors are just beautiful.



One of the palapas (beach hut) right on the beach.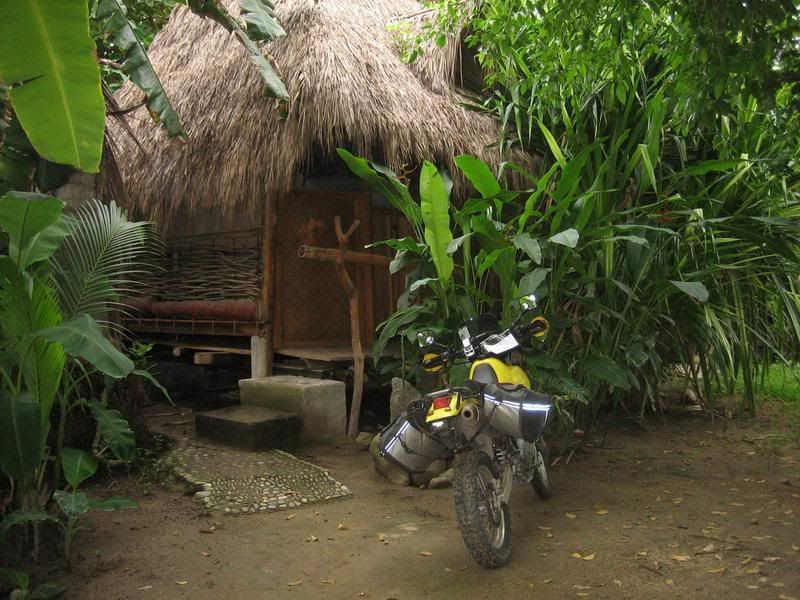 I stayed in this lovely little palapa for $20 a night. It was so nice that I decided to stay two nights and take a day off from riding.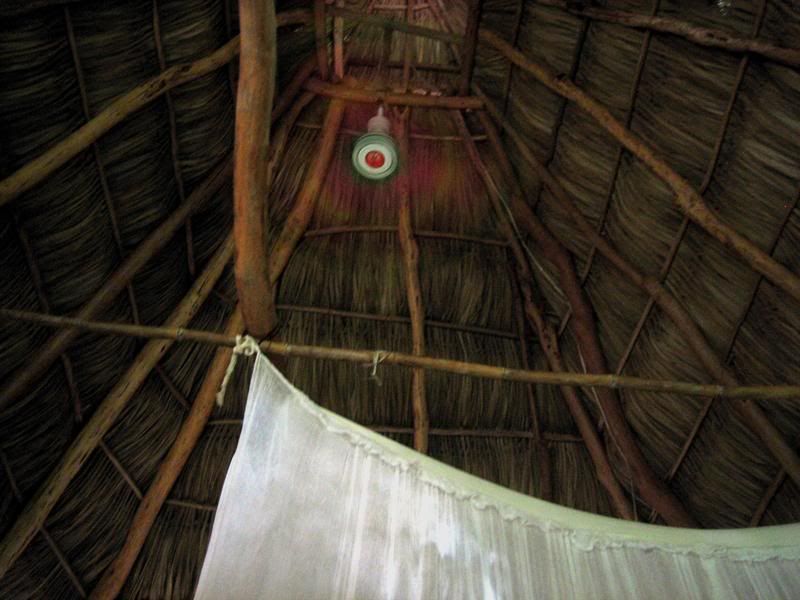 It was simply a hut with a ceiling fan, bed with mosquito net and a hammock. Awesome.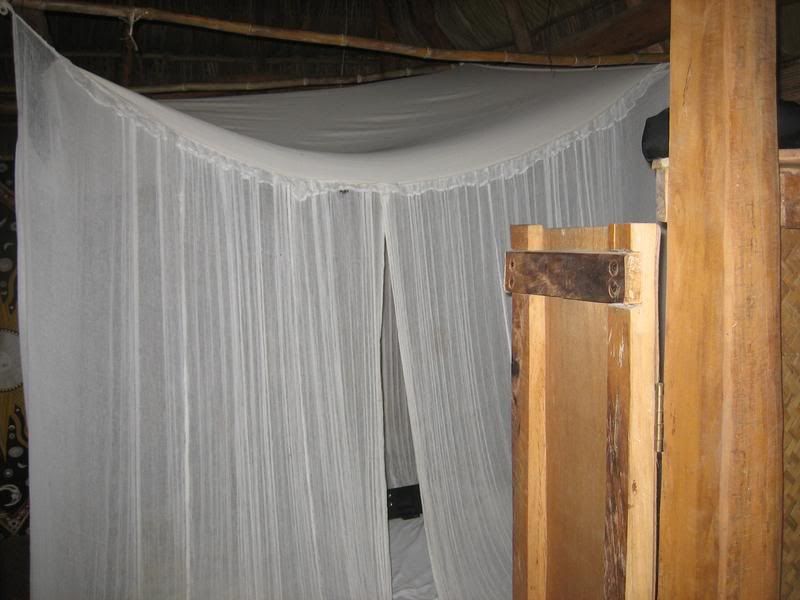 The bed with the mosquito net.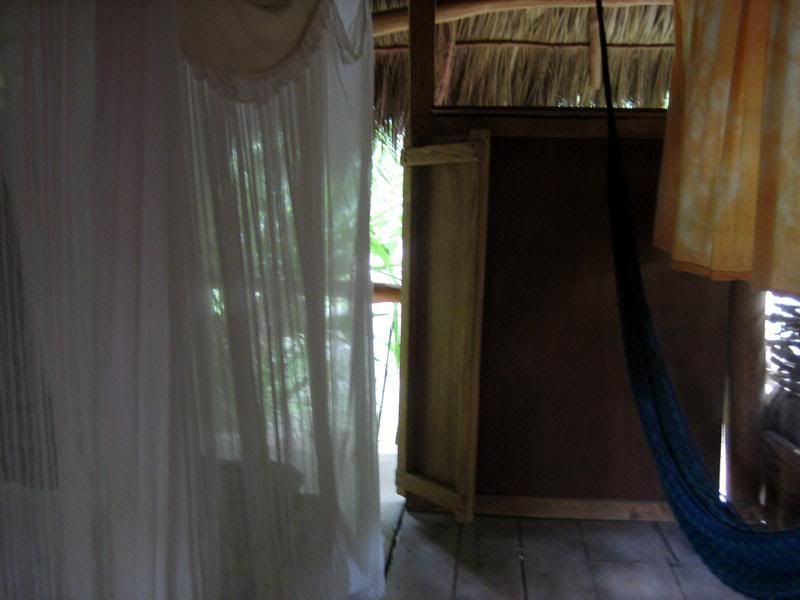 The hammock in the palapa.
_______________________________________________________________
Day 8 / Saturday, September 29, 2007
Start: Sayulita, Nayarit
End: Sayulita, Nayarit
Mileage: 0
It was cloudy and raining most of the day, so after a walk along the beach with three dogs in tow, I bummed in my Palapa all day; reading, eating and sleeping. It's a vacation after all, isn't it. The dogs, oh my god, there were so many of them at the campground, around ten of them. I love dogs and all, but the barking. All through the night, one of them would start barking and everyone would join in the conversation. It was bearable, but a little annoying. I wonder what they were getting so excited about.
After a late lunch at Antonio's burrito shack, I relaxed by the Bar de Playa at the campground and got talking to the owner's sister, Rosario. She's a singer and is trying to re-start her career with some local bands. She had a hippie-aura around her and was very pleasant to talk to. She expressed distaste with how everything was becoming 'plastico' - referring to how people were becoming more fake as the area became more commercialized. She explained how Puerto Vallarta was this little hamlet by the ocean before it got discovered by Hollywood and became famous. And with fame, came more money and more 'plastico' attitude. She mentioned how Sayulita was slowly becoming like that and was not happy with how the gringos were over-valuing the property, like buying a house for $50,000 and selling it for close to half a million just because it was a beach house. Besides all the negativity about development, we had a nice talk.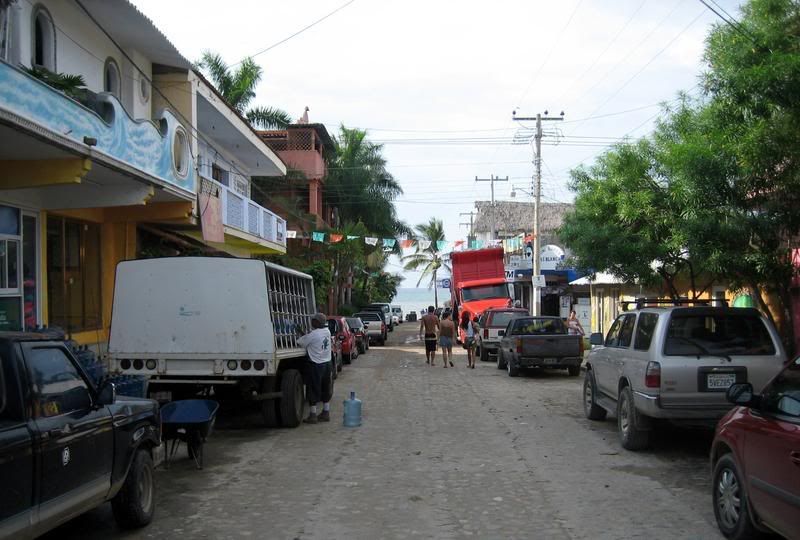 The quaint little town of Sayulita. Lots of foreigners around (since I'm brown, I was considered to be Mexican by everyone).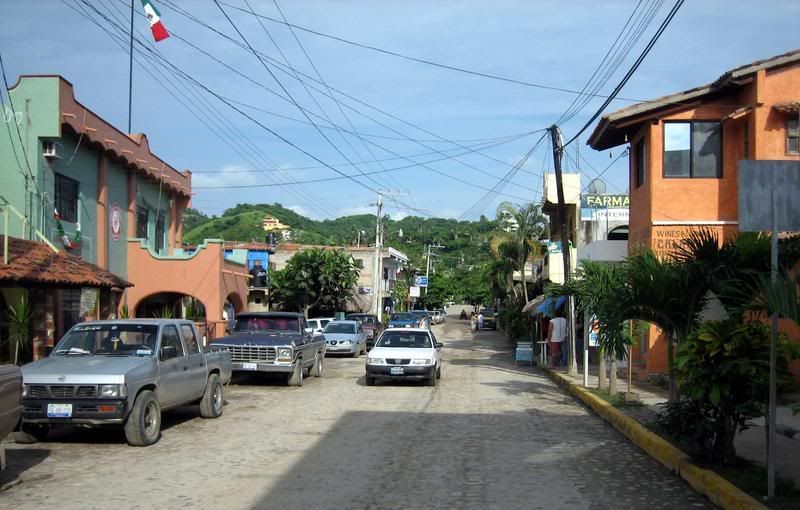 There were lots of real estates offices in town as the gringos were buying up all the beach front houses and over-valuing property (according to one local).



The recently opened Burrito Revolution run by friendly Antonio and Patty.



This place has awesome burritos, with fillings like marlin, shrimp and the usual chicken and steak. The sauces they used were banging. Great atmosphere too.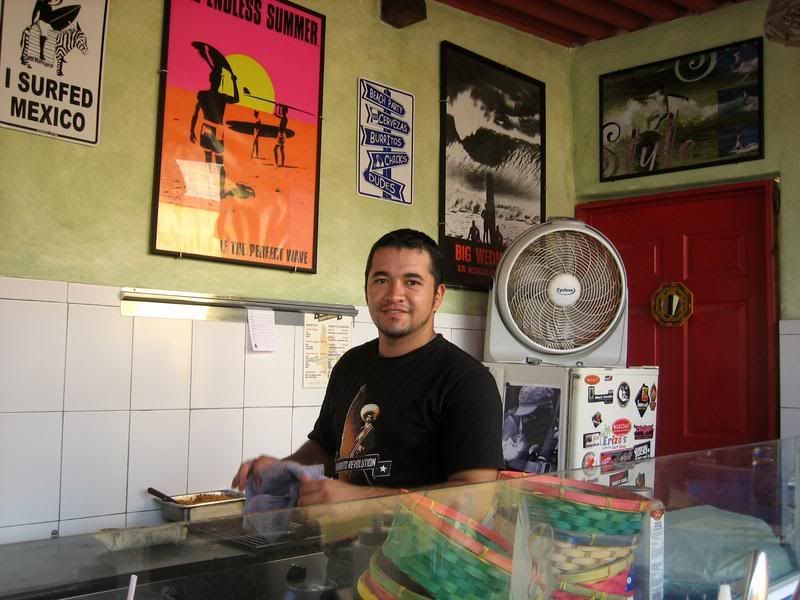 The chef (forgot his name), great guy, moved down here from Guadalajara.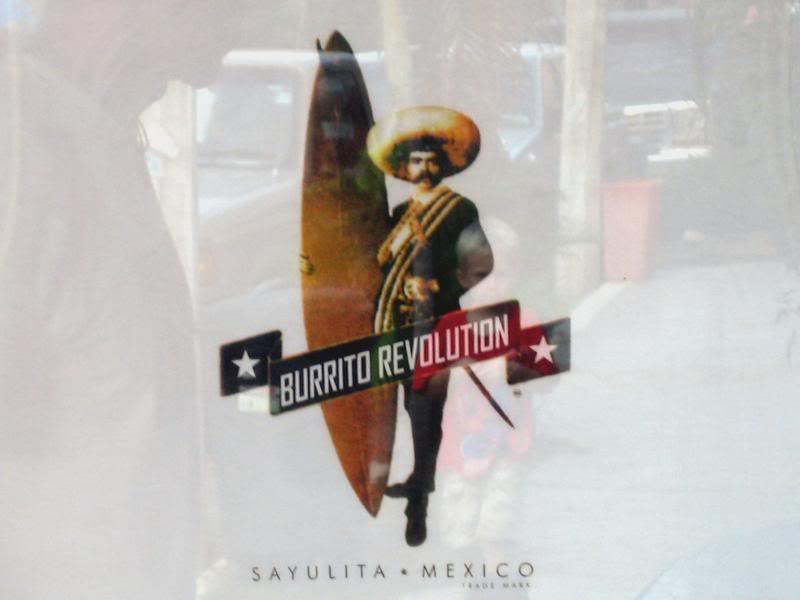 This place just opened in the low season and business is already doing great. They can't wait for the high winter season to start. Good people.



Some of the signs at Burrito Revolution.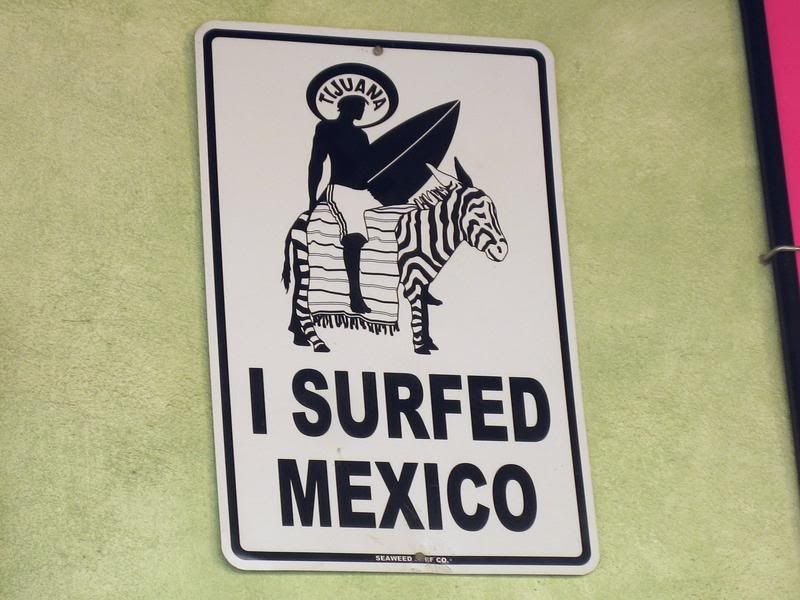 Some of the signs at Burrito Revolution.



I saw these two adventure riders from Canada pull into town. The guy up front is doing it the right way by bringing along a new rear tire. They had Alberta plates.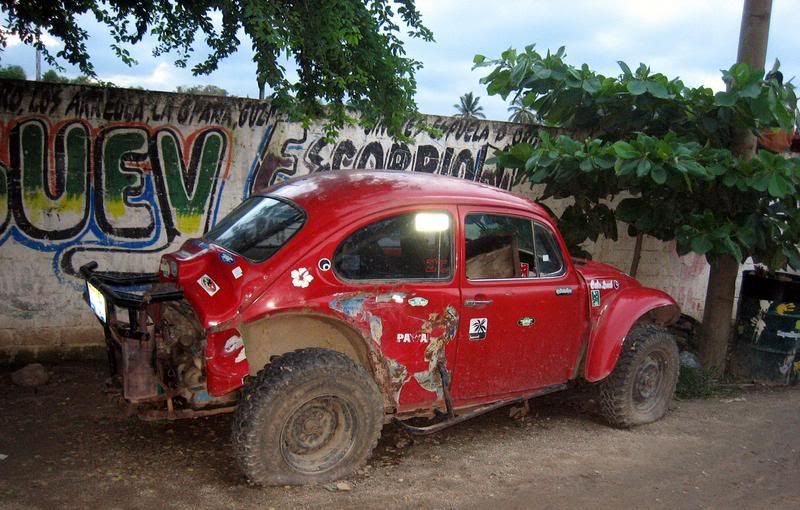 A neglected dune buggy racer. How cool.
Next:
Day 9, Touring Tequila and Guadalajara
Ride Report Index