Day 10 / Monday, October 1, 2007
Start: Guadalajara, Jalisco, 11:00 am
End: Melaque, Jalisco, 3:15 pm
Mileage: 205
From the Internet, I found a motorcycle shop in Plaza Bonita, Motorrad, where someone on a previous trip had got their tire replaced there. I found the plaza pretty easily with the detailed directions from Rodolfo, but alas, Motorrad is closed on Mondays. Just my luck. Not knowing where the other motorcycle shops would be in town, I decided to skip the tire change as it looked like it could handle another 1,000 miles to Monterrey or San Antonio.
After getting some Birria for breakfast, I was on my way back down towards the coast on Hwy 80, heading towards the small beach town of Melaque, near San Patricio and across the bay from Barra de Navidad. Hwy 80 was a really fun twisty road. In some places, the road was just continuous chicanes for miles as it either wound up or down a mountain. One sign said "Camino Sinuous 18 km" - that means continuous twisties for 18 kms. It was a nice sunny day and the scenery was again beautiful.
After asking for directions multiple times in Melaque, I found Bungalow Villamar, which was right on the beach. The owner, Roberto was English-speaking and a friendly guy. He let me park the bike right in front of my room, which for $28 was a nice price, that too with A/C. I had lunch at the ocean-side restaurant nearby, but the service and food wasn't that good.
After a nap, I took a walk along the beach and was pleased to see so many kids and families enjoying the beach, a free activity provided by Nature. Kids were running into the water and being chased by the big waves, that were about 2-3 ft high and they were quite loud when they crashed. Men were fishing by just standing in waist-deep water and throwing nets or lines. The waters must be rich here. Some already had buckets of their catch and it looked like more people were coming to fish around dusk, along with the Seagulls. Another facet that's similar to India was seeing many older women playing in the surf with all their regular clothes on, as swimsuits of any kind would be too embarrassing for them.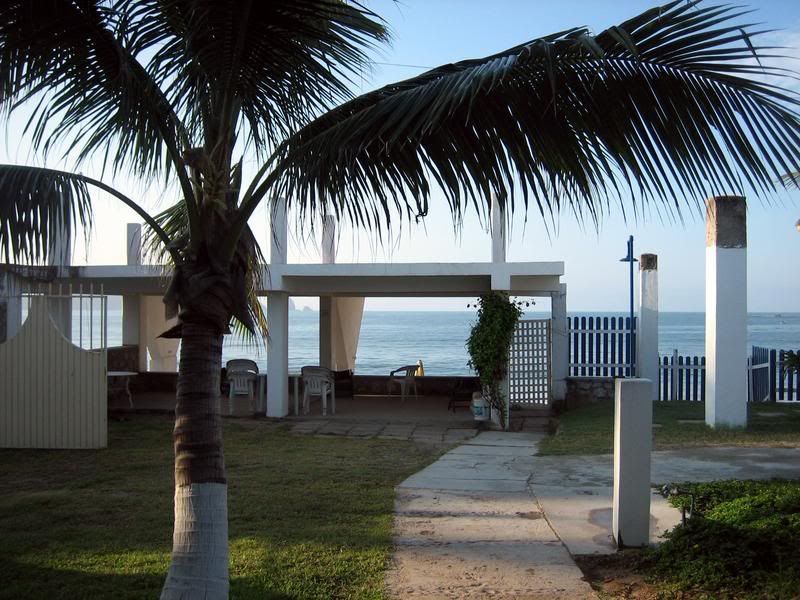 Back down on the coast in the small town of Melaque, where I found this nice bungalow right on the beach for $28.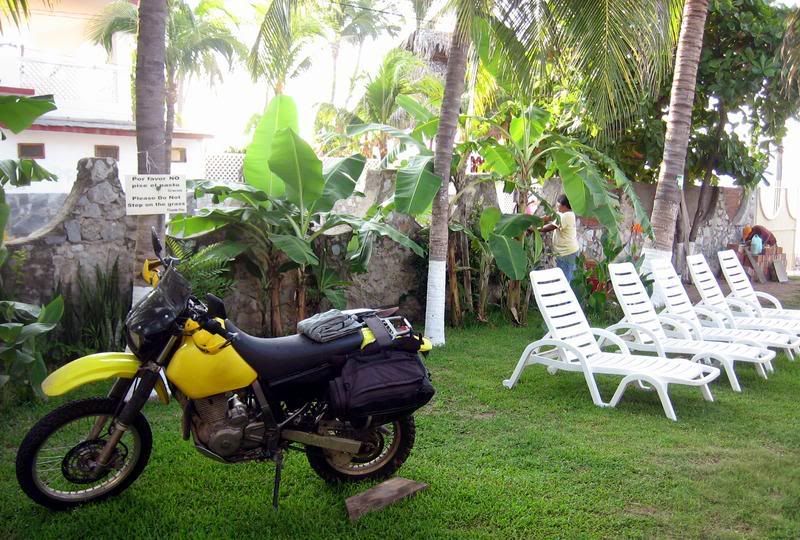 Special parking for auDRey.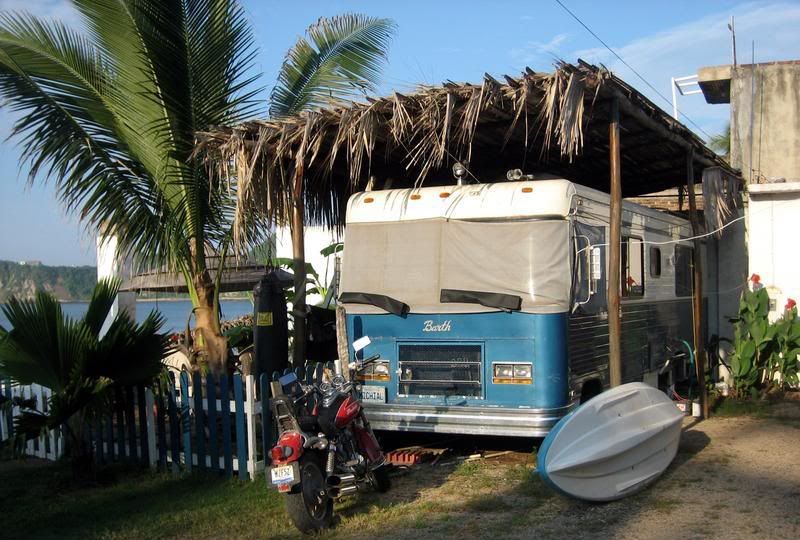 A friend of the owner (a retired NASA JPL scientist) who's parked his RV right on the beach. Awesome.



Having some coconut water at the next door restaurant. Me likes coconut water.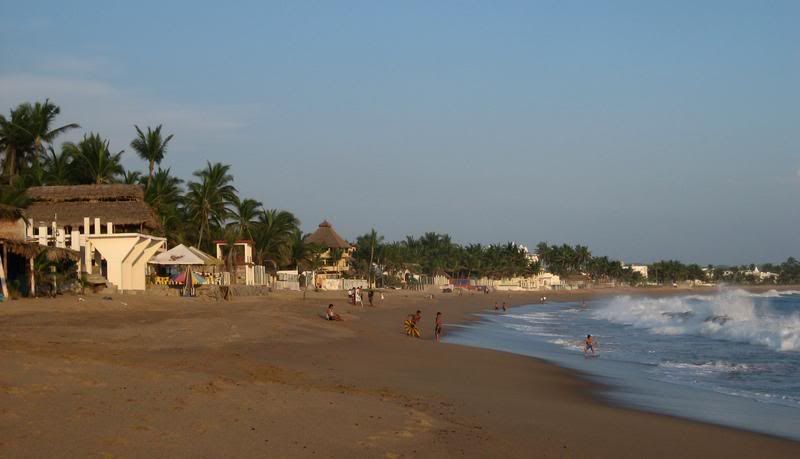 The beach at Melaque. The bungalow I was staying at is by the Y-shaped concrete pillars.



Geometric patterns created in the sand by the retreating waves.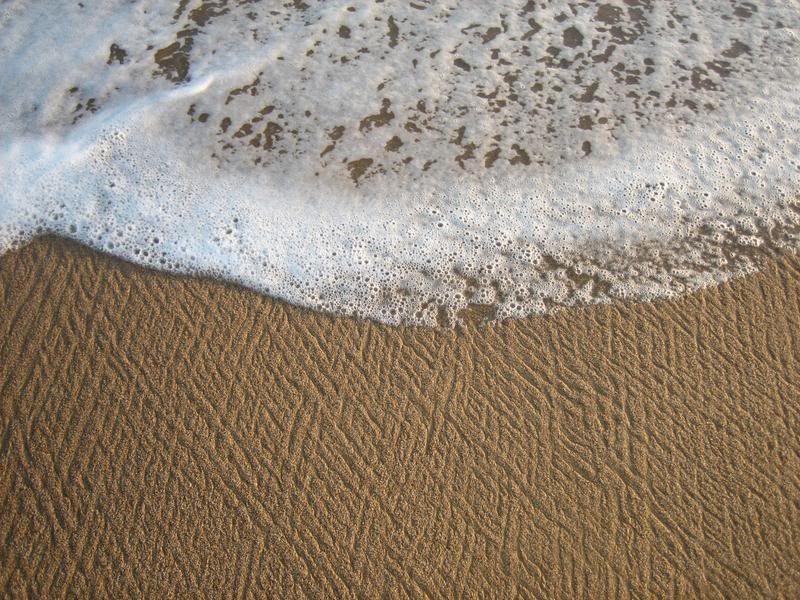 Geometric patterns created in the sand by the retreating waves.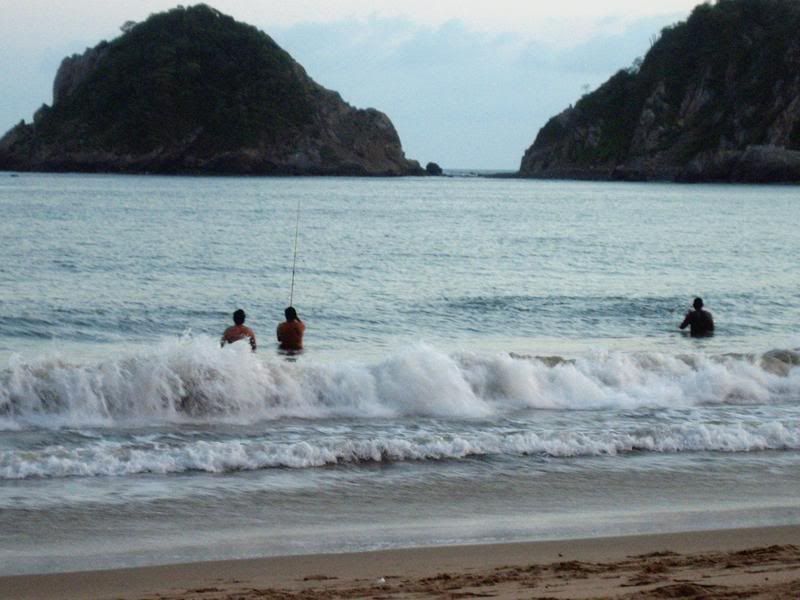 Fishermen just using fishing poles and nets a few feet from shore. Lots of people were making small catches at dusk.

In the evening, I went into town in hopes of finding more Birria. I couldn't get enough of that stuff. The town square was quite lively as the school bus had just dropped off the high school kids (the school must be in another town). It was interesting to see the various dynamics of the social circle here. None of the kids went home and instead hung out in the square, because I guess once they went home, they probably had homework to do or their parents didn't let them out again. Some of boys were cruising around the square in pick-up trucks or motorcycles, probably trying to impress the girls. Others were shopping for new clothes or meeting up with their boyfriend or girlfriend and getting a Coke or ice cream. Some of the cool girls were zipping around the square on scooters and one of them almost hit the other one. Crazy. The scene looked like what small town USA must have looked like back in the 50s and 60s and maybe even today in some remote small towns. Don't get me wrong here, but what was most intriguing was the varied uniforms that the girls were allowed to wear. The skirts ranged from below the knee and full polo shirts to scandalous micro-mini skirts and tank tops. I was a little shocked that this would be allowed as a uniform. And being uniforms, how were they so different? All the boys were wearing the same pants and shirts. It's probably only the 'cool' girls that were wearing the skimpy uniforms. Isn't the point of uniforms that everyone dresses the same?

Anyways, I didn't find any Birria in all the food stalls that were setup around the square, but I did find a nice taco stand with Barbacoa, which is always good. The two ladies running the food stall were listening intensely to what one of the older school boys was saying at their stall and I figured he must be passing on some juicy gossip.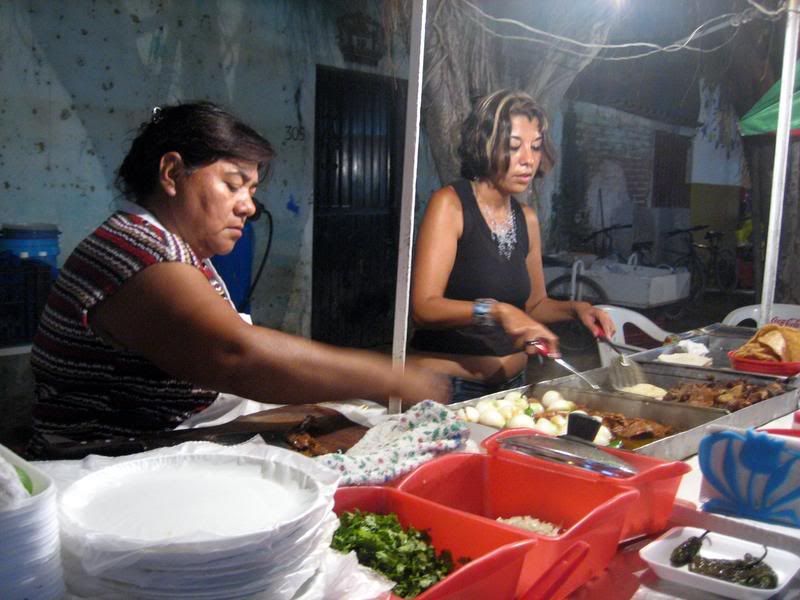 Having dinner at a food stand in the main square of Melaque. It's all so tasty and cost only about $0.40 a taco. The best thing was that I got no stomach problems throughout the whole trip.
I took a few fria cervezas (cold beers) down to the beach and enjoyed the clear starry sky. I even managed to see a few shooting stars.
_______________________________________________________________
Day 11 / Tuesday, October 2, 2007
Start: Melaque, Jalisco, 9:30 am
End: Zihuatanejo, Guerreo, 7:00 pm
Mileage: 315
In the morning, as I was having some tea on the balcony, I chatted up with Chuck, who's a retired NASA physicist. He worked at the Jet Propulsion Lab on the unmanned space missions, such as the Cassini spacecraft, which is currently checking out Saturn. He said he was fed-up with US politics and retired to Mexico, spending seven months here in Melaque in his RV, right on the bungalow property and the rest of the year up in Mazatlan. He liked Clinton, but the last person he voted for was Carter and said smiling that he's part of the problem; people like him who're fed up with the system but don't vote. He also said that not all people's votes should count, referring to how a politician can swing a whole town or county to his side by making a promise for their benefit. He said a questionnaire on the ballot testing people's general political knowledge should be used to determine whose vote counts. Definitely an interesting fellow to chat with.
I got going and stopped for breakfast in Cihuatlan at the food court in the center of town. To my yearning stomach, I found some Birria! The reason why I'm crazy for Birria is that it hits just the right spot for me. The broth made with dried roasted peppers and the roasted goat meat just go so well together. The restaurant owner was a friendly chap and said another motorcyclist had been through here four years ago, who was from Louisiana and on his way to Argentina.
Riding south along the Michoacan coast heading to Zihuatanejo.



Stopping for breakfast at a local food market. The birrieria owner said he served another motorcyclist 4years ago who was from Louisanna and was heading to Argentina.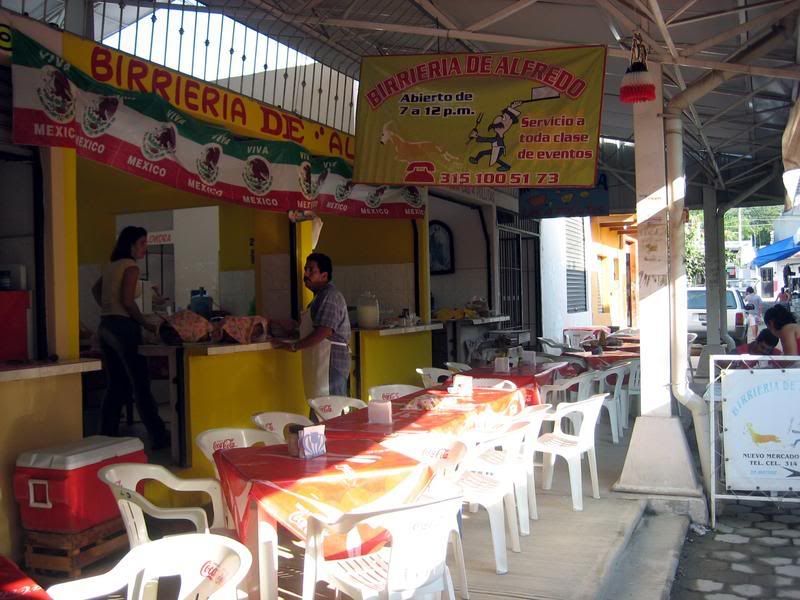 Trying to eat as much Birria as I could before I left this region. Funny that they would depict the chef actually chasing the goat on their banner.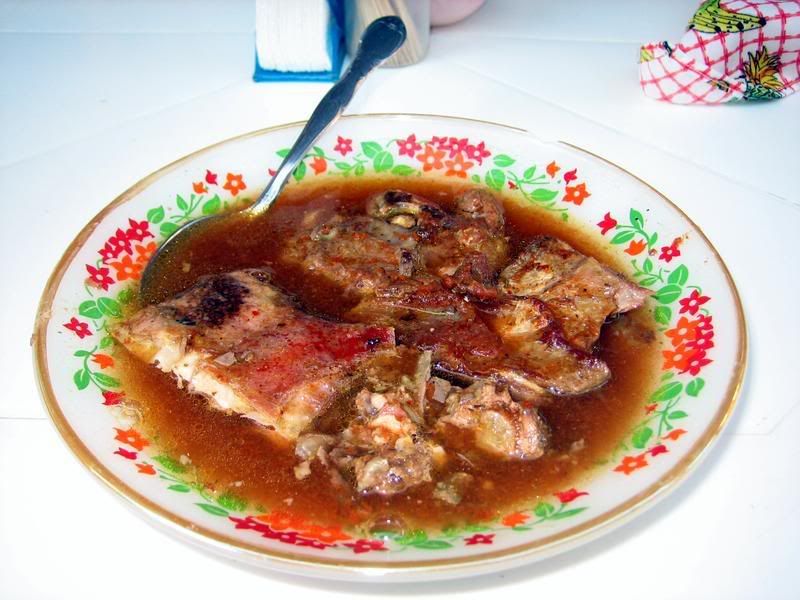 Goat meat (mutton) Birria. Soooo tasty. Need to figure out how to make it.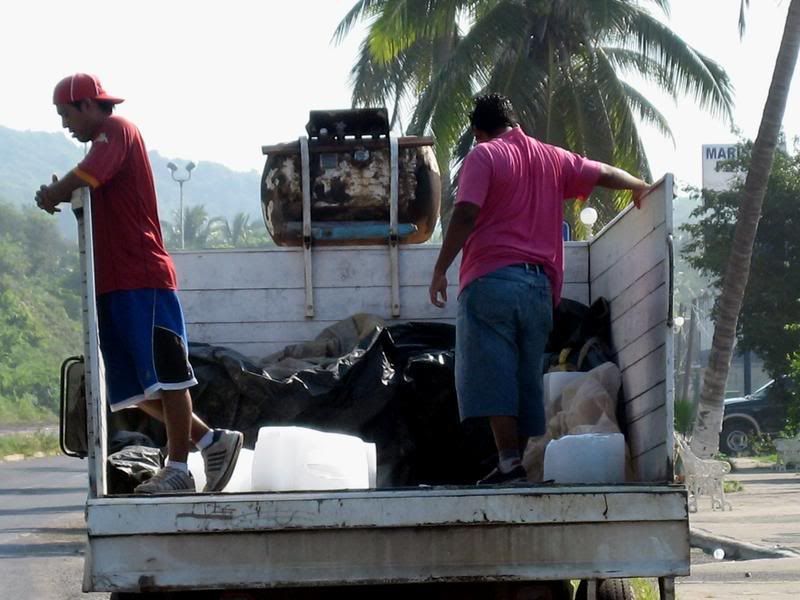 Dry ice delivery. If refrigeration isn't available everywhere, this is the best solution. Maybe being delivered to keep fish fresh.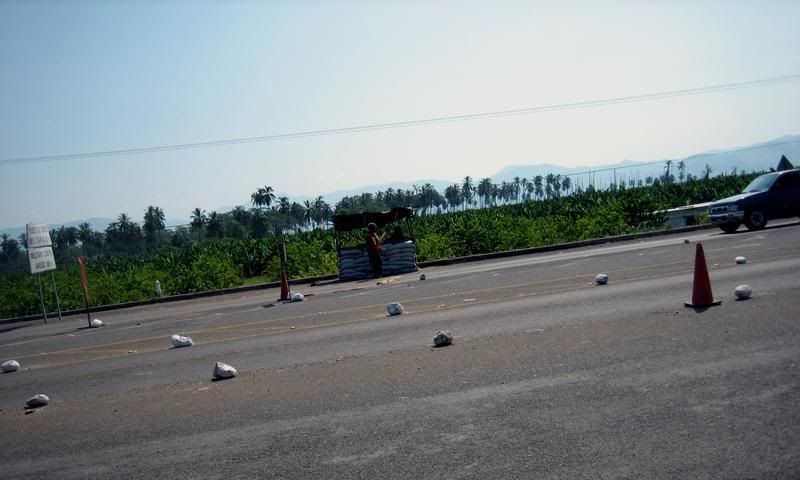 This picture was taken by a military guard who was playing around with my camera. He also messed around with my GPS. I think they were just more curious than threatening. All the check points I went through were a breeze. I was waved through most of them just cause I was on a motorcycle. This was also the last picture to be taken with this camera as it would soon hit the pavement really hard.
The ride down Hwy 200, along the coast was a beautiful ride. It was a sunny day and the weather felt great, except I was feeling quite tired, maybe it was the big breakfast. At the next gas stop, I had a Bomba, a local energy drink and pumped up the air in my tires, because now they had to last a bit longer, all the way to Monterrey. When I started riding the next bit of twisties, under braking the front tire was feeling quite wobbly and I turned it down a few notches, thinking that I was just too tired.
Around a left hander, I saw a pick-up truck driving extremely fast and for some reason was in my lane, probably cutting the previous corner. I grabbed all the front brake I could, while already leaned over and the front tire washed out under me. I did some asphalt-surfing into the concrete ditch along with auDRey. It was a very simple low-side for me, as I didn't even roll. I just slid and came to a stop. My helmet hadn't touched the ground and neither had my gloves, so everything physiologically was working fine. As I picked auDRey up, the left saddle bag's inside wall tore off, emptying all my bike-related tools. I managed to stand auDRey upright, and she fired right up but this ditch was at an incline where I wasn't able to walk her out. The rear tire kept spinning. I tried to wave down a few motorists to help me with the bike, but either no one wanted to stop or they couldn't, since it was a dangerous corner with no safe place to pull over. Finally, after 10 minutes of sweating and holding auDRey up, a local motorcyclist on a standard 100cc bike stopped and came over to help. He kept saying 'peligroso' and I said I know it's a dangerous corner, but help me out. A little push and auDRey was back on the road. It was quite dangerous because if a truck of bus came around the corner right at that instance, it would've been a direct hit. Luckily, there was a gap in traffic. I thanked the local biker and continued to collect all my belongings. I used bungee cords to hold the saddle bag together and had to get rid of only my Camel-bak water bladder and a box of granola bars, due to lack of space. I was feeling some pain on my left elbow, but since nothing was broken, decided to push on to a rest stop.
There was no damage on the bike, besides the shifter platform being broken off, which some duct tape around the rod fixed. The only real casualty was my digital camera, which got flung from my map pocket and wouldn't turn on anymore. That trusty old Canon SD-400 sure went through a lot with me and I figured it was just a matter of time before she kicked the bucket with the way I was treating her (bike trips, ski trips, other rough use, etc.). Not wanting to buy another camera without doing research into what's on the market now, I resorted to using the 2 MP camera from my phone, a Motorola Z6, which is not that bad.
The funny thing about the accident was that, yes the on-coming truck was headed straight for me and I grabbed too much front brake, but I was in similar situations before on the trip and the tires didn't break loose under heavy braking. I realized then that the increase in air pressure reduced the braking effectiveness of my front tire. At the last gas stop, I pumped up the front tire from 30 to 37 psi, which was way too much. I reduced the air pressure back to normal on both tires (31 front and 35 rear) and continued on. I was glad that nothing serious was broken on me or on the bike. My confidence wasn't shaken and I wasn't rattled, but I slowed down for the rest of the day.
Accident aside, the Michoacan coast was a beautiful ride, especially due to the many untouched beaches right by the roadside. There were many signs for various secluded public beaches, with trails that required at least a 4x4. I think most of this land is also protected, because no development was taking place.
That's the result of being run off the road by an on-coming pick up truck. I grabbed all the brake I could to avoid him and that caused the bike to wash away under from me and we both slid into the ditch. No damage to me besides a little road rash on my elbow and no damage to the bike. But the saddle bags took a beating and the inside wall tore off. I used bungee cords to make it functional. Oh well. Also, from now on, I could only use my cell phone's camera to take pictures. My digital camera was the only thing that didn't survive the crash.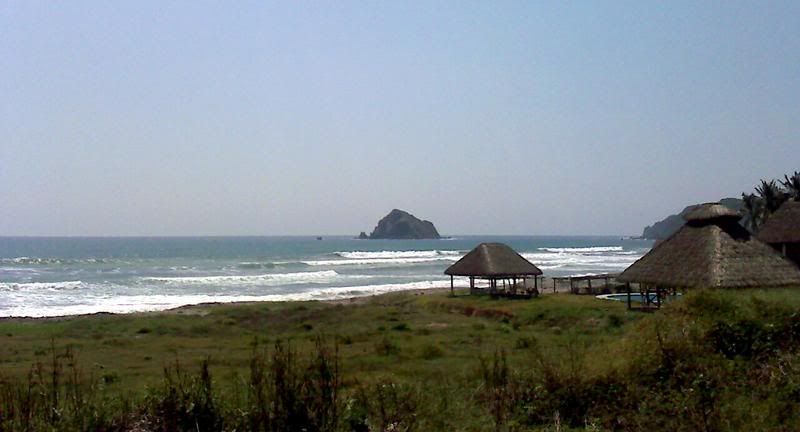 Taking a break at one of the many deserted beach locations along the Michoacan coast. Miles and miles of untouched beach.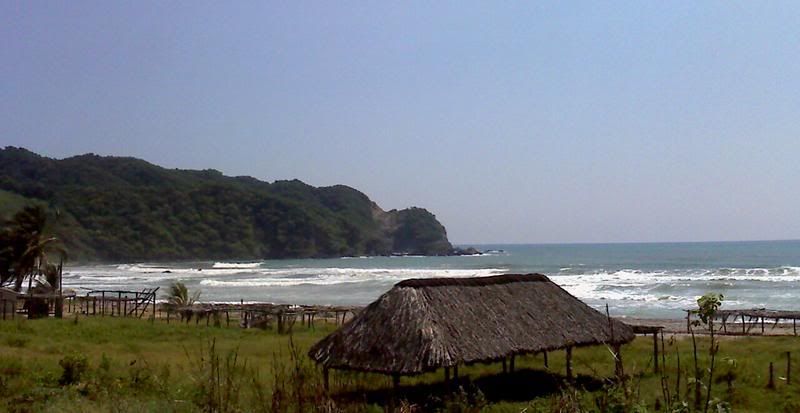 The picturesque Michoacan coastline.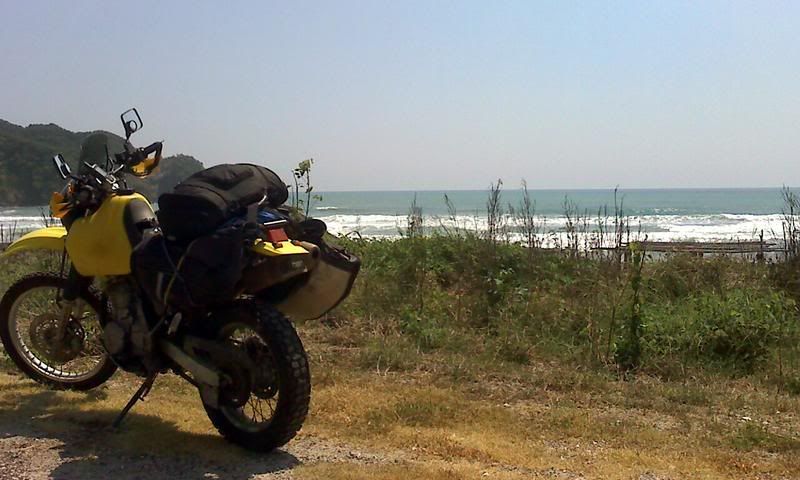 auDRrey after a little tarmac surfing.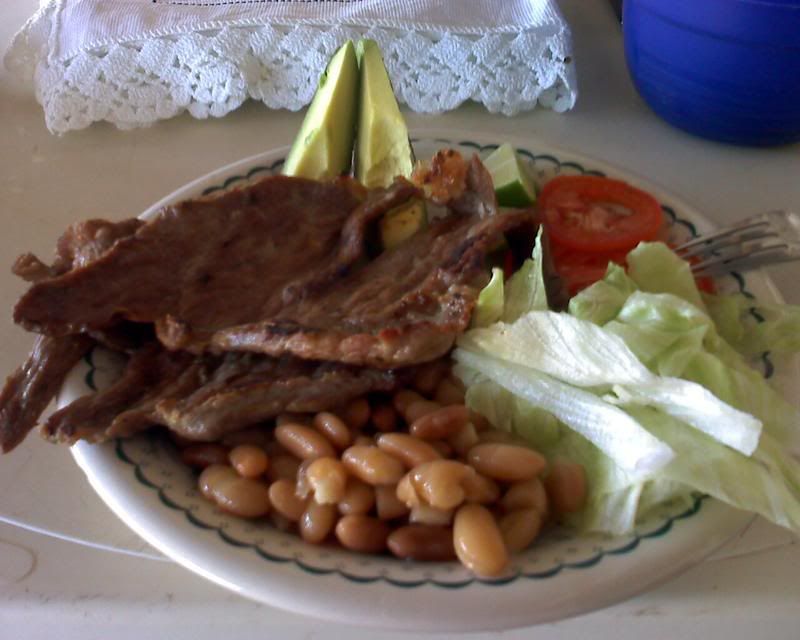 Lunch at a highway café of grilled beef with beans and avocado. The meat was tasty but quite tough.
As a contrast to the desertedness of the Michoacan coast, I pulled into the very touristy town of Zihuatanejo. But, it was a nice touristy, with lots of promenades betweens little shops and restaurants, all in close quarters. I stayed at the Hotel Raul Tres Maria for $35 and again got to park my bike behind the gates at night. The room was decent, but lacked any signs of character, feeling very sterile compared to the lively of the streets outside.
I made my way down a boardwalk by the beach and ate at La Sirena Gorda (The Fat Mermaid) restaurant, on recommendation from Lonely Planet. The restaurant had a nicely done ship theme to it and the waiter was very courteous and spoke good English. On his recommendation, I had the grilled fish of the day, some Mahi-Mahi with an excellent marinade for $12.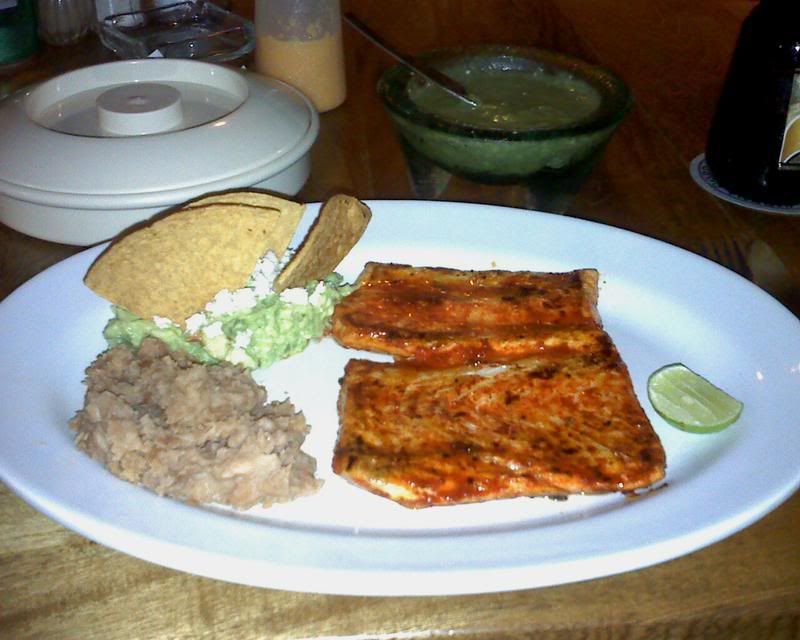 Dinner in Zihuatanejo of grilled Mahi-mahi. It was the catch of the day with a special sauce. Very tasty. Cost was about $12.
Next:
Day 12 - 13, Teotihuacan to Guanajuato
Ride Report Index