Day 6 / Thursday, September 27, 2007
Start: Hidalgo del Parral, Chihuahua, 8:30 am
End: Mazatlan, Culiacan, 7:30 pm
Mileage: 457
After a quick breakfast at the same diner, I was off to the city of Durango to ride the famous Hwy 40, the Espinoza Diablo to Mazatlan. The Espinoza Diablo (the Devil's Spine) is a twisting piece of tarmac, high up in the Sierra Occidental Mountains. The twisties are said to be similar to that of Deals Gap in Tennessee. After the road down to Batopilas, this was the other planned riding highlight of the trip.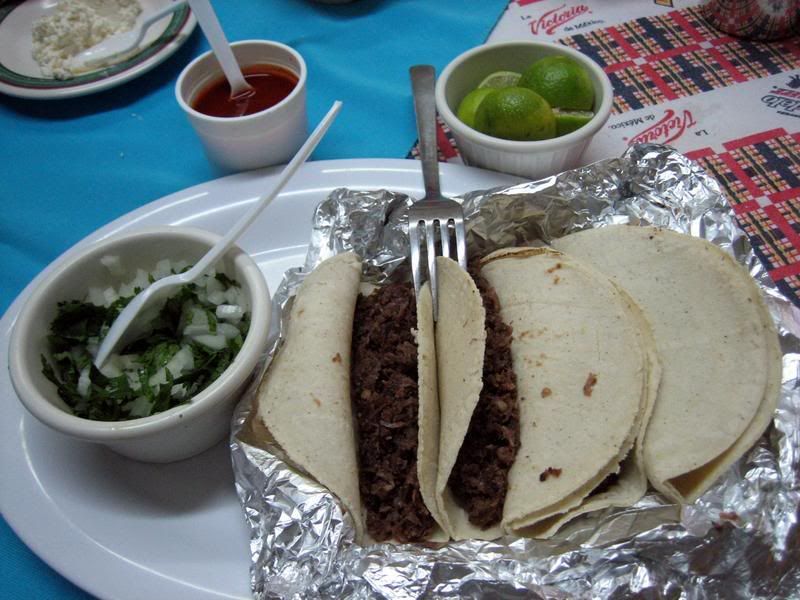 Breakfast at the same 24 hr café. Didn't really want eggs today, so some Barbacoa (pulled BBQ pork) tacos it was. Simple, but always good.
I didn't think I could make it down to Mazatlan before dusk from Parral, but figured I'd decide on that once I got to Durango. On the map I could see a very long straight section of highway south of Parral and it was indeed very long and straight, about 50 miles of straight road. But surprisingly, it wasn't that bad. I turned on my audio books and the miles flew by. The scenery was decent with some rolling hills and colorful flowers but I was definitely getting the feeling that in Mexico, if they could build a straight road between two places, they would. But then again, so would anyone else, as it's the cheapest way to build a road, but also the most boring. I read that when they built the Autobahn in Germany, they deliberately put in curves and twisties and had the road go around lakes and over mountains to make the journey more interesting. But economics wins in the end.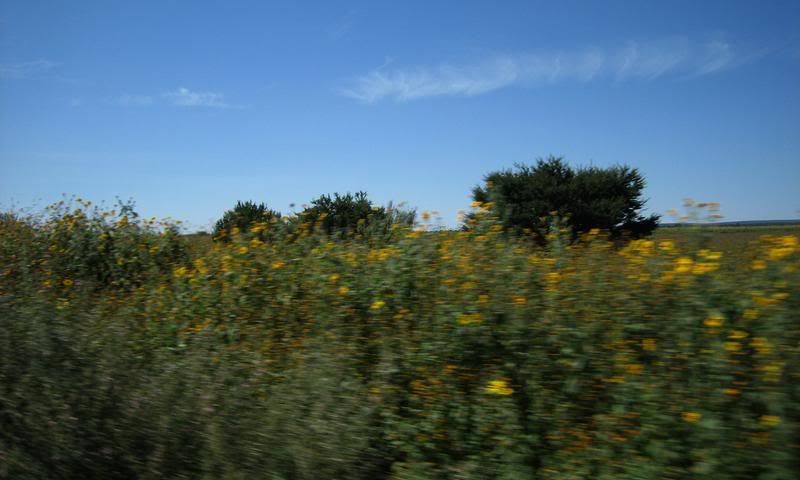 On the highway between Hidalgo del Parral and Durango. These yellow flowers went well with the bright blue sky.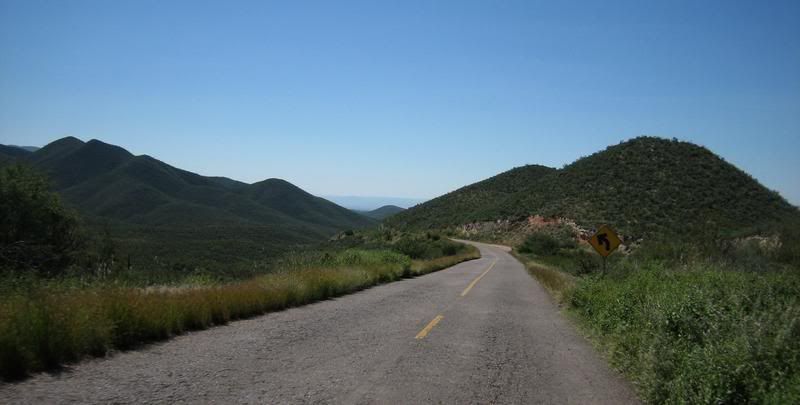 On the highway between Hidalgo del Parral and Durango.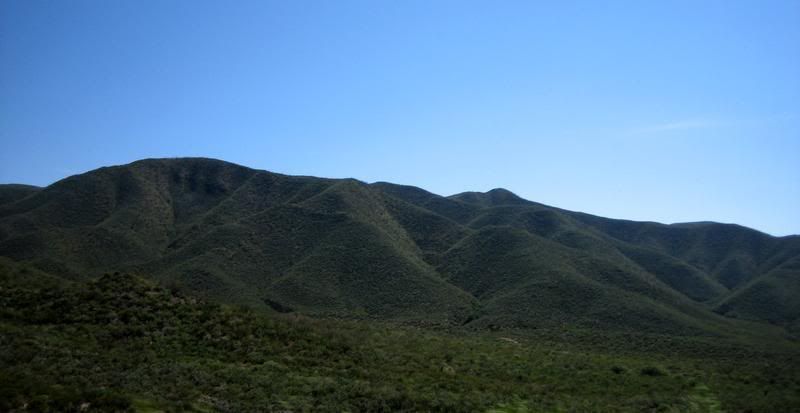 Looks like there's a fine even green carpet laid over these mountains.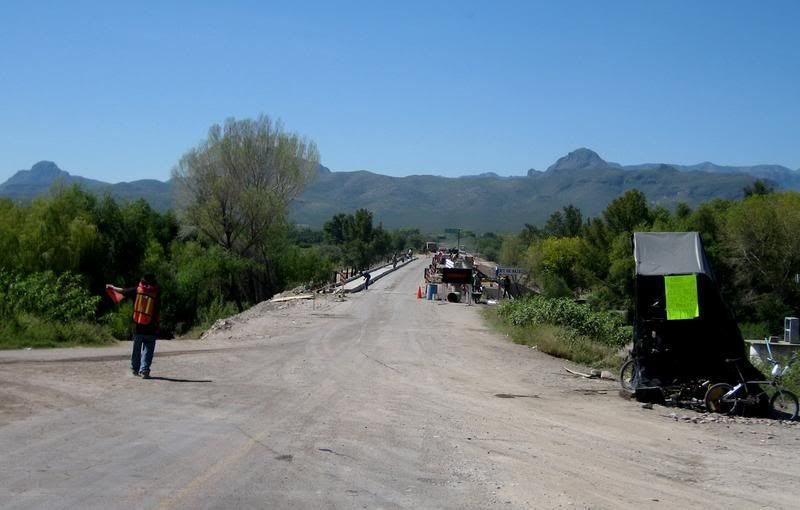 Some bridge construction.



Crossing the 10,000 mile mark on auDRey. I picked her up used last November with around 4,000 miles on her.



A nice lake on the highway between Hidalgo del Parral and Durango.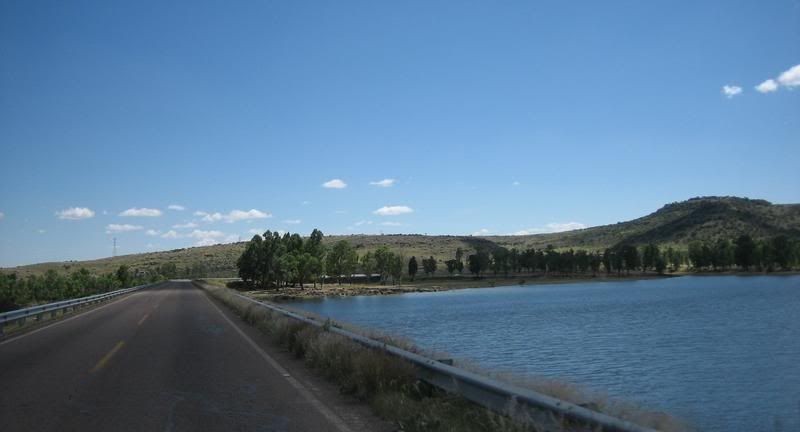 The highway hugged the lake for a while, making for a nice ride.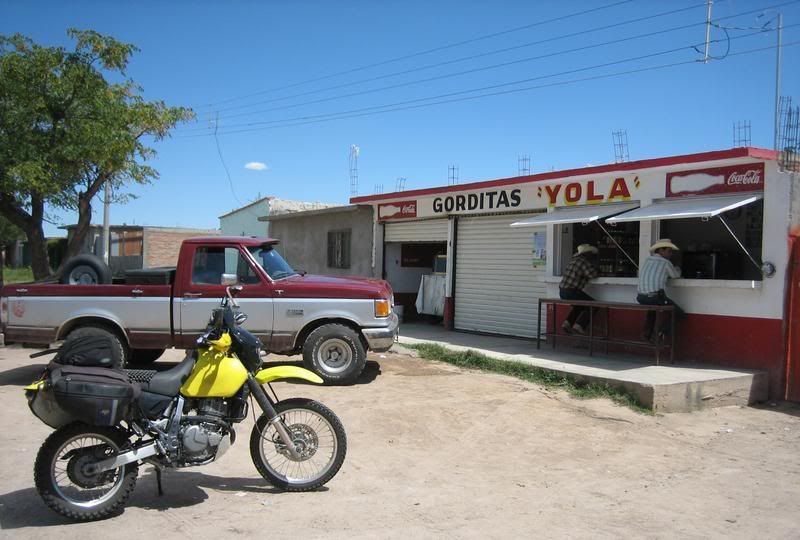 Stopping for lunch at a road-side food stall for Gorditas (not related to what Taco Bell serves in anyway). These were more like stuffed pita bread pouches. I had the Picadillo, some shredded pork with small potato chunks, very tasty. And of course, Coke. Did you know that Mexicans consume the most Coke per person in the world! I saw people drinking it even at breakfast. And bottled Coke tastes so much better.
I got to Durango around 2 pm, and had lunch at a road side Gordita shack of Picadillo and Chicahhron on recommendation of the two guys sitting there and having lunch. It looked like the lady cooked the food at home and brought it to the shop to sell over lunch. I really liked the Picadillo. It was like pork with small bits of potatoes. Total cost with a Coke was around $3.
I wasn't feeling that tired after the morning 300 mile stint from Parral and figured I could make the twisty 150 miles to Mazatlan before dusk, so off I went. I later found out that it's more enjoyable to ride Hwy 40 in the morning as the afternoon is usually blanketed in fog. Durango was at an elevation of 6,000 ft, so I knew I had to be dropping soon as Mazatlan is on the coast. But I ended up climbing to 9,200 ft before starting my descent.
The curvy roads started right away and since there's no Cuota road between these two cities, there were all kinds of truck, bus and regular car traffic on this road. Sitting behind trucks and buses, waiting for a good place to pass was proving to be a health hazard as a lot of the vehicles didn't look like they could pass an emissions test. It was interesting to see buses overtaking trucks in the middle of the turns. I can totally see how there's so many accidents on these roads all the time.
The scenery changed from small shrubs to pine forests as the elevation climbed and the air got chillier. There was periods of light rain and of course dense fog as you get closer to the section that's actually called the Devil's Spine, as the road rides on a ridge with drop-offs on both sides. I was most impressed with the scenery; thick jungles with rocks jutting out from the midst and sun rays trying to peak through. There weren't too many safe places to pull over for pictures, but the views were awesome enough to try and distract from the riding. Since the road is designed with the trucks in mind: camber in all the right places, the road swaying from left to right to reduce their speed and gently banked turns, it ends up being highly entertaining for motorcyclists.
There was definitely a lot of semi-truck passing, some quite hairy as passing room is very limited. And in return there were many semi-trucks that came half way into my lane in the middle of tight turns. They tried their best to stay on their side and being on a bike, I could easily move over to the right edge of the road and avoid them. Being in a car might be a bit trickier. In one section, where the turns are really tight, one semi-truck was using a walking escort to block on-coming traffic so that this truck could cut across the corners.
I passed through a lot of small towns and by small, I mean the town was only about 200 meters long and all different aspects of village life were being lived out right by the road. Old men were drinking at the open-air bar, young boys were playing volleyball, girls were walking back from school, and women were shopping in the open market. And everyone usually stopped what they were doing to see who was making this loud racket with their motorcycle as I passed through.
From Durango onwards I saw new construction taking place along this highway for a new cuota road, which should help ease the truck traffic. But then again, there are some really steep and narrow places and I don't think a toll road could be made all the way through. Once the trucks and regular traffic are removed, this will become even more of a motorcyclist's dream road.
I was in really good spirits and was riding the DR for all she was worth. She handles well on the twisties, even if the Kenda K270s are a bit squirrly at max lean. My knees were killing me about half way through with all the peg dancing, but I knew I had to push on and make it to the bottom before dusk set it. The road isn't on a constant down-hill path. It climbs and drops and stays level for a long stretch. At 6:30 pm I was still at 7,000 ft and I knew I had to get to sea level before dark.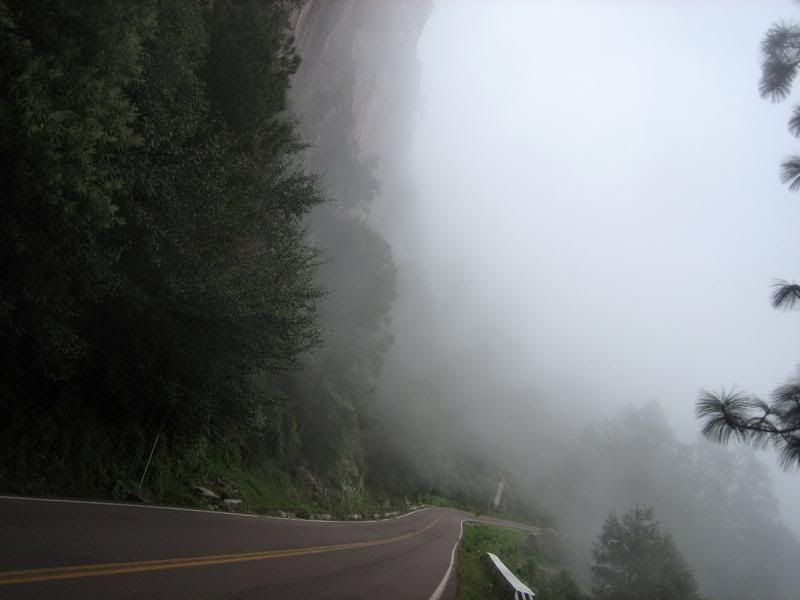 The Espinoza Diablo! The famed Hwy 40 from Durango to Mazatlan where the road twists and winds from 9,000 ft down to sea level over 150 miles. It's usually fogged in during the afternoons and the section that's actually called the Devil's Spine is where the road runs on a ridge with drop offs on both sides. What a thrill to ride.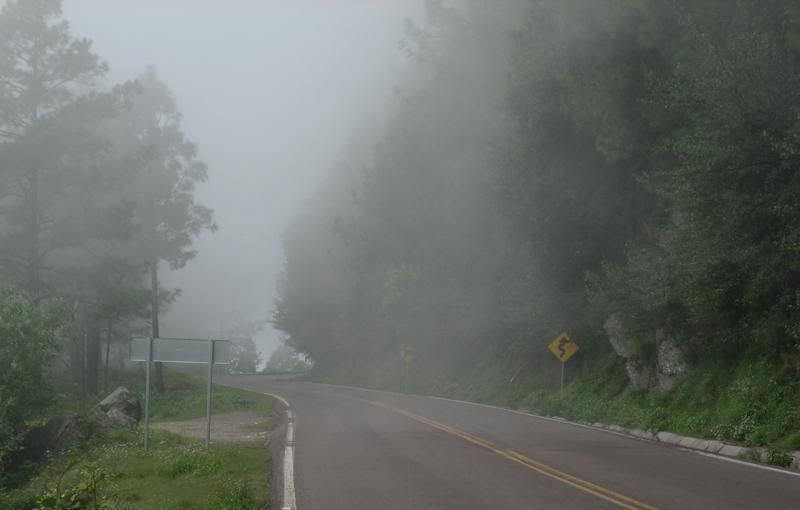 Twisties in the mist.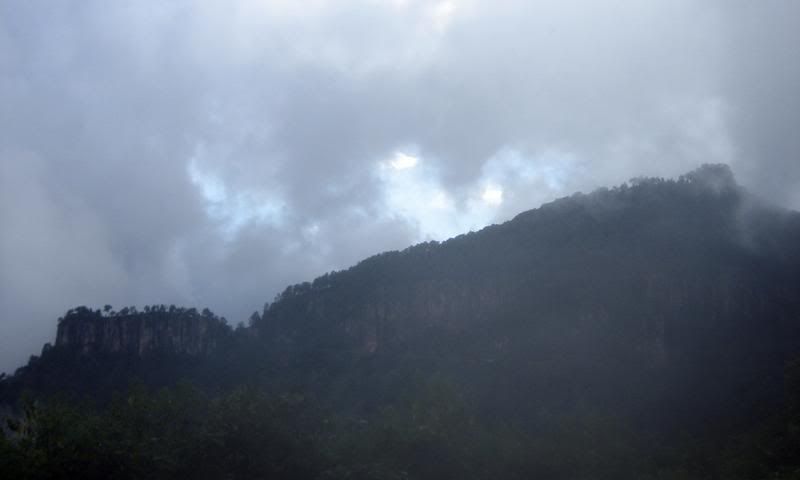 Distracting scenery also adds a danger to this ride. Amazing views. Couldn't find too many safe places to stop and take pictures.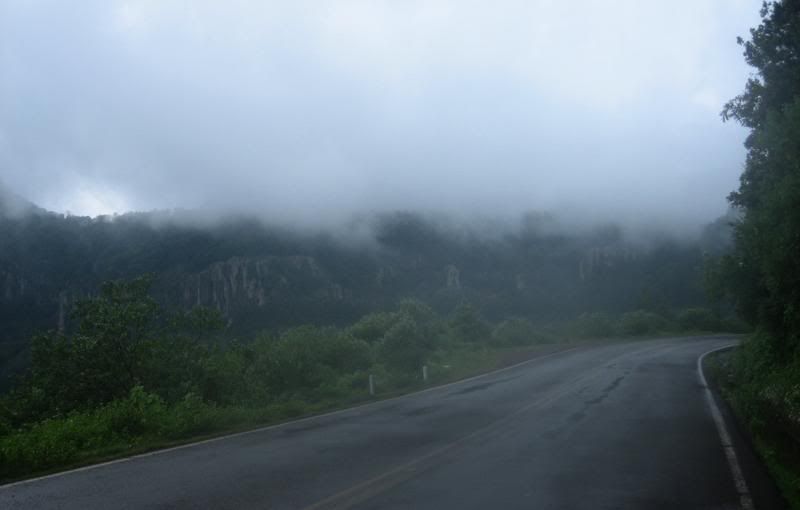 There was rain, sun and fog, constantly changing back and forth.



The scariest part is hoping a massive semi-truck isn't coming the other way. There is lots of truck traffic on this road, which limits how fast you can ride it.



The thick forest and the heavy fog gave the road a little mystical aura.



Down there, past all these mountain ranges is Mazatlan on the coast. Was rushing a bit to get done with the twisties before dark.



A few last turns on the way down. The road surface was excellent for the most part.
Crossing over into the state of Nayarit brought some newly paved tarmac but also more frequent towns and villages. Once the road started dropping, I found a 'rabbit'. Rabbit in this sense refers to a guide vehicle that's setting the pace and also providing some protection. The reference comes from horse racing where a rabbit or something similar is used to give pace to the horses. My rabbit was a White Dodge Ram pickup truck that looked like a local construction worker who was making his way down the mountain. And he seemed like a true driver; driving very spiritedly. Once he realized I wasn't going to overtake him but instead wanted to follow, he got into the swing of things and we were hauling. Prior to having an escort like this, I couldn't go that fast around corners as I had to be weary of on-coming traffic and any debris on the road or road damage. But with a pick-up truck clearing the way and indicating all is good up ahead, you can turn it up a few notches. There was one time when an on-coming semi was almost in our lane, prompting some heavy braking from both of us, but all was good and we continued railing. It reminded me of the time when I was in some Arkansas twisties into dusk and found a Ford Explorer to give chase to through the darkness. It was quite exhilarating to be riding faster than I could just by myself as I was using the headlights of the Explorer to increase my safety margin. Similar to this situation where I was using the Ram truck to clear the path for me.
One fun thing about the GPS, especially in Mexico is keeping track of the altitude change. As I dropped below 1,500 ft, the humidity kicked in and was already becoming uncomfortable and if it wasn't for my love of beaches and water, I'd prefer to stay in the mountains.
Again, I saw lots of crosses and shrines for people who had died on this road. These are some very technical roads and I could see how a regular driver could easily lose control or not know how to avoid an accident.
With my usual excellent timing, I hit the bottom of the mountain just at dusk. I know that there are lots of warnings of not to ride in Mexico after dark due to the many road hazards that exist and I was trying to avoid it, if possible.
Regarding gas, I filled up about 50 miles west of Durango and then only at the bottom near the intersection of Hwy 40 and Hwy 15. I didn't see any other Pemex stations in between, but I did see a few local vendors selling gasolina.
I can't seem to get over how many parts of Mexico seem very similar to that of India. Up in the mountains, the small towns I went through resembled the hill stations where I went to school in southern India. And now, riding into Mazatlan on Hwy 15 reminded me of my home city of Madras on the eastern coast. The humidity, the road side cafes, the trucks, the way traffic behaved. All very similar.
The GPS with auto-routing was very beneficial for navigating through big cities for the first time. It wasn't perfect as some roads were blocked or one-ways, which the system didn't know, but with auto-routing it quickly found the next best path.
From the Lonely Planet guide book, I decided to stay in Old Mazatlan as it would be cheaper than the newer touristy side of town and found Hotel Mexico for $10 a night. That itself might have been too much for the room. The mattress looked very old and the curtains were quite dusty, plus the bathroom was probably the least clean one over the whole trip. And not having A/C with such high humidity was probably not the best idea. But the receptionist allowed me to park my bike in a little underground garage, so that was probably worth staying there. Plus, the hotel was only a block from the beach.
Again using the guide book, I found a recommended seafood restaurant nearby, which was on the beach front. I had the Filette Zarandeado, which is fish grilled with peppers, tomatoes and onions in a very savory marinade. It was super tasty. Sitting there with the breeze from the ocean blowing through, enjoying a cold Negra Modelo (dark beer), I knew all the aching muscles from the intense day of riding was worth it. It was definitely a push from Parral to Mazatlan, being about 450 miles, but I wanted to keep heading south, so a little muscle ache wasn't a big price to pay.
Stayed at Hotel Mexico in Old Mazatlan for $10. Was again the only guest at the hotel. This is low season for Mexico.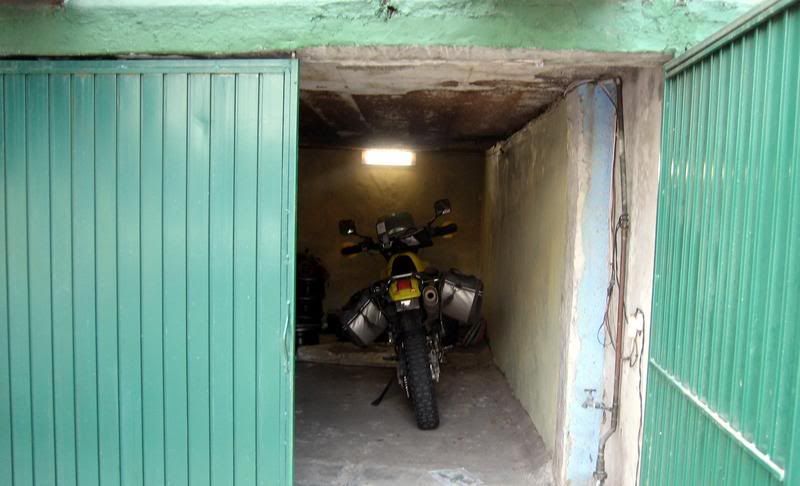 And I got to park the bike in a little garage below the hotel for free. How nice of them.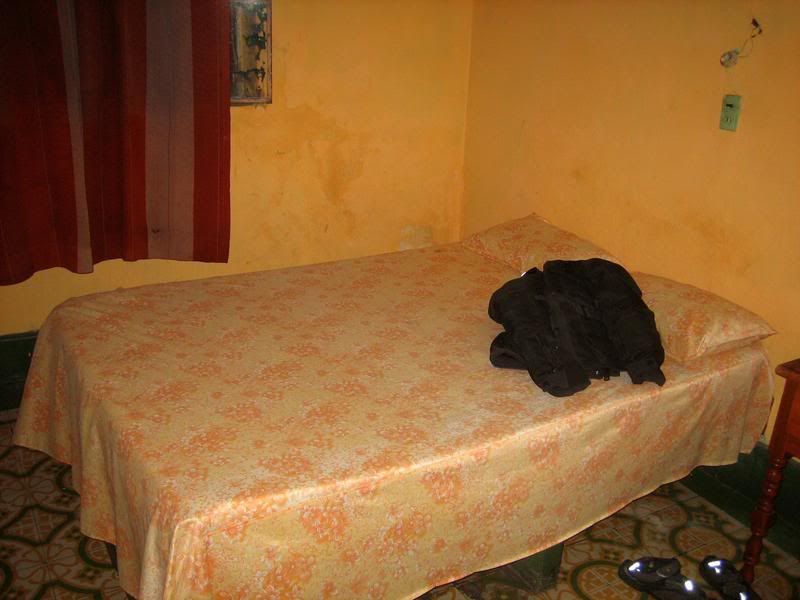 The room definitely matched its price. It was ragged but clean enough. The curtains were dusty, yes, and there was no A/C, but I survived with the ceiling fan.



Not the cleanest of bathrooms, but what do you expect for 100 pesos, eh?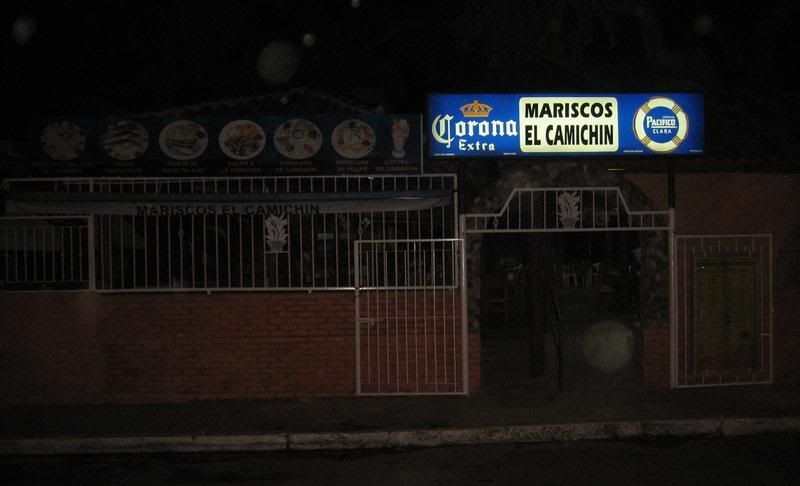 Dinner at Mariscos El Camichin, right on the beach, recommended by the Lonely Planet guide book. The breeze from the ocean was blowing through the open-air setup. Fantastic.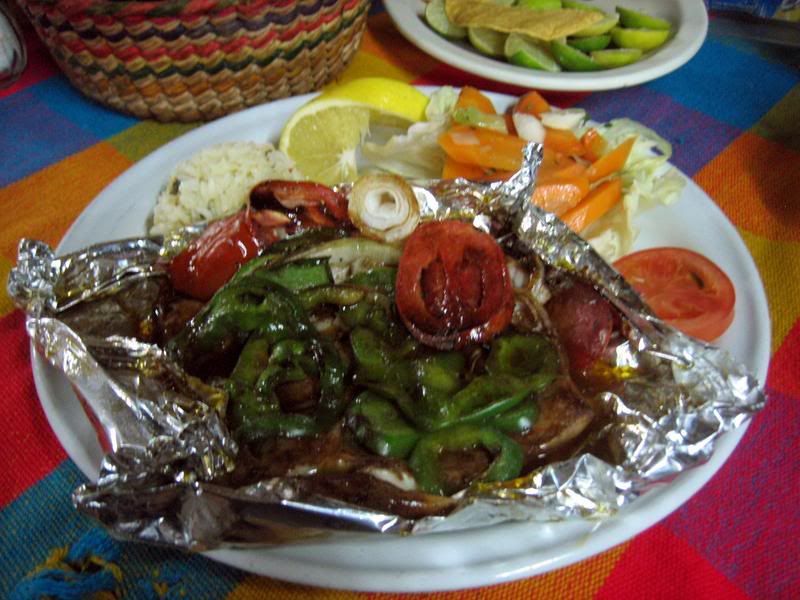 I had the Fillete Zarandeado, a grilled fish with peppers, tomatoes and onions. It was super tasty and cost only about $12.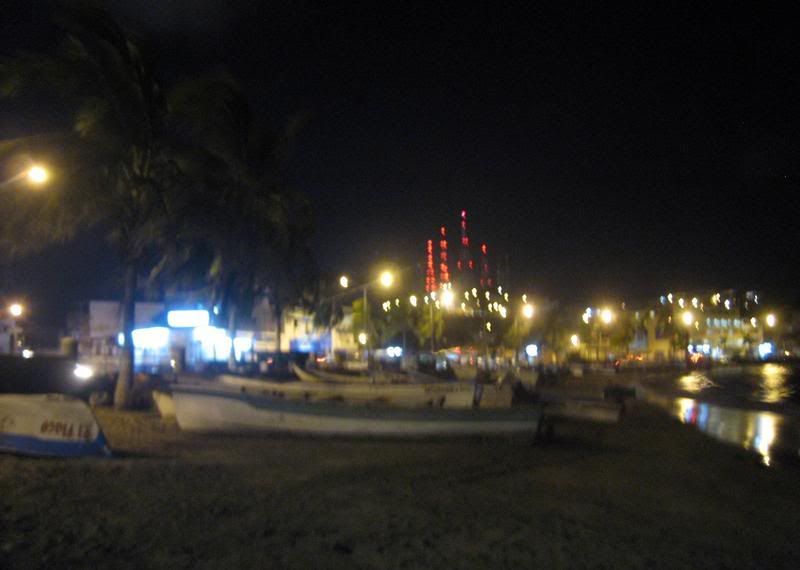 Taking a little walk after dinner on the beach. It was a long day and a tiring one, but the ride on the Espinoza Diablo is one of the best roads I've ridden. Well worth it.
Next:
Day 7 - 8, Sayulita on the Pacific Coast
Ride Report Index