Day 4 / Tuesday, September 25, 2007
Start: Creel, Chihuahua, 11:00 am
End: Batopilas, Chihuahua, 5:30 pm
Mileage: 92
I already knew today was going to be a highlight of the trip, because I would be descending about 6,000 ft down a canyon on a hairy gravel road to the small town of Batopilas. I was just hoping that it wasn't above my skill level.
Knowing that it was around a 6 hour ride, I waited for the day to warm-up a bit up in Creel before setting off. The breakfast served at Margaritas was decent. It comprised of porridge with banana (which some of the other tourists called banana soup??), scrambled eggs with ham and freshly squeezed orange juice. Good way to start the day. After using the local internet cafe to update my blog, I was off around 11 am.
Right out of town on Hwy 127 the road twists and turns through pine forests with majestic rock outcrops. There was very little traffic on this road, but lots of wild donkeys running around besides the road. The road was recently paved and a pure joy to ride. Even though the signs for the turns didn't have suggestive speed limits, I soon figured out that the 90 degree arrow meant a 2nd or 3rd gear turn and an arrow with a curve to it could be taken in 4th gear.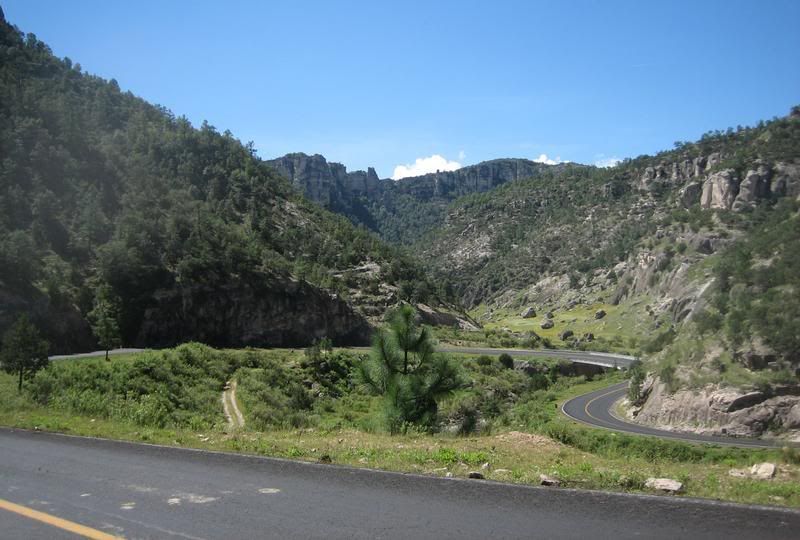 An awesome turn on Hwy 127 heading to the Batopilas turn off.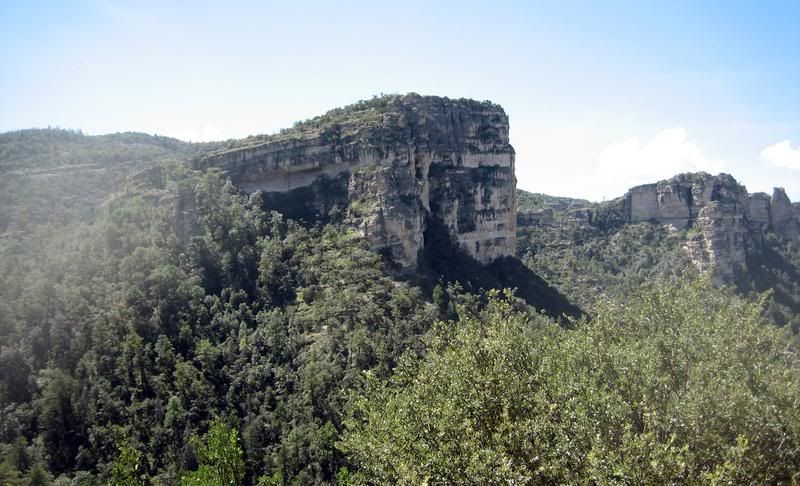 Rock formations from Hwy 127.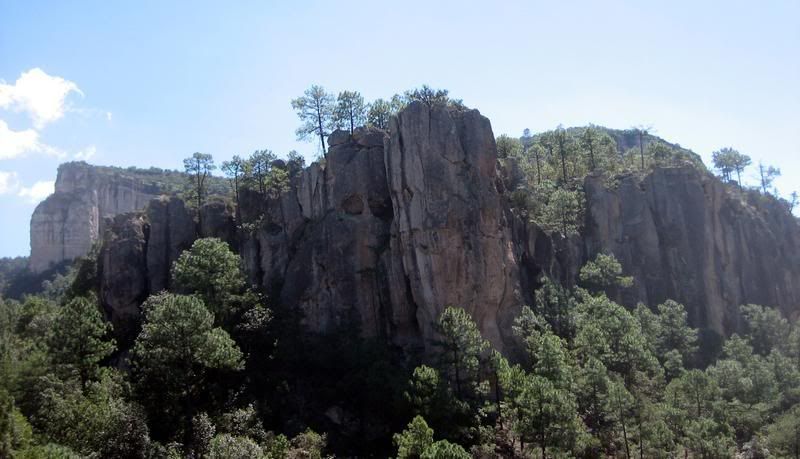 Rock formations from Hwy 127. Can you see a face on the rocks in the middle? Enchanted.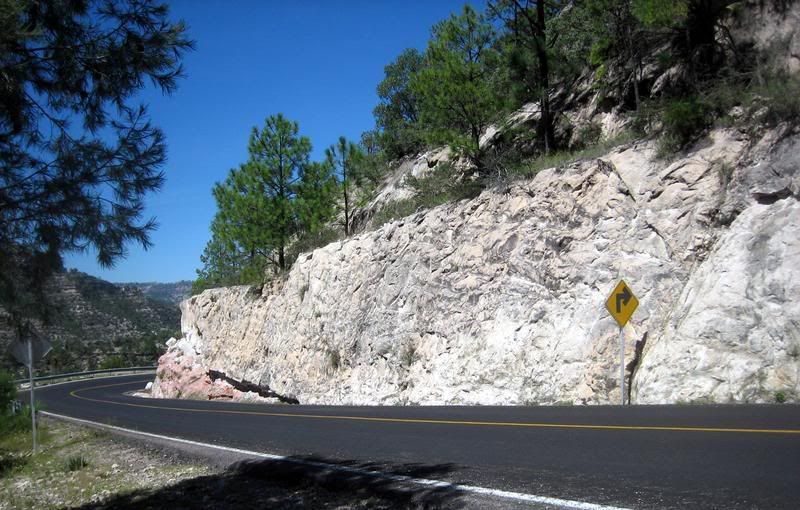 Awesome twisties. Note the beautiful road surface. Looks like it was recently paved.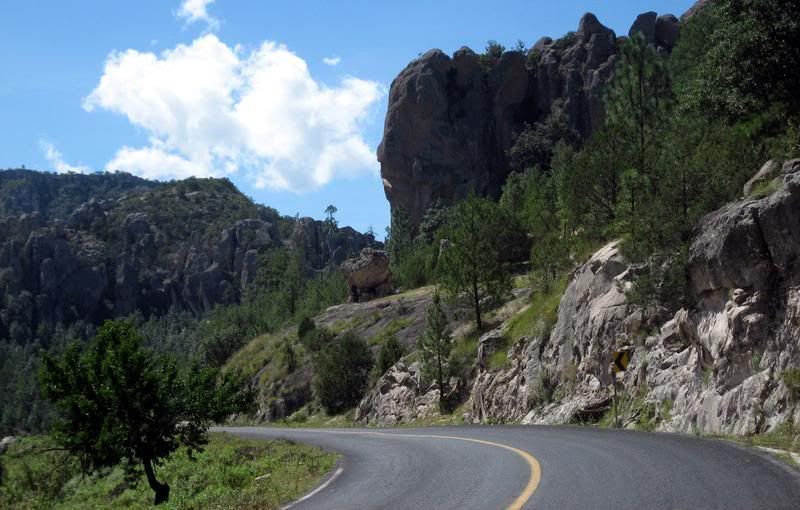 Rock formations from Hwy 127.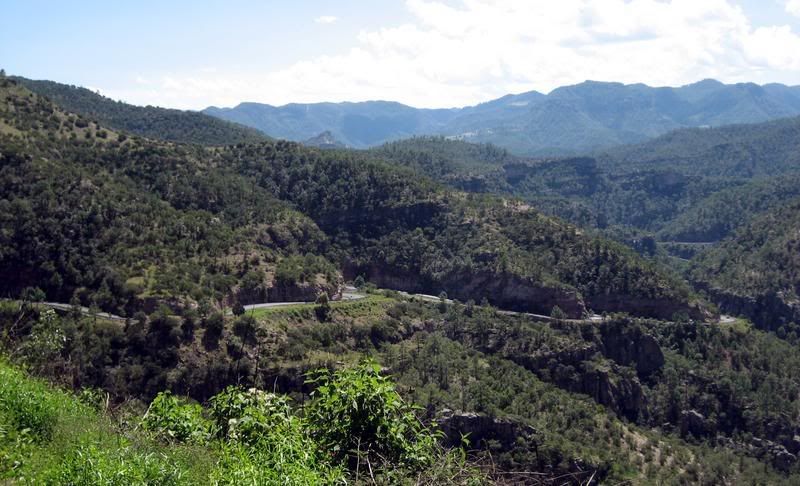 The winding, twisting road of Hwy 127.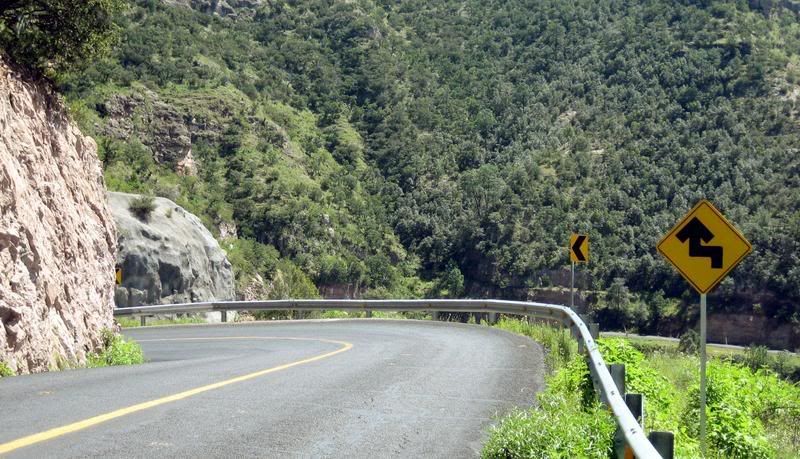 Hwy 127
After around 40 miles or so, there's a Pemex right in the middle of the forest, but then I saw its importance as the turn off to Batopilas is soon after. I topped up knowing that the ride down to Batopilas would be a fuel consuming 1st or 2nd gear ride. I also lowered the air pressure in my tires to increase grip in the off-road conditions.
Right at the start of the road, there was big construction going on and a detour sign. I read before that the detour signs basically say you can't go this way, but don't really tell you how to get back on the right track. I was happily following the detoured path through the town of Samachique and onwards for a good 30 minutes over some really rough terrain before I asked a local if this was the right way to Batopilas. He drew a map on the ground to show me how to get back on the right road. I had just struggled over some mighty big rocks in the road with some serious incline and had to cross quite a few streams about a foot in depth (first time for me) and realized I was heading in the wrong direction to the town of Guguachique. Thank goodness I asked when I did because I didn't think I could make Batopilas by sun-down if the road was going to be this rough.
Back on the right track I found the small detour sign meant to get traffic back on the right path to Batopilas. It wasn't very visible. Oh well, I had fun crossing those streams having never made a water crossing before. Further down there was a temporary mud bridge crossing a 10 ft gorge, where a truck was getting itself stuck in the loose mud. I walked over the bridge first to make sure the ground was stable enough for the bike. This road was already proving to be a nice adventure.
After getting on some flat ground I had to take a break to calm down a bit after the initial adrenaline rush. As I was having my lunch of a granola bar and Gatorade, a one-legged man on crutches came into view. I must've looked very odd to him or perhaps it was my eating of the granola bar, but he stopped right across and looked at me. I offered a granola bar and he accepted and kept going. I was just thinking about how if he had one slip with his crutches on any of these rocks, he was going to fall pretty badly.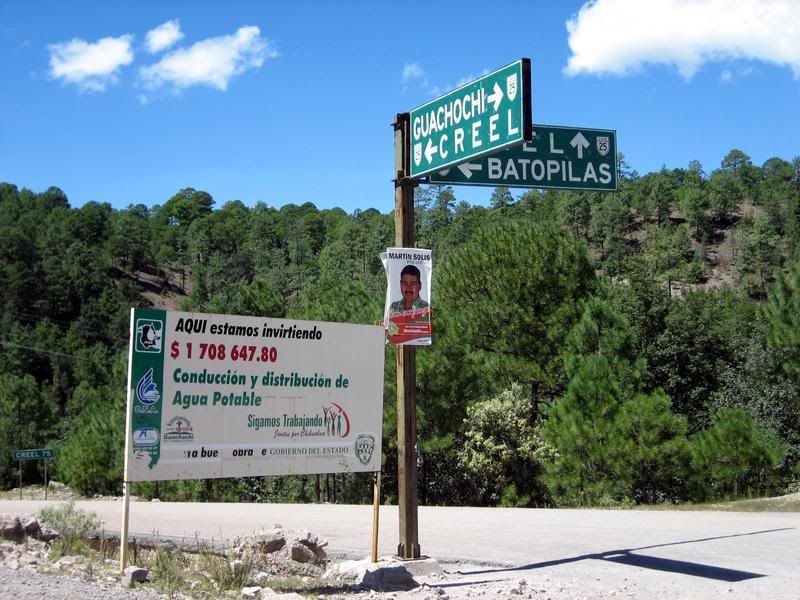 The turn off from Hwy 127 to the town of Batopilas deep down in Copper Canyon. I would be dropping about 6000 ft over 40 miles of crazy dirt road with hair pins and no guard rails. This road to Batopilas is famed in the adventure riding community and here I was about to embark on it. I was super excited.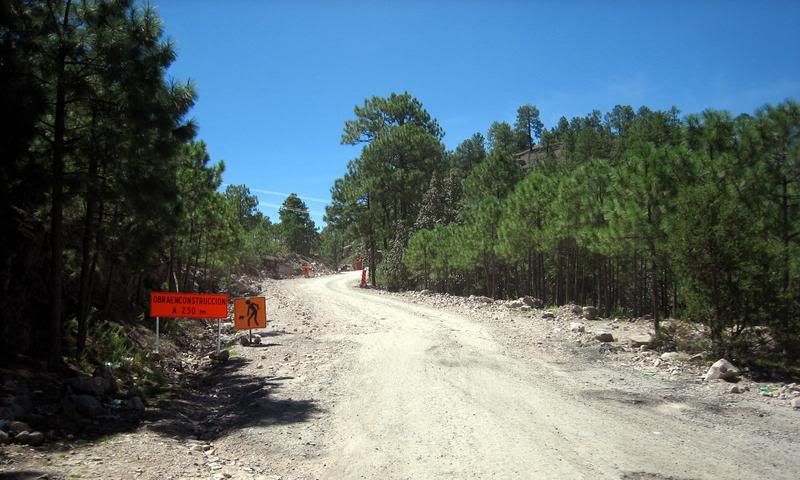 But first thing I see are construction signs. I hoped this wouldn't block the road or delay the journey.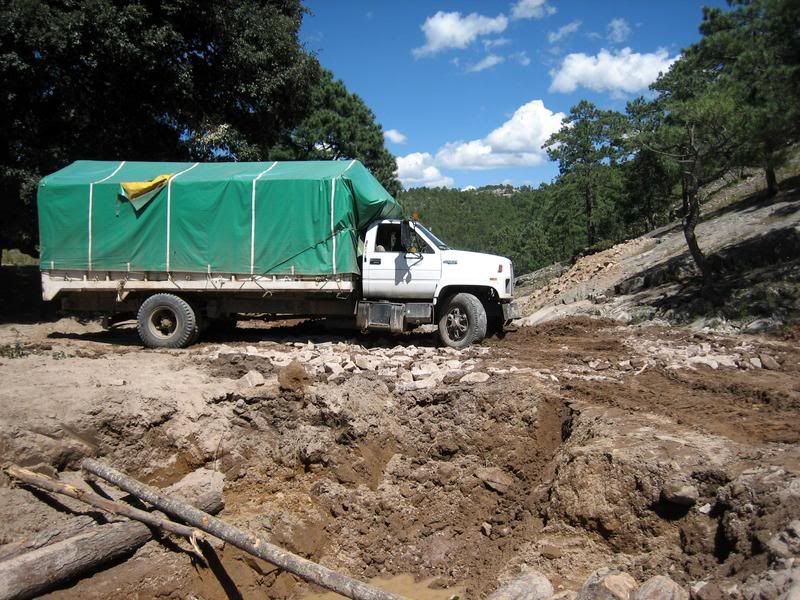 I missed a detour sign and went a couple miles towards the town of Guguachique over some really challenging terrain for me and was worried I wouldn't make it to Batopilas before sundown if it was this difficult the whole way. Luckily a local pointed me in the right direction and here I find myself on the right road with some tough road conditions where this truck got stuck. Not too bad for a bike though.



Arrrgh, a water crossing up ahead. Just kidding, this was the extent of the water crossings on this road, just big puddles. The other road to Guguachique has some more significant water crossings, bigger streams.



Enjoying the flat smooth road while it lasted because I knew it would get very challenging up ahead. There was no real spot for lunch, so granola bars it was with Gatorade.



Amazing that he was using crutches on a dirt road, where one misplaced footing and he would fall. He stopped to watch me as I ate my granola bar, so I offered him one and he accepted.
I got the hang of riding the heavily graveled road pretty quickly. It certainly takes a lot of concentration as every foot you travel on the road has to be thought about: if I go through this rut over here, where will that lead me, or if go over this rock here, how is the bike going to handle after that. Will all this concentration required, the ride becomes more taxing with all the awesome scenic vistas in the Copper Canyon. The views really are amazing as the depth of the canyon is very real and close. Stopping for pictures was a bit tricky and I just left her in gear to keep her from rolling away.
Copper Canyon! The view from the little rest stop before plunging down into the canyon. The little dirt roads on the bottom of the picture is where I'm heading.



I've seen this picture before from previous ride reports.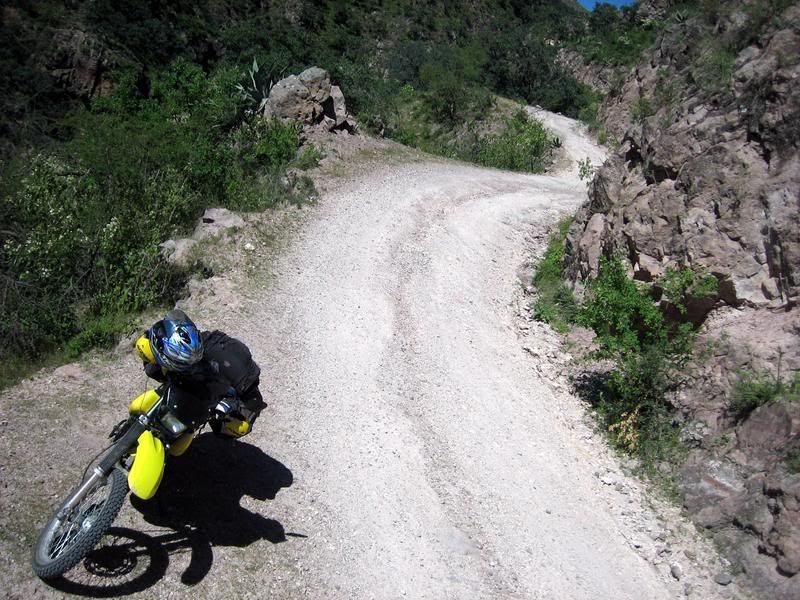 auDRey taking a break and cooling down before the set of hair pins up ahead.



The rest stop ledge at the top of the canyon.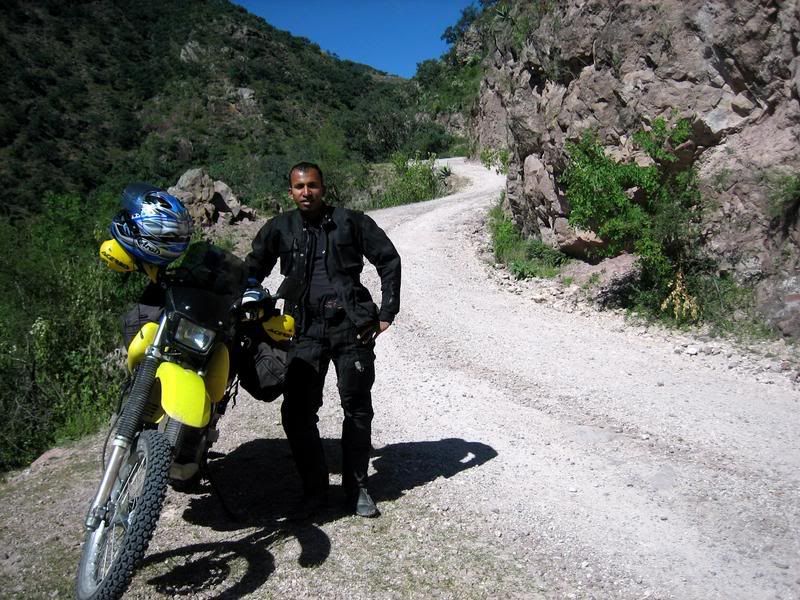 I was super thrilled to have made it this far with no issues and my confidence in dirt riding was growing by the minute. Prior to this, I had only ridden a few dirt roads in Mississippi and some in New Mexico.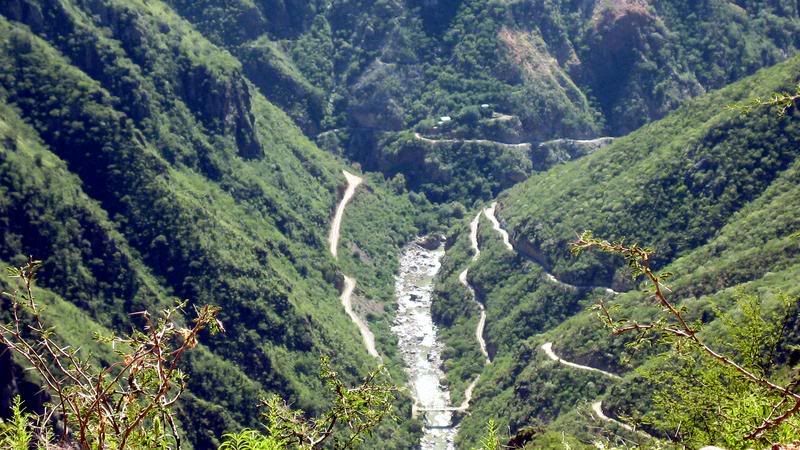 That down there is the famed Batopilas bridge where the tough part of this road is done with.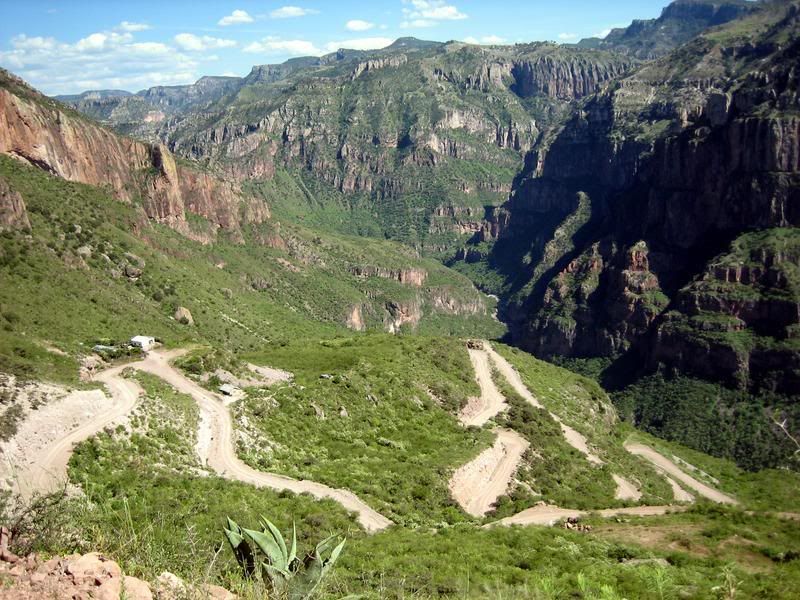 The awesomely scary (to me) hair pins. One slip and I would've found a short cut to the bottom. It wasn't that bad, but my pulse was racing.



What makes this ride more demanding is all this stunning scenery, plus stopping to take photos of it all. I think this rock formation is called the Seven Steps.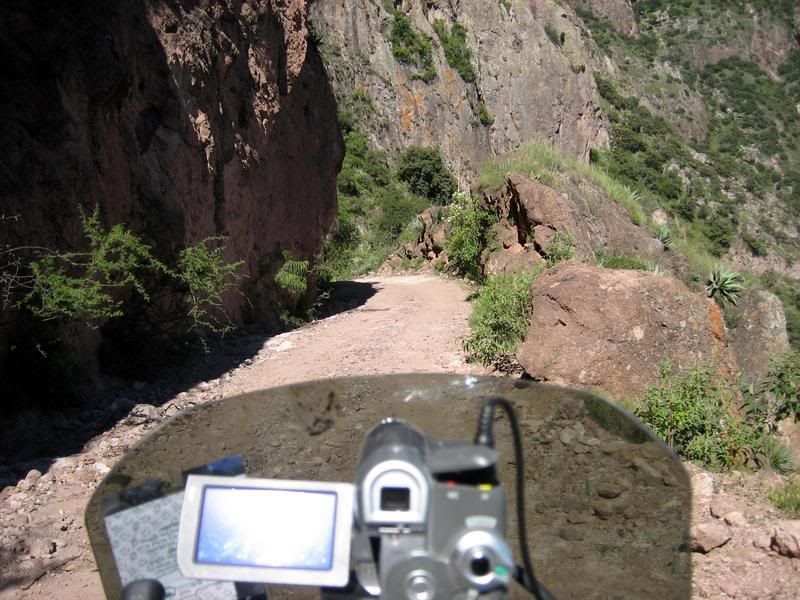 My view. What was challenging was having to pay attention to every rock (some were small boulders) on the road and choosing the path to take that would upset the bike the least. I was also recording all this with my helmet camera.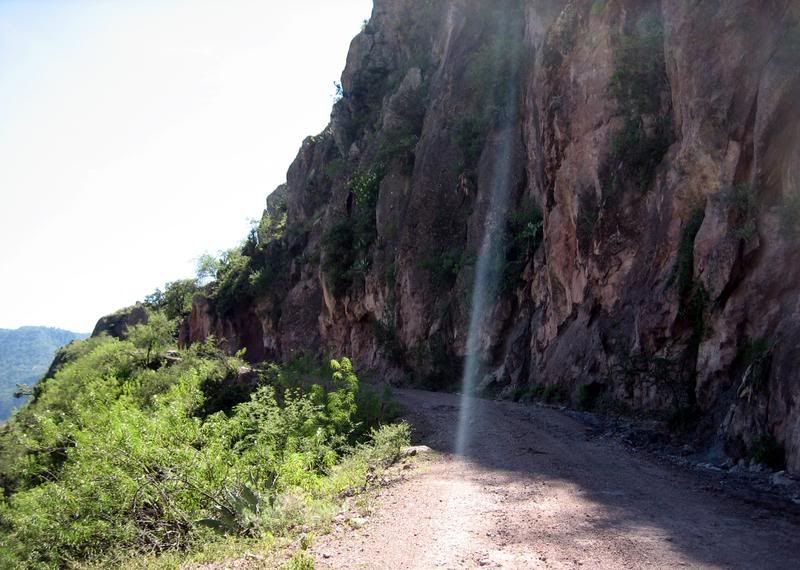 Admiring the work it took to make this road.



Was thinking that if I had a big dune buggy, it'd be easier to just go straight down the mountain…



Making my way towards the bridge after surviving the hair-pins.
I knew the hair pins were going to be the trickiest because they call for large turning input from the bike over a very loose surface, so one slip could mean getting washed over the edge. I could see that the rains has caused deep ruts in the hair-pins and getting stuck in one of those would make it quite difficult to turn when needed to. I resorted to riding the inside edge of the road as long as possible and then late-apexing the hair-pin to cut across the ruts. This worked well and I never really had any pucker moments - feelings of impending doom of going over the edge. I was conscious the whole time that the edge was very near and one fall could mean a slide down the mountain. But you can't let fear grip you. I was also reminding myself not to get too over-confident and to keep the pace in check.
The scenery was very impressive as you can see in the photos and it reminded of scenes from the movie Congo, which is shot in Africa, the highlands of Rwanda. The canyons aren't dry like those in the US, but instead covered with lite vegetation.
Being a single track dirt road I was weary of encountering on-coming traffic around a blind corner. I only saw about 5 vehicles during the 4 hour descent and all of them were on straight sections of the road. In a remarkably high number of blind corners, there are small shrines dedicated to people lost in accidents. It must be a common occurrence. I was hoping my loud exhaust was sounding my presence and now do believe that Loud Pipes do Save Lives.
Getting down to the first big bridge is a milestone on this road as it signifies the end of the really tough part. There's still another 15 miles to go, but it's mostly level. As I stopped to take a break, a Batopilas police truck pulled up behind me to also take a break and all the occupants got out and relieved themselves right on the road behind their truck. I mean couldn't they at least do that on the shoulder of the road. I guess the rains wash everything away.
Towards the end of the road it becomes less ragged and 3rd and 4th gear cruising are possible. I was impressed with my first extended day of dirt riding and was pleased not to have dropped the bike even once.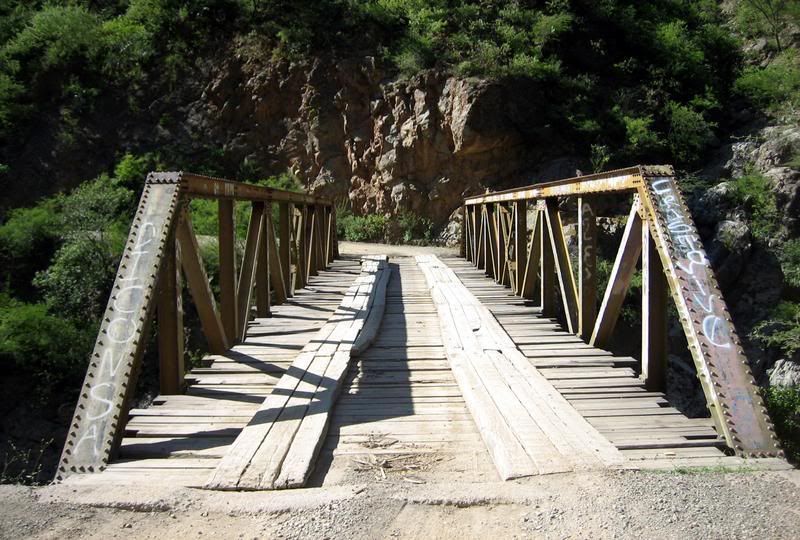 The Bridge. I was now more than half-way to Batopilas on this road. Still around a further 14 miles to go. The question is whether to ride the parallel beams or the middle part. I thought the middle part would be less sturdy for some reason, so rode the parallel beams, which ended up moving my front tire along the cracks.



auDRey at the Bridge.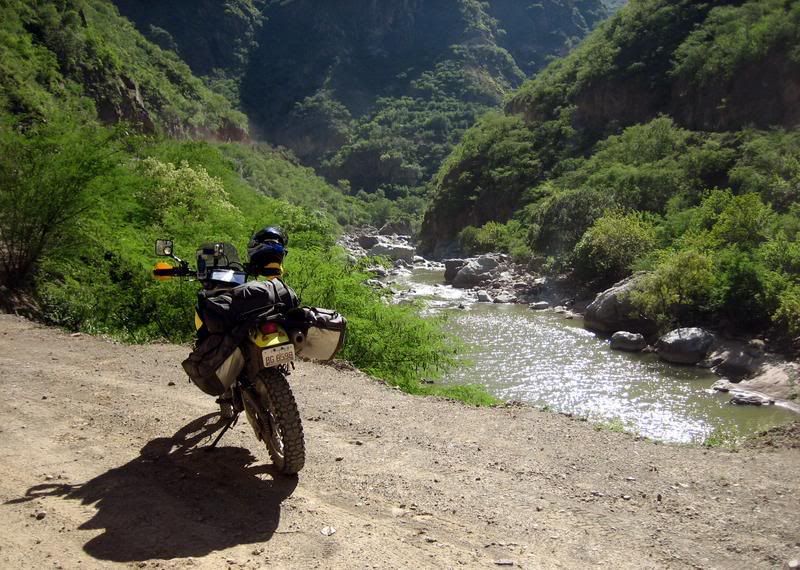 auDRey at the Bridge.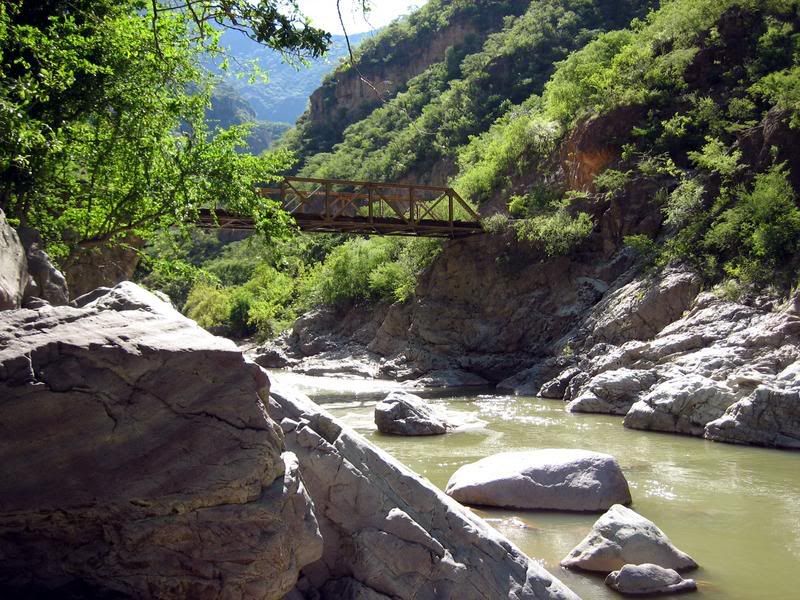 Took a little break and climbed down to the river to check it out.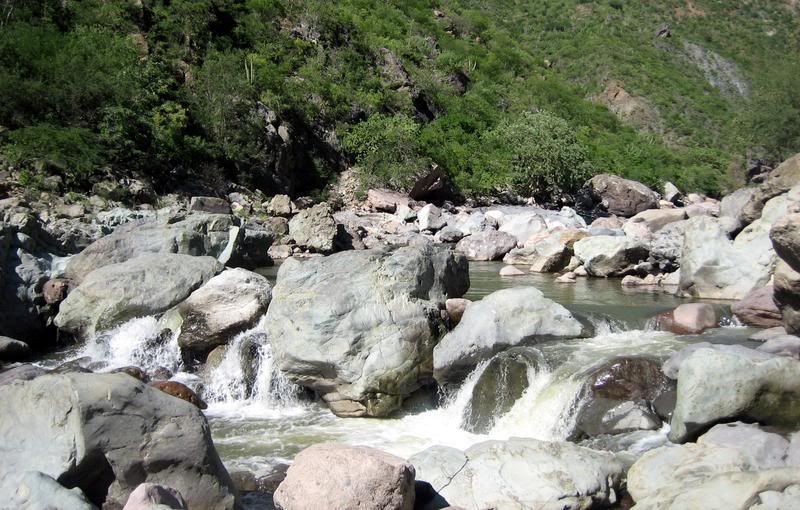 Nice little river falls and it was a little cooler down here.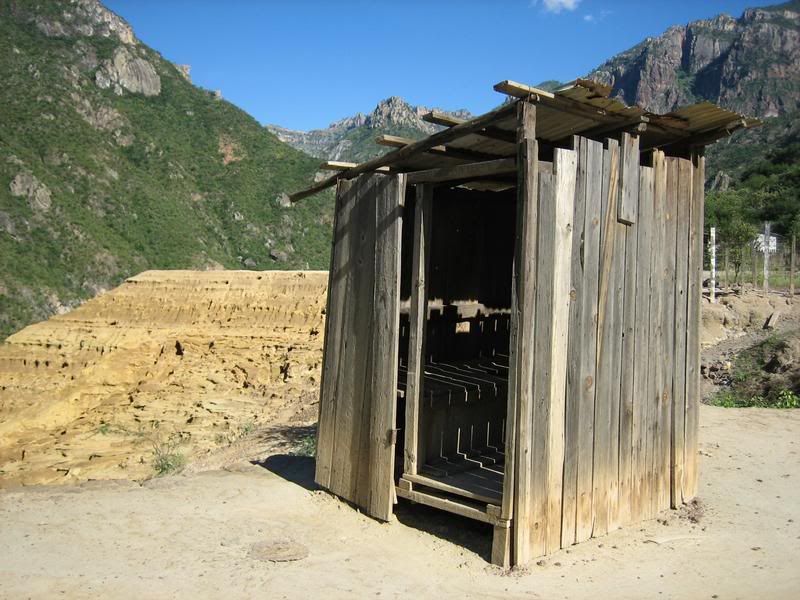 A random shack at La Buffa scenic overlook.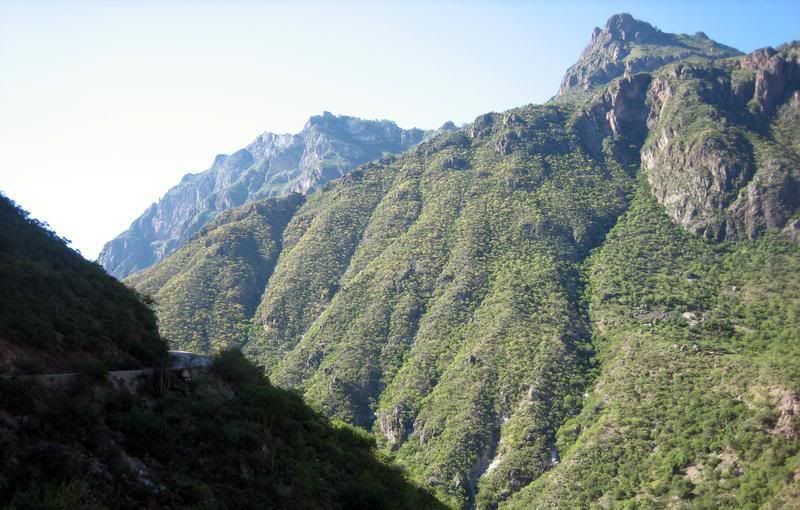 Don't know what was so special about La Buffa scenic overlook. I found more dramatic views elsewhere…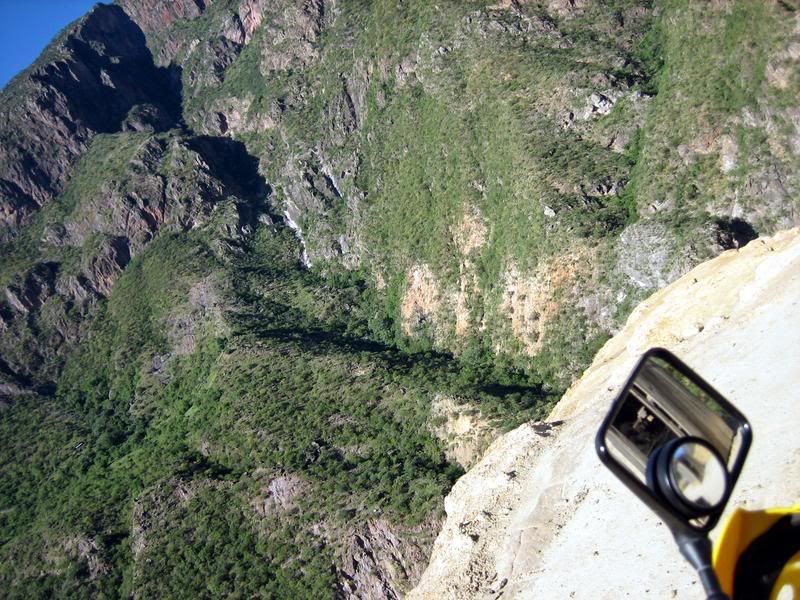 La Buffa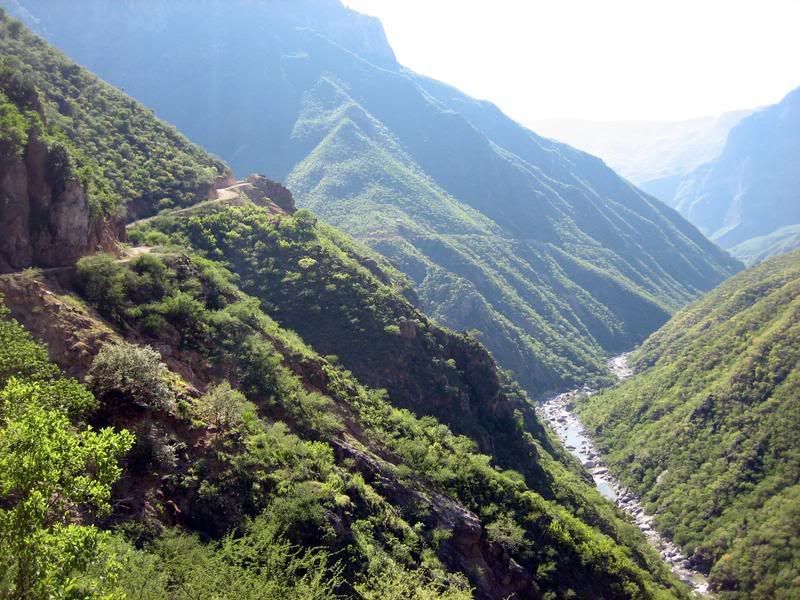 Note the road winding off into the distance along the canyon walls. What a spectacular ride. I was very impressed with the views and the thrill from the road.



auDRrey heading to Batopilas.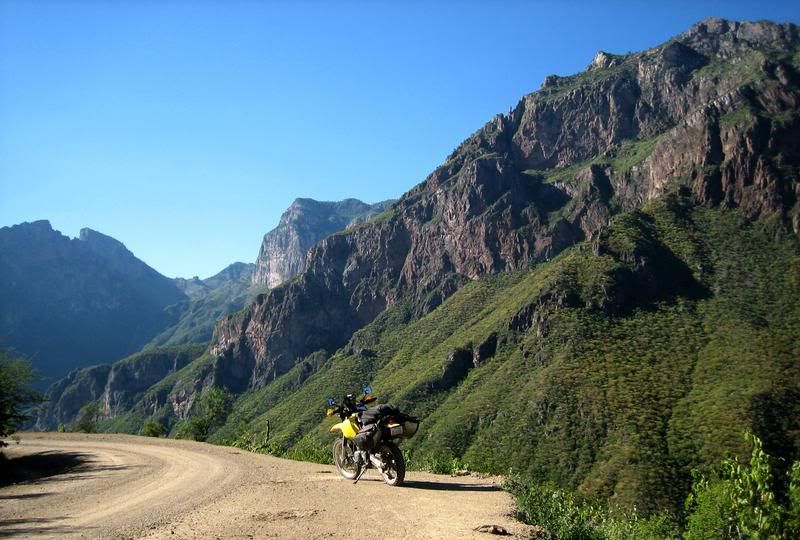 There were a few pull-outs to stop and enjoy the scenery, but not many. Or maybe they're actually used for letting opposing traffic pass.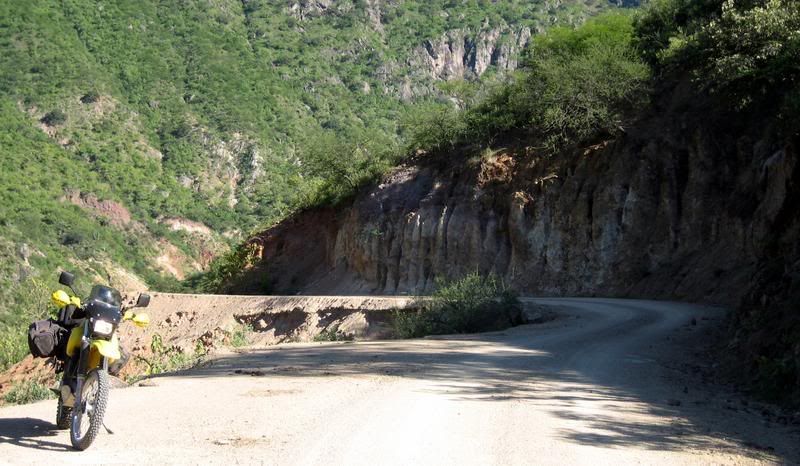 auDRrey heading to Batopilas.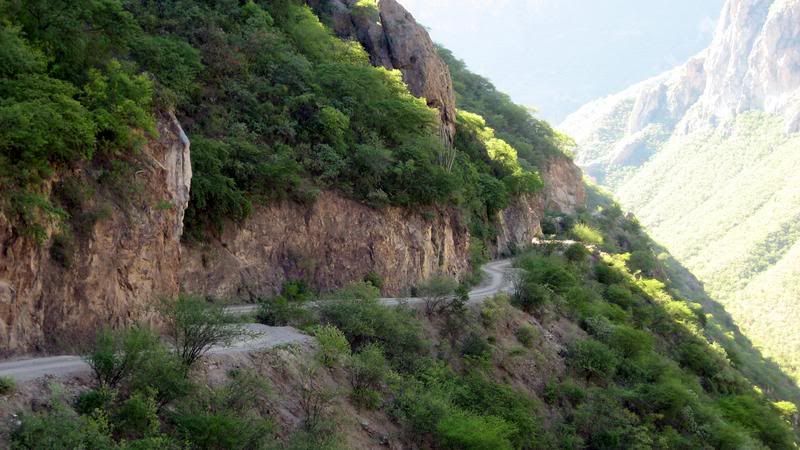 What a road…



It looks like the Mama rock is looking down on baby rock… (I was not hallucinating; don't they look similar?)



Heading towards Batopilas in the late afternoon isn't ideal as the difference between being in the light and being in the shade was quite dramatic, especially with a tinted shield. But the road now was generally more flat and less challenging.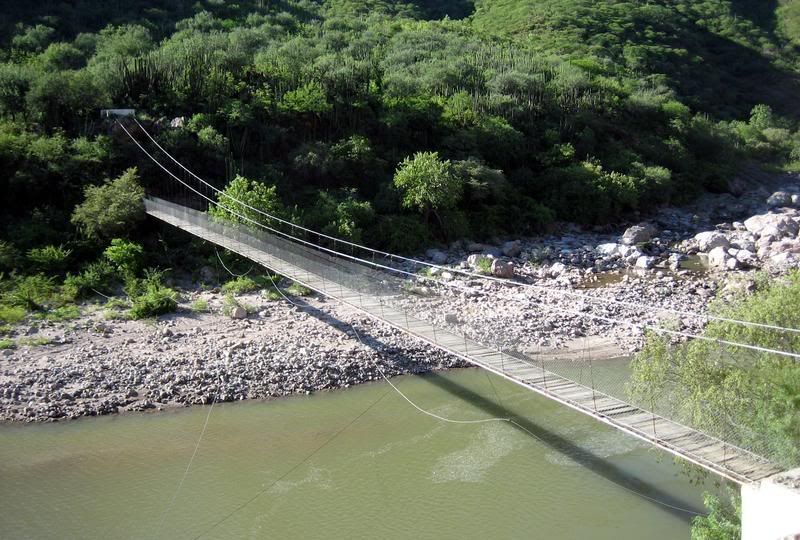 A foot bridge across the river.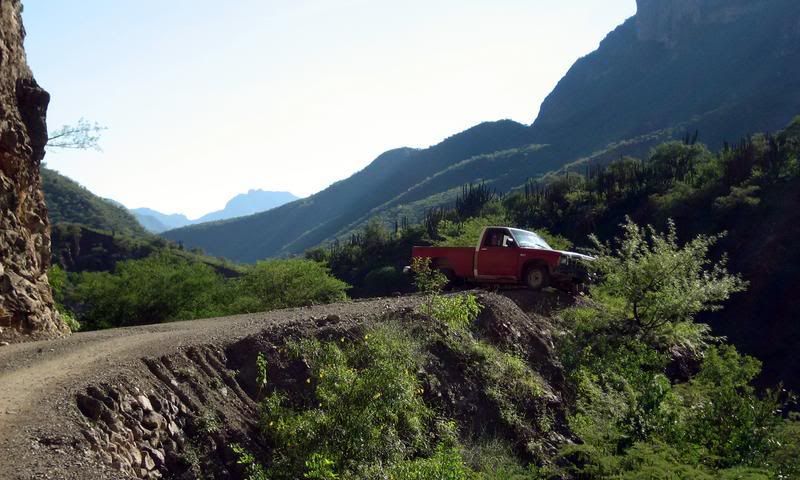 Looks like he had massive understeer or brake failure. I'm surprised they've just left the truck there, maybe as a lesson to slow down.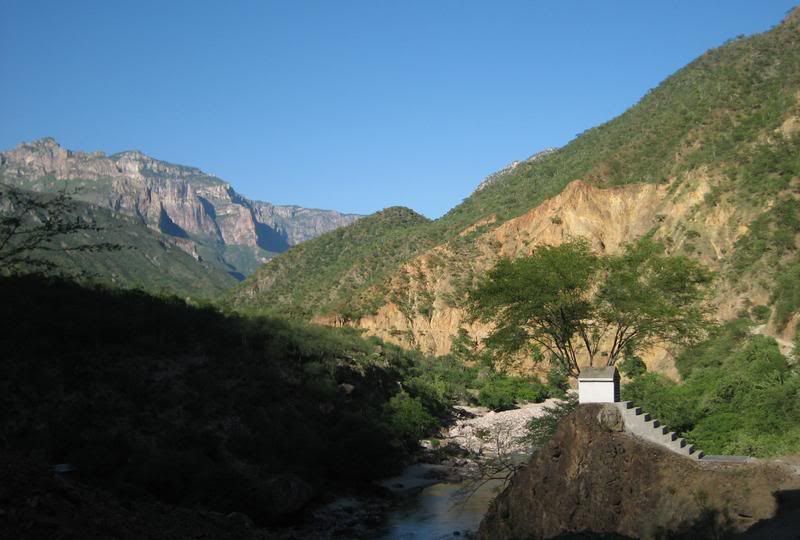 A little shrine to honor lost ones due to road accidents. These were all over the road, especially in dangerous corners. Seems like lots of people have lost their life on this road. And there were quite a few paintings on rocks with "Vivo Christo" (Christ Lives). I guess traveling on this road makes believers out of people.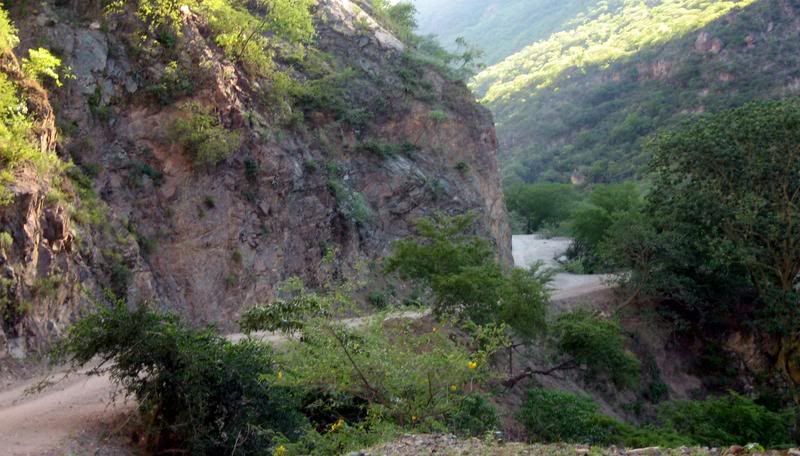 The road near to Batopilas, which is more flat and easier to ride. Was even up to 3rd gear after hobbling in 1st and 2nd the whole afternoon.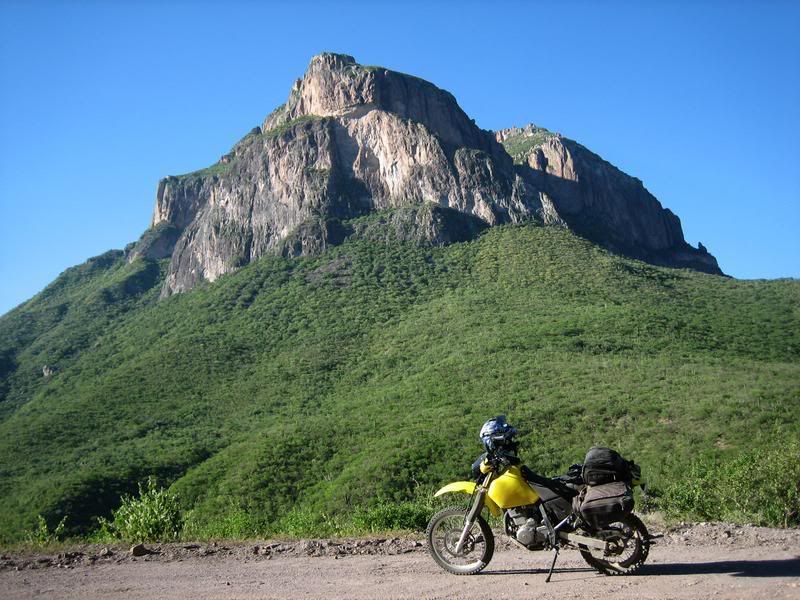 One last awesome rock outcrop before heading into Batopilas.
Batopilas; I was finally here. After reading about it is so many ride reports on ADVrider.com, it's almost surreal to be riding into town. Almost everyone was staring at me as I rode into town, even the few tourists that were milling about. As I took a wrong turn heading to the town square, a little boy immediately pointed me in the right direction. I guess he must've seen other motorcyclists before and knew we all wanted to get to the town square. Nice.
As I parked in the town square, Martin, the friendly hotel owner of Real de Minas walked up and asked if I wanted a room. How did he know? Yup, I was looking for Real de Minas on recommendation from a fellow rider, Virtual Rider. For $35 I got a nice room set in a homely courtyard. It came with A/C but no TV. I never had time to watch TV anyways. After a quick shower, I walked around town to get a feel for the place.
There's only one real road into and out of Batopilas, so everything here is trucked down over that rough road. It was originally a silver mining town, but now life is a bit slower and relaxed. The town square had benches all around it and people were duly occupying them and just enjoying the simple life with kids playing in the street and older couples going for walks. But I had to wonder: what does everyone do for a living here? I mean I see the few hotels and shops, but besides that, I didn't really see any fields or farms and mining isn't active here anymore.
There is an indigenous population in the Copper Canyon region knows as the Tarahamura people, who mainly live out in the canyons and come to town to sell some crafts. They are a shy people and their permission is required before taking photos. It seems that anywhere in the world where there are indigenous and more developed societies living together, assimilation issues will arise. I could see from a mural painted by the school playground that there are attempts to bridge the gap between the Tarahamura and the regular Mexicans.
There weren't that many restaurants around and the only one open was Dona Micas which is basically a few tables on the front porch of their house. The lady of the house tells you what's for dinner tonight and it's almost like eating at home. I enjoyed it. I had Arroz Frijoles Carne en Chile Rodo (I had her write that in my journal). Very tasty.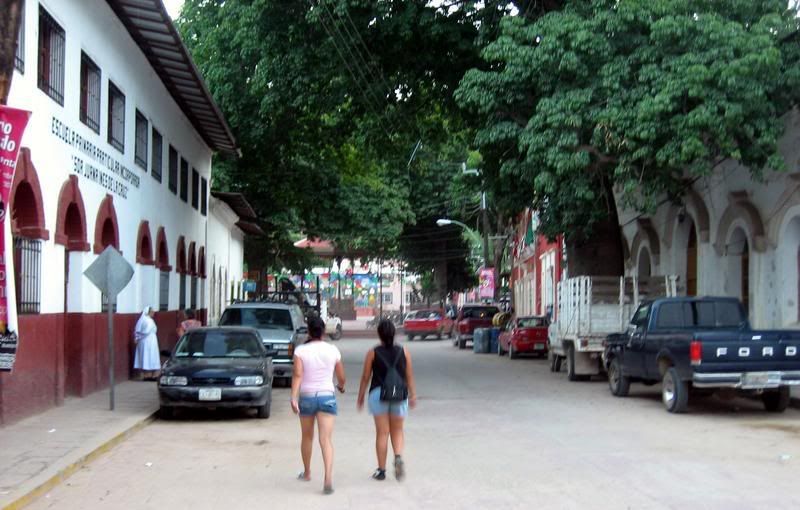 Heading towards the main square in Batopilas.



The town square, Zocolo in Spanish.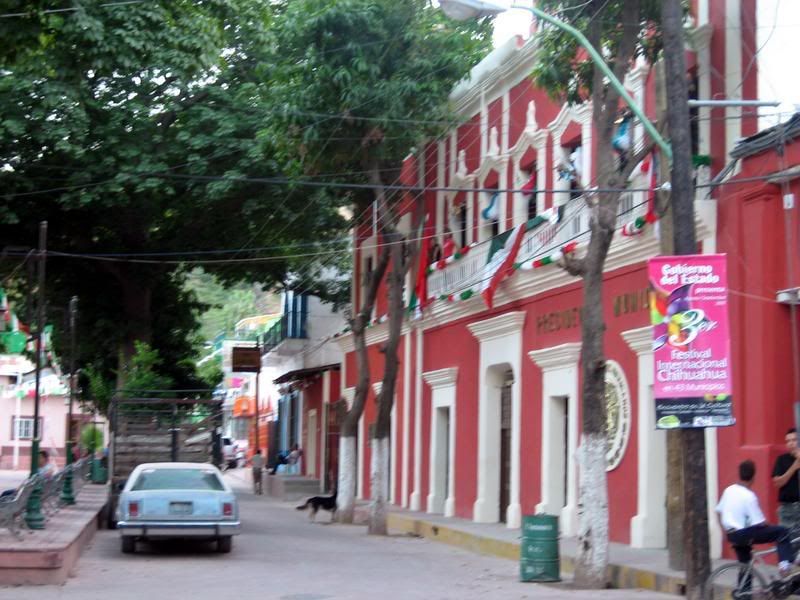 The main street near the town square.



My hotel, Casa Real de Minas, run by a real nice guy, Martin who has welcomed many previous adventure motorcyclists.



He even provided some secure parking for my bike.



The courtyard of Casa Real de Minas. Very classic setting.



My nicely decorated room for $35, which came with A/C but no TV (which wasn't missed).



Clean bathrooms.



After a quick shower, I took a walk around the town. The local chapel.



Indigenous people of this region, the Tarahamura. They are generally very shy and it's recommended that you ask before taking a photo, which I did.



Walking towards the edge of town…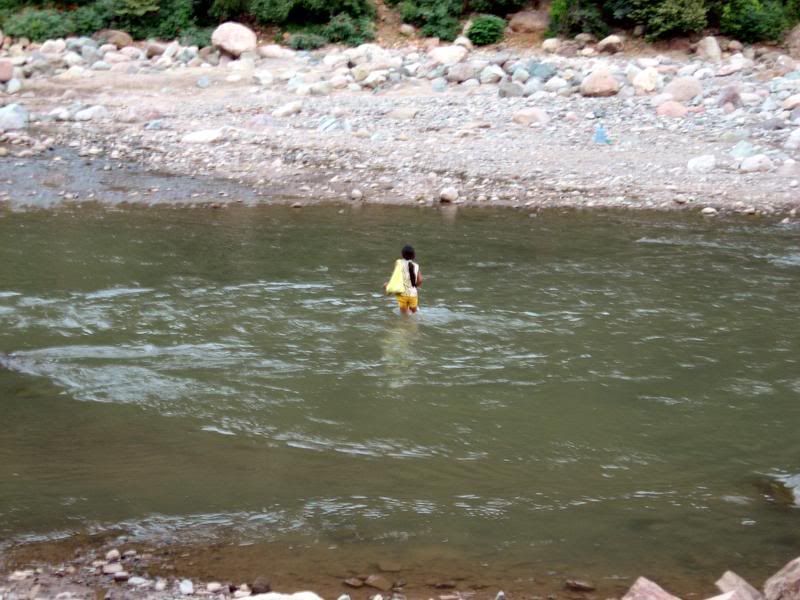 I noticed this girl who was cautiously crossing the river. The bridge was about a 10 min walk away. I think this river is mainly fed by rain fall and its height probably changes throughout the year, allowing for river crossings as the level drops.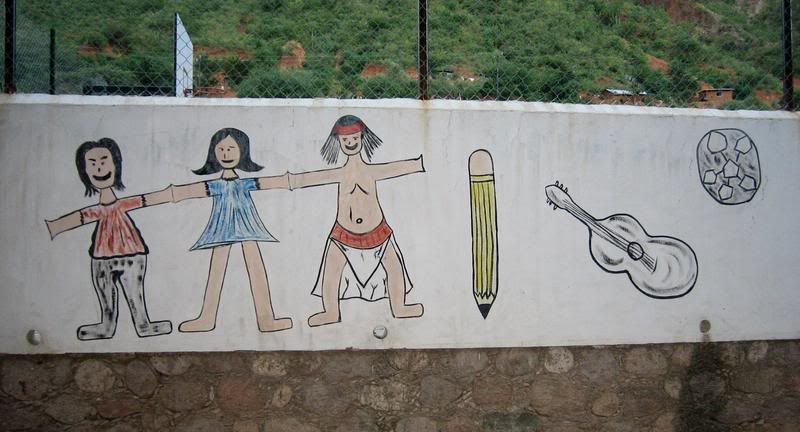 A mural on the school's playground showing a Tarahamura child playing, studying and being cultured with regular Mexican kids. That's the local dress of the Tarahamura men. I think they face some of the assimilation issues the Native Americans endured in the US or any other indigenous people face in other countries.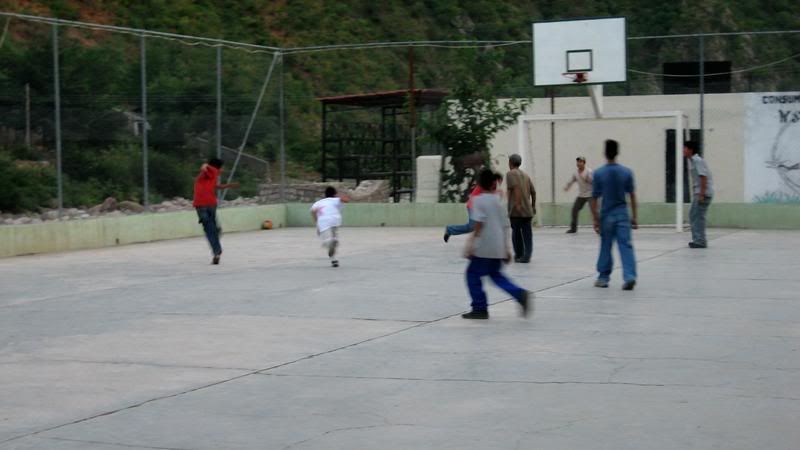 Kids playing soccer. Gooooooooal!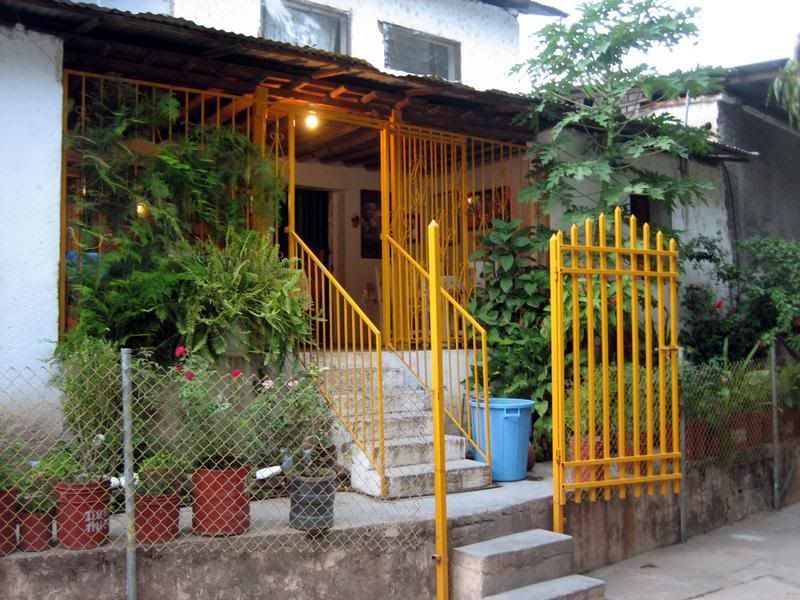 My dinner at Dona Micas, which is basically the front porch of their house with a few tables.



I'm sitting in their porch and that's the kitchen right there. Talk about a home cooked meal.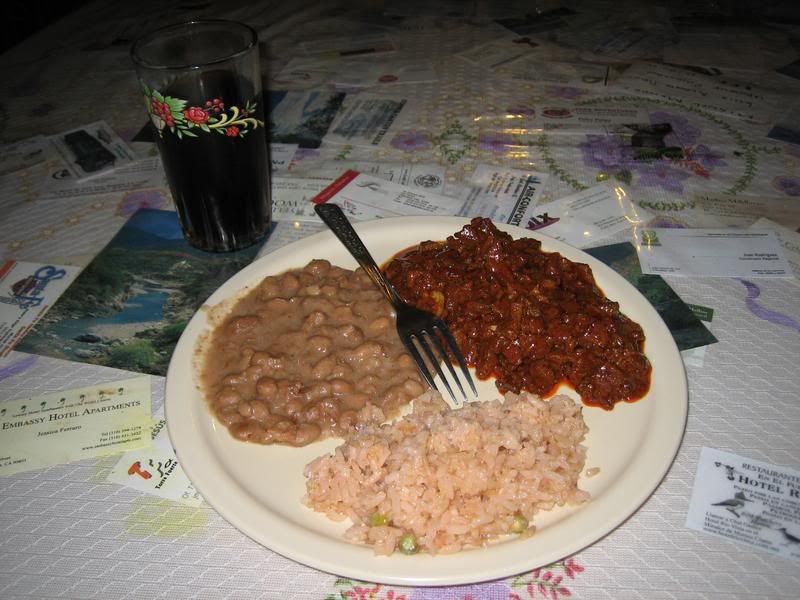 I asked what was for dinner and she said Carne something (steak), which sounded good and tasted awesome. My Spanish is very limited, but I managed with my phrase book. Dinner was about $5. And note all the business cards under the table cover of all previous patrons. Lots of various rider organizations had been there, various BMW dealers and tour operators from around Mexico and Central America. I duly left my card there too.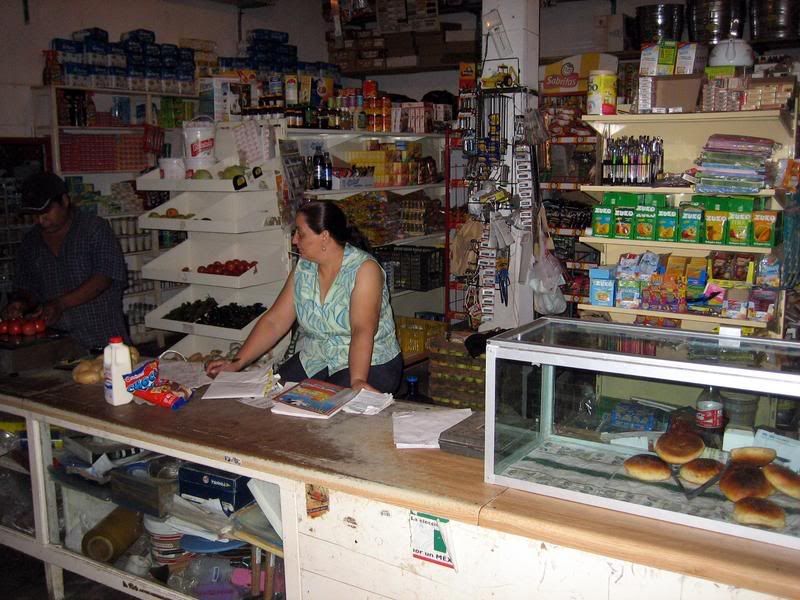 Just a picture of a little supermarket where you give your list of items to the store keeper and they get the items for you, just like back in the day or in any less developed part of the world. Higher efficiency brought about the modern super markets where the customers get their own items.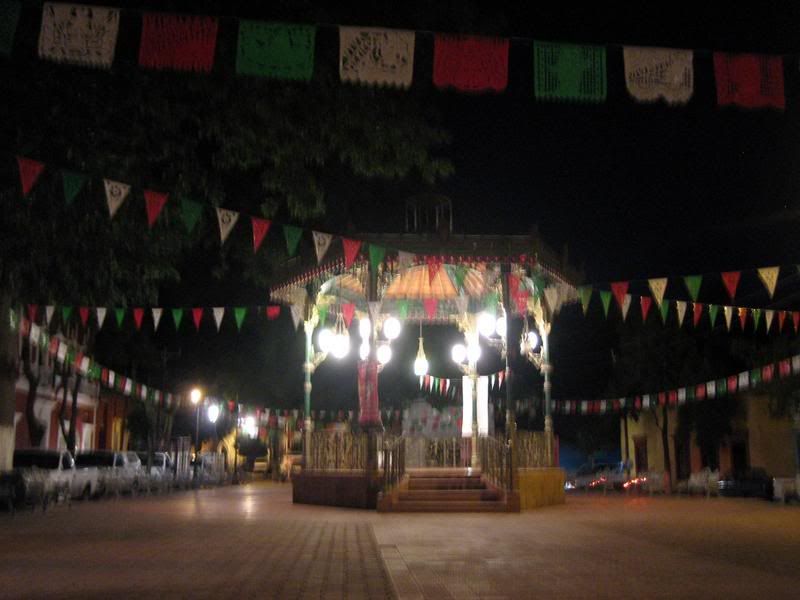 The town square at night. People were sitting along the benches and just taking it easy.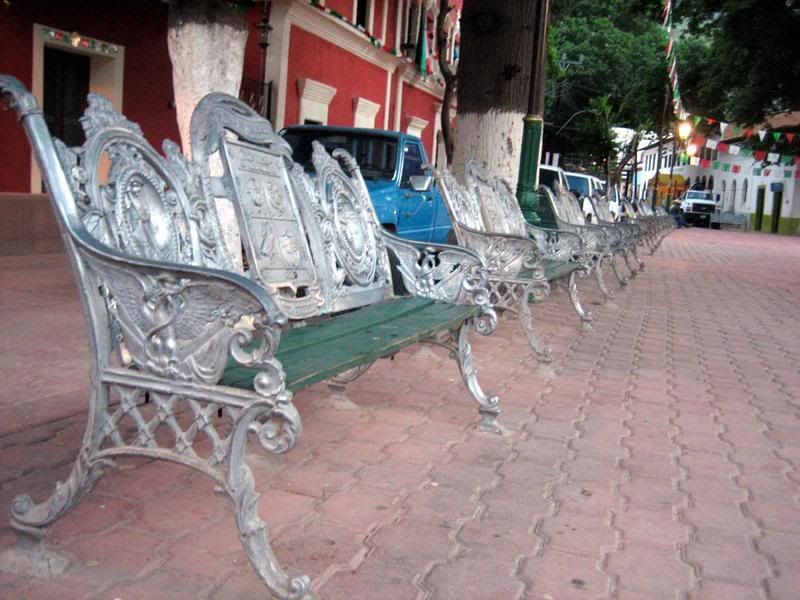 The ornate benches lined around the town square.



Not sure what this place is but looks like it was decorated for the recent Independence Day celebrations of Mexico (Sept 16).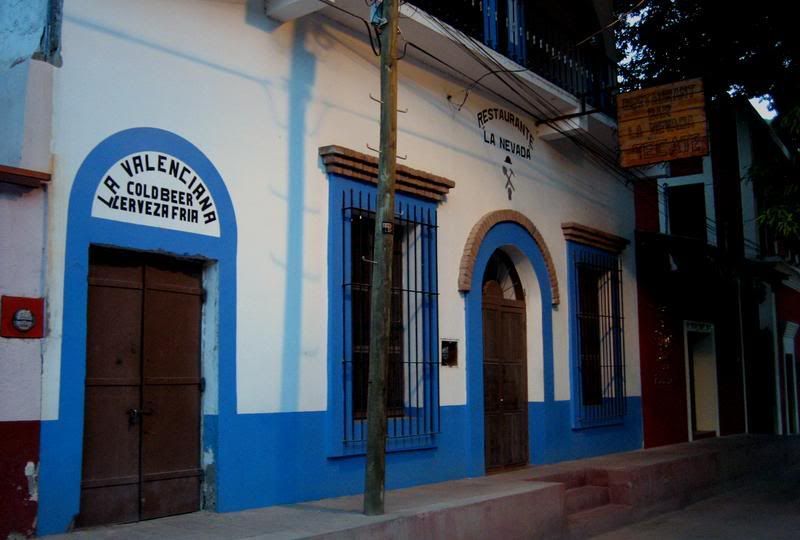 La Valencia, which was the only place to get a cold beer (cerveza fria) and relish that I had made it down to Batopilas successfully. Now for the ride back up tomorrow morning…
Next:
Day 5, Riding up from Batopilas and on to Hidalgo del Parral
Ride Report Index